Megan's Supported Employment Story
Megan has been supported by Kent Supported Employment on her employment journey from college to Supported Internship, to apprenticeship to finally securing a permanent paid role.  Fay from Kent Supported Employment has been supporting Megan through each step of the journey:
After finishing college in July 2018 Megan was referred to Kent Supported Employment for support to look for suitable employment opportunities. Fay was allocated as Megan's Employment Support Officer.  Fay has many years' experience and knowledge and is qualified to provide Information, Advice, and Careers Guidance. Fay used specialist knowledge of Megan's diagnosis (Autism and learning difficulties) to follow the principles and key stages of the Supported Employment model, which focuses on using a person centred approach to help remove barriers to employment and identify potential work roles/sectors to meet an individual's work goals. Fay and Megan completed a 'Vocational Profile' to provide a comprehensive account of Megan's aspiration's, skills, and support needs. The vocational profile is an essential tool to build tailored careers advice and ongoing support plans.  Previously, Megan had completed a work placement within a childcare setting and wanted to continue to explore this sector and build the skills needed to work in this environment.  Fay had regular meetings with Megan; providing careers guidance and setting actions to complete between meetings.
After support to update her CV to ensure it was professional and showcased Megan in the best possible way, they began to carry out targeted employer engagement. Fay used Labour Market Information to contact potential employers, to explore Megan's interest in an apprenticeship. A possible opportunity was found through contact with Emma Philpot at Kinderversity Daycare in Brenchley. Megan was offered an interview, which Fay supported Megan to prepare for. Fay liaised with Emma about Megan's disability and any reasonable adjustments she may need.  Fay talked to Emma about the job role and analysed the role to find out about the different aspects involved.   Fay explained that Megan may not be able to give long answers to questions at an interview with the suggestion that a work trial may be a useful way for Megan to show case her skills, while also providing the Kinderversity an opportunity  to gain a real understanding of Megan's abilities and suitability for the role.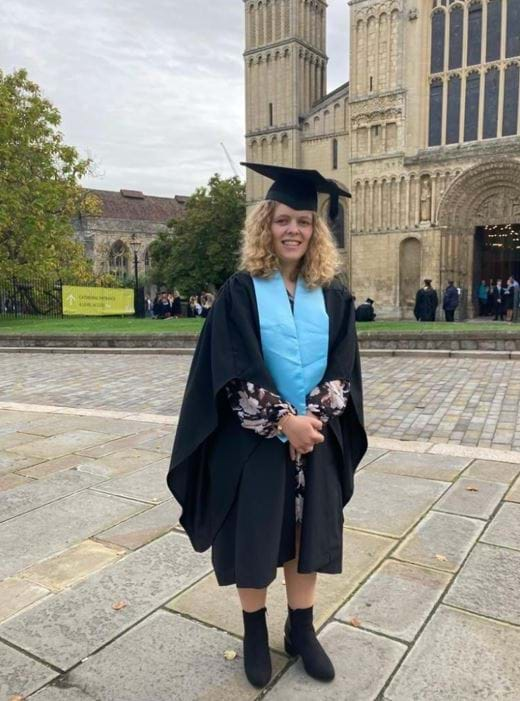 Following Megan's initial interview, Emma Philpot invited Megan back for a working interview. Again, Megan put a lot of time into the preparation for this. She demonstrated creativity and a good understanding of the children's learning needs by arranging to take some puppets into the nursery to use with the children. Following the working interview, a meeting was arranged to discuss next steps. Kinderversity said how impressed they were with Megan's trial session and interview, we then discussed carving a job role for Megan and they said they would be happy to offer Megan an opportunity. It was decided that a Supported Internship would be the most appropriate starting point, with Kent Training & Apprenticeship (KT&A) organising the training side of the internship and Fay continuing to support Megan as an Employment Support Officer for the Supported Employment provider.
A Job Coach from Kent Supported Employment accompanied Megan as she started the placement in February 2019, providing in-work support to Megan and Kinderversity as she settled into her placement. Fay attended regular review meetings with Megan, her manager, and Donna Moss from KT&A to assess progress throughout. The placement went really well and Megan flourished in the role; and she feels the staff at Kinderversity were both very supportive and welcoming. Emma Philpot commented that Megan is a real asset to their organisation. So much so, that they offered Megan a childcare apprenticeship which she started on 1st October 2019, with KT&A providing the training side of the apprenticeship with Fay continuing to support Megan throughout the apprenticeship. With the collaborative work of all parties, Megan was able to truly demonstrate her knowledge and passion, her progression through a Supported Internship onto an Apprenticeship is testament to her hard work and dedication.
Megan completed her apprenticeship in the summer of 2022; she attended the Kent and Medway Apprentice graduation ceremony at Rochester Cathedral on 14 October to celebrate this achievement; well done Megan! It is wonderful to see Megan celebrating her success.  Megan's long term goal had always been to find a permanent role in a childcare setting. When Megan was coming towards the end of her apprenticeship, she started to think about looking for a permanent job role.  Megan's mum contacted Fay as they had seen a vacancy at a local preschool.  Fay gave Megan some advice and guidance on her CV and job application.  Megan did really well at the zoom interview and was invited to attend a trial session at the preschool which also went well and she was offered the role! She started her new job in June.  It has been a privilege to support Megan through her journey from Supported Internship to Apprenticeship to a permanent job role; Megan should be very proud of her hard work and dedication. Her journey is a great example of how bespoke, end to end supported employment can help an individual achieve and be successful their dream job role.
Here's what Megan had to say about her employment journey:
Hi,
My name is Megan and I have just completed Intermediate Apprenticeship Framework in Children and Young People's Workforce (Early Years Practitioner) Level 2.
This has been a very long journey for me and at times I thought I may never achieve my goal. I am Autistic and have learning difficulties, so it certainly has been a challenge!
I have always wanted to work with children, and I knew to be able to do this I would need to have a qualification. I started my apprenticeship 2 years ago. It was overwhelming at first learning new things and also being within a work environment. However I liked being part of a team and I became more confident talking to people, being independent earning a salary and most of all felt I was achieving something each day.
As time went on, I began to believe more in myself and pushed myself to learn to drive. After several attempts at the theory and test I passed! This gave me the courage to attend more training days, work at different settings with new people and above all I was not reliant on my mum and dad to take me to my placement. I felt like I was an independent young woman.
My life has now changed again. I attended the graduation ceremony at Rochester Cathedral which was a huge celebration for me. I attended with lots of other apprentices who have also completed a variety of courses. To wear my mortar board and gown was an unbelievable moment and I was very proud of what I have achieved.
What has made me most happy is that I have secured a full-time role as an Early Years Practitioner at Tots Teachers Pre-school. I have made my dream a reality and work with children and I enjoy every minute.
Each day I get to pretend to eat playdough creations realistically and drink numerous cups of pretend tea and I now have the ability to read a ten-page fairy tale, upside down, with at least 4 interruptions per page.
But the best thing is that I feel loved, special and important to our many young children and their families.
I have had amazing support from my employment support officer, my tutor and of course my family who have encouraged, pushed me to do things out of my comfort zone but above all made me believe that nothing is unachievable.
Megan
Level 2 Early Years Practitioner.