Early Years & Childcare Bulletin - Term 3 2023
Welcome and Introduction from Alex Gamby
Dear Kent Early Years and Childcare Providers,
I fear that I may be skating on thin ice, taking this (late) opportunity to wish you all a happy new year, however I am going to take my chances and so….. Happy New Year! Although I think for all of us it now feels significantly in the past, I do hope that you all managed to get a decent break over Christmas and the New Year.
So here we find ourselves in 2023 and who knows what this year will bring for the early years and childcare sector in Kent and indeed UK wide. You are most likely already aware that in December the Government made some announcements about early years funding for 2023/24; however, if you have not yet seen this, please do read.
Decisions about what this funding looks like for Kent providers particularly are taken by Kent County Council (KCC), in which context we would expect information to become available from mid-February onwards. We will, of course, keep you updated as appropriate and necessary, which of course KCC itself will do.
We are aware in the Early Years & Childcare Service that there does seem to be a lot of things going on for early years and childcare providers right now, with several funded training and other support initiatives being made available by the Government, issues around Scarlet Fever and Strep A, all of which lead us to be sending communications to you perhaps more frequently than we might usually do. We do hope that you find time to read the things we send to you, as we prefer to send you all relevant information rather than inadvertently miss sending you something that you feel is key.
That's all for now, please do everything you can do to stay safe, warm and well.
As ever with my very best wishes.
Yours,
Alex Gamby
Head of Early Years and Childcare
National News and Updates
Providers that are Judged Outstanding or Good
Providers that were inspected before the Ofsted Education Inspection Framework (EIF) was introduced and were judged good or outstanding may have been using Ofsted logos. Providers who have received an inspection under the EIF can no longer use these logos. Where applicable, providers affected can find out more information on use of logos on the 'Ofsted EIF inspections and the EYFS' page.
Ofsted Inspections: What Early Years Providers and Practitioners Need to Know
Please read updated guidance on what schools, registered early years providers and childminders need to know about delivering the early years foundation stage (EYFS), and Ofsted inspections under the education inspection framework (EIF) (updated 24 January 2023).
Department for Education Early Years Experts and Mentor Programme
The Early Years Experts and Mentors Programme is part of the Department for Education's (DfE) Early Years COVID-19 Recovery Programme and is focused on supporting early years practitioners and leaders in group settings to address the impact of the pandemic on the youngest children.
Settings selected for the Experts and Mentor programme will receive the support of an Expert and Mentor for one term, between September 2022 and July 2024. The DfE is currently looking for recommendations for settings to receive support during the summer term 2023.
The programme provides a mixture of face-to-face and virtual support. The offer to settings will include leadership support, coaching for leaders, and mentoring for practitioners. All settings that take part in the programme will also be able to access new early years online child development training to upskill practitioners and improve knowledge of child development.
For further details including how you can apply please read the attached information provided by the DfE and links to Pen Green the national deliverer of this programme.
Childminders have recently been sent information about the DfE's Childminder Mentor Programme. The programme is designed to offer free support in a variety of areas including: implementing the EYFS 2021, improving confidence in knowledge of child development, planning and delivering an effective curriculum and support to build confidence after the uncertainties of the pandemic.
Mentors will provide up to four days of support to childminders over one term, between May 2023 and July 2024. The four days will be broken down into hours, to suit the mentor and the childminders they are supporting.
To be eligible to receive support from the DfE Childminder Mentor programme, childminders must currently be providing childcare to children aged between zero to five (to at least one child). You can apply for support as an individual, or with other childminders as part of a small group (of up to four people). If you apply as an individual, you will be placed in a group with others.
This programme is being delivered by a different national deliverer, Hempsall's. Further information was attached to the email through which this bulletin was sent out.
Education Committee Inquiry
The Government has launched an Education Committee inquiry into childcare affordability and early years education.
Eat Well Guides for Early Years
The Statutory Framework for the Early Years Foundation Stage (EYFS) requires us to ensure children in our care are given meals that are healthy, balanced and nutritious, but what does this look like and how can we promote this with our families?
A previous article in our September bulletin highlighted the Example Menu Guidance for providers which we hope you found useful. The following information is intended to aid the provision of healthy, balanced and nutritious meals, snacks and lunchboxes.
The First Steps Nutrition Trust is an independent public health nutrition charity. They aim to fill practical and policy-relevant information gaps and provide resources for practitioners and health workers supporting children and families from pre-conception to five years.
There continues to be an increase in the number of children overweight or obese in reception classes. The most recent available data for Kent tells us that 26.6% of reception children, and 63.2% of adults are overweight or obese.
The First Steps Nutrition Trust has the following documentation accessible from their website: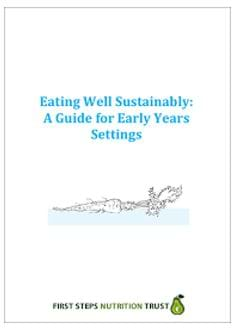 Eating Well Sustainably: A Guide for Early Years Settings provides guidance to early years settings on how they can shop, store, and cook food sustainably and involve children in food growing.
The resource contains ideas for seasonal recipes following sustainability principles, and links to other useful resources and available support in this area.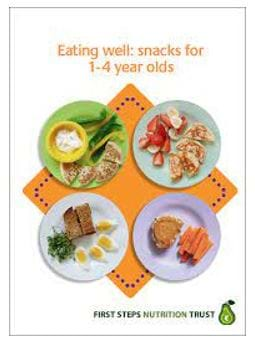 Eating Well: Snacks for 1–4 Year Olds provides ideas for snacks for one-to-four-year-olds that are both contributory to their nutritional intake and which are not damaging to emerging and developing teeth.
There are ideas for easy snacks that could be useful when out and about, and snacks that can be offered in early years settings that meet the voluntary food and drink guidelines for early years settings in England. There are recipes within this guide that cater for vegan, vegetarian, gluten-free, egg-free, and dairy-free diets.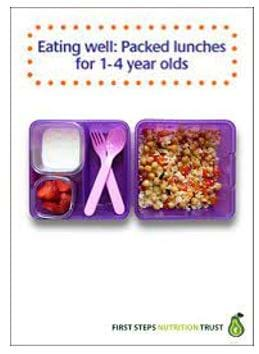 Eating Well: Packed Lunches for 1–4 Year Olds provides practical ideas for anyone who is preparing packed lunches for children aged one to four years.
The packed lunches shown in this resource all provide the amount of energy (calories) needed by children of this age at a main meal and, if a range of packed lunches are eaten over a period of a week or more, they will provide the important nutrients that young children need to develop and grow.
There are recipes within this guide that cater for vegan, vegetarian, gluten-free, egg-free, and dairy-free diets.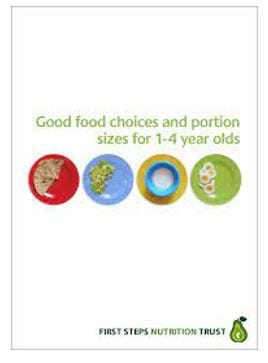 Good Food Choices and Portion Sizes for 1–4 Year Olds offers a visual support for early years providers on the types of foods, and amounts of foods, that meet the needs of children aged one to four years.
This guide provides some simple ideas for the balance of different meal components that will meet the energy and nutrient needs of children in this age group. Some simple food-based recommendations for each food group are given, followed by photos showing appropriate portion sizes for one-to-four-year-olds.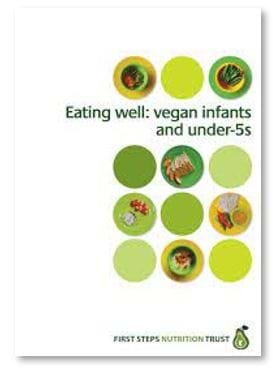 Eating Well: Vegan Infants and Under 5's contains practical advice, recipes, and photos of portion sizes appropriate for different age groups. It also contains information on milk alternatives, cooking and ingredient tips for cooking for vegan children and useful sources of additional information to help those working in early years settings to support vegan infants and children to eat well.
There is further information that can be shared with families that includes eating well in pregnancy and guidance for new mums. Why not share the First Steps Nutrition Trust website link with your families.
Kent News and Updates
Securing an Ofsted Met/Good
When a Kent group setting manager/leader and an Early Years & Childcare Service Improvement & Standards Adviser evaluate together that the setting may not be meeting the Ofsted met or good grade descriptors they may be offered a time-limited support package to work with the adviser to develop and implement an action plan that identifies what the setting needs to do to secure an Ofsted met or good judgement. These support packages are in their infancy, but provider feedback has been positive and there are early indications to suggest that they are making a difference.
Childminders not already receiving support from the Childminding Team and who believe they are due an inspection can contact [email protected] to find out what support is available to help them secure a good at their next inspection.
Early Education Funding Reminders
There are two remaining opportunities to submit Free for Two (FF2) claims this term:
24 February 2023 for payments week commencing 13 March 2023
31 March 2023 for payments week commencing 17 April 2023.
Estimate data collection for three- and four-year-old funding for the summer term is Friday 3 March to Tuesday 14 March 2023.
Balancing payments for three- and four-year-old funding for the spring term will be made during the week commencing 20 February 2023.
The Education Safeguarding Service Child Protection Newsletter
The latest edition of The Education People's CP Newsletter is now available.
Kent Community Health NHS Foundation Trust (KCHFT) Advice Line
KCHFT has an Advice Line which is available to settings and families. The number to use is the same as the usual office phone number for Children's Therapies:
East Kent (Canterbury, Faversham, Whitstable, Herne Bay and Thanet) – 03001 238 112
West Kent (Maidstone, Tunbridge Wells and Sevenoaks) – 03001 237 004
North Kent (Dartford, Gravesham and Swanley) – 03007 906 235.
Settings or parents and carers should ask to speak to someone on the advice line, saying whether they need speech and language therapy advice or occupational therapy/physiotherapy advice (these last two are on a shared line and the therapists alternate which profession is covering the line – they should be able to give broad advice but will recommend that someone calls back on a specific date if they feel that they need to speak to a different therapy profession).
The advice line is open to parents and professionals. Those on the advice line are not able to talk about named children with professionals as they do not have consent but will give general advice based on the description of how a child is presenting.
KCFHT is hoping that the line will be particularly useful for providing advice to those children who do not currently meet the criteria. They now only accept referrals for speech and language therapy for those children aged three years and over, with the following exceptions, which are accepted at any age:
feeding and swallowing difficulties
children with a hearing impairment, known to Teachers of the Deaf
children with a diagnosed genetic syndrome, meeting current criteria (eg DiGeorge syndrome, Down's syndrome)
children presenting with severe language or communication needs, and a conversation between parent or professional and a speech and language therapist indicates the need for a referral (we will use the advice line to identify these children).
Referrals for Occupational Therapy and Physiotherapy are accepted at any age; these referrals must be made by a professional as parental referrals to these professions are no longer accepted.
Additional Speech and Language Information
In KCHFT (covering the areas listed above), speech and language therapists are offering shorter packages of support to children, after which parents are encouraged to work on specific targets at home and refer back to the service after an agreed period of time or if certain targets are met.
Therapists will encourage parents to share those targets and advice with the child's early years setting, who have an important role as part of the team around the child. If a child has been discharged from the service and early years settings are unsure as to how they can be supporting a child, they are advised to speak with the parents in the first instance and call the advice line for further advice (remembering that the advice line can't discuss specific children with anyone other than the parents but can share general advice based on the descriptions of how the child is presenting).
Holiday Activities and Food (HAF) Programme - Helping Families Flourish January 2023
2022 saw a significant increase in organisations delivering the HAF Programme in Kent and providing more places for children and young people who are in receipt of benefits-related free school meals. We saw 73 more programmes deliver in Easter this year than in 2021, 52 more in the summer and 27 more at Christmas. We saw an increase of over 7000 more places being offered across 2022 than in 2021, with on average 80% being taken up by eligible children.
The HAF Programmes offered a range of activities, enrichments and support for children, young people and their families. These included horse riding, team sports, dance, drama, yoga, an ice rink at Christmas, nerf battles, go carts, Clip n Climb and many other exciting opportunities.
Children received a nutritious meal at each session, had the opportunity to try new experiences, make new friends and catch up with old friends who they had met at previous programmes. During our visits over the year, the HAF Programme Team saw lots of happy, smiley children having fun and making memories.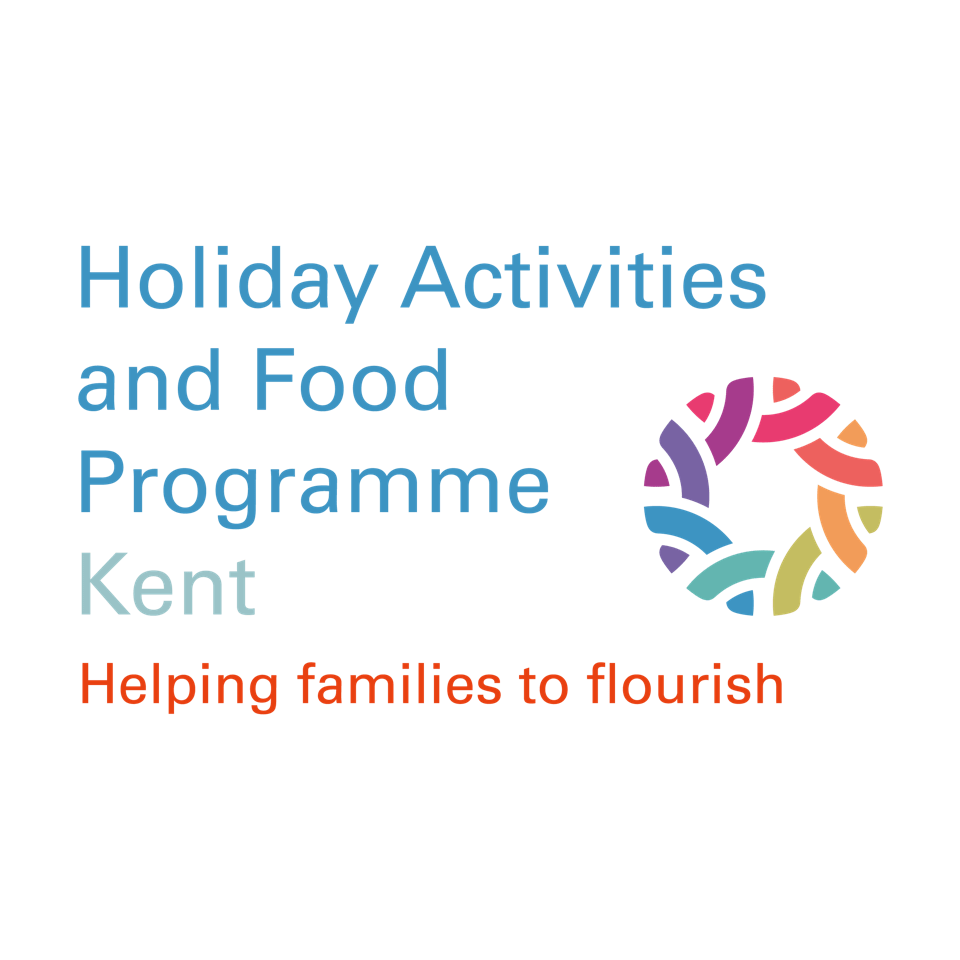 Families were also encouraged to take part in activities, with breakfast clubs, drop-in sessions, parties, information sessions and joint activities with their children being just some of the opportunities that were available across the county.
For Christmas 2022 we were able to fund some of the HAF Programmes to provide an additional enrichment activity and food hampers for their children and families. Children across the county were able to visit pantomimes, take part in Christmas activities, games and have day trips to enhance their experience.
Thank you and very well done to all those organisations and individuals who supported the HAF Programme in 2022. You have made a real difference to the lives of children, young people and their families in Kent.
For 2023 the Early Years & Childcare Service will continue to develop the HAF Programme and provide more places and experiences for the children and young people of Kent. For more information please visit the HAF Programme website or email us at [email protected]
Kent Safeguarding Children Multi-Agency Partnership – New Resource
The Mental Health Friends Handbook is here. This coproduced, fully funded resource is now available free of charge to any school or youth organisation that requests it. Maximum of 1000 copies per school or organisation.
The Building Resilience Board Game has been developed by young people in the Building Resilience campaign group at Kent Youth Voice. Devised by the young people to be an engaging activity to be played in schools or community groups, with tips and advice on what individuals can do to improve their own resilience.
Maximum of one copy per school or organisation.
Supplies are limited and we would encourage all schools and youth organisations to apply as soon as possible.
Supplies of the Mental Health Friends Handbook and Resilience Board Game will be delivered to you no later than 30 January 2023.
Charity News
As shared with you in previous bulletins, the Charity Commission is making some changes to the Charities Act 2011.
In spring 2023, 'My Charity Commission Account' will 'go live' and be the new way for charities to access online services. From this date:
contacts can enable trustees and authorised third parties to set up their accounts. The Charity Commission will provide guidance on this
trustees, contacts and authorised third parties who have set up an account will be able to access a range of Charity Commission online services.
The next steps if you are a charity, contact and/or a trustee:
continue using your existing details to log onto the online services using the current sign-in page
ensure your charity contact email address is up to date. If your charity contact does not have an email address, or if the email address is incorrect, you must update this using the update charity details service, and also ensure that all other information the charity commission holds about your charity is correct
if you are the charity contact, look out for an email from the Commission with details of how to set up your account.
The Charity Commission recommends that you change any shared or generic email address to one that is unique to trustees. This has also been recommended by the Sufficiency & Sustainability Team in their 'A Successful Charity' training, so now is perhaps a good time to set up new email addresses for your trustees. For example, [email protected] or [email protected]
If you do adopt new email addresses it is really important that you let your Childcare Sufficiency Officer know.
Further information can be found at My Charity Commission Account.
Focus on Out of School Providers
Term three is upon us and the evenings are getting lighter following the winter break. It is not yet spring and the weather can be variable, but use this to your advantage to plan exciting play opportunities for the children using the weather and the natural environment (remember the saying that 'there is no such thing as inappropriate weather, just inappropriate clothing'!).
The EYFS states that children must have daily access to outdoor activities, so aim to ensure that families understand your ethos of play in all weathers and seasons. It may be worth sending gentle reminders out during the term to send children in with the appropriate clothing for rain, warmth, and play. It can also help to have a spare supply of wellies and raincoats handy (perhaps donated by families whose children have grown out of them) to ensure that no one is excluded.
Activities can include:
'hide and seek' in the dark with torches and high viz jackets, great fun in the dark
creating a weather station to calculate the rainfall, snowfall, or wind speed
making a bug house, or bird feeders to encourage children to care for the world around them
reviewing The Education People's Early Years Sustainable Development Team's webpages and the global goals to provide you with ideas and activities
learning or finding out about free, found and recycled art or forest school activities that can be adapted to your environment.
This is also a good time to revisit your contingency procedures for closure of your setting due to severe weather conditions. Send it to all families as a reminder. If you do have to close for any reason, please let your Childcare Sufficiency Officer know.
Remember to share your activities, play opportunities, special events and celebrations on our Facebook page. This is a great place to showcase the wonderful things that are happening in your setting and share ideas with other settings.
Annual Conversations for 2023 are now being offered. The principle aim of these visits is to reduce the risk of falling below a 'met' judgement at your next Ofsted inspection. As always there is an opportunity for you to discuss any concerns you have about how well you are meeting the Safeguarding and Welfare Requirements and share your setting's approach to the monitoring of the quality of your provision. In addition to the Annual Conversations, the Early Years & Childcare Service's Out of School Team supports newly registered out of school settings until their first Ofsted inspection. If you have any questions about our visits, please email the EY Improvement mailbox [email protected]
Focus on Childminders
Do You Deliver Funded Childcare?
The Education People's Childminding Team has produced a new free webinar on providing funded childcare to support you to be compliant with the terms and conditions set out in the Kent Provider Agreement. The webinar contains up-to-date information and guidance on providing funded childcare and includes any recent changes in terms and conditions of funding.
Ofsted
Recent Ofsted recommendations have shown the following trend:
Supporting children's speech, language, and communication development.
The EYFS Statutory Framework 2021 states that 'Practitioners must stimulate children's interests, responding to each child's emerging needs and guiding their development through warm, positive interactions coupled with secure routines for play and learning' (1.14).
Speech and Language UK has lots of useful information for early years professionals to enable you to provide an environment for the children in your care that promotes speech, language and communication development.
Join us on Facebook!
Over 560 of the Kent childminding community have now joined our 'The Education People's Kent Childminders' page on Facebook. This is a great way for us to be able to engage with you on a day-to-day basis and for you to network with each other.
This month we have focussed posts on Health and Safety, and Tips for Under Twos to support your childminding practice. Join us for support, discussions, and ideas.
Information to Share with Families
Reducing Parental Conflict Multi-Agency Training
OnePlusOne's practitioner training will provide you with tools and techniques to reduce parental conflict with three different audiences.
Me, You and Baby Too
For new parents.
Arguing better
For parents experiencing stress and conflict.
Getting it Right for Children
For separating or separated parents.
Having constructive, supportive relationships has never been more important. These evidence-based resources have been built to help couples strengthen their relationship, manage their conflict better, and help separated parents understand how conflict can affect their children. This training is for anyone who works with parents or families.
Participants must attend two virtual sessions on two consecutive days, with each being 9.30am to 12.30pm.
You can find out more and book your place at Eventbrite.
Reducing Parental Conflict (RPC) Enquiry Workshops
Calling all people who have attended any RPC training!
Kent and Medway are working with Amity Relationship Solutions amityrelationshipsolutions.org who will be running Multi-Agency Relationship enquiry sessions throughout March 2023.
What is an Enquiry Workshop?
These sessions are a way of hearing what practitioners think in relation to the subject of supporting healthy family relationships. The aim of the workshops is to gain better understanding about what key stakeholders feel they need to strengthen parent relationships and increase resilience.
Feedback and findings from these workshops will help develop improved processes, pathways, systems, training and resources in the future that are useful and relevant to practitioners and in turn - families. Your input is important.
You can book your place at a workshop by filling out this form.
Workshops are planned in groupings – please select date/group when booking as relevant for yourself.
Information from KCC's Area Partnership Managers
Briefing and Networking Sessions
Our regular Early Years & Childcare Briefing and Networking Sessions provide a good opportunity to keep your setting and staff up to date and to network with colleagues from other settings.
Why not book a place on the next round of sessions and benefit from the opportunity to network and hear important updates? In February the agenda will cover an update from Kent Safeguarding Children Multi-Agency Partnership, information from Kent Libraries, a presentation on and discussion opportunity around the Kent Early Years Stronger Practice Hub and an update from the Kent Early Years and Provider Association.
In line with provider feedback and to maximise ability to attend, these sessions will continue to be held virtually via Zoom and you can access your place by clicking on the course codes below:
EYC 23/002 Group settings and schools (South) Wednesday 8 February 4pm to 6pm
EYC 23/003 Group settings and schools (West) Thursday 9 February 4pm to 6pm
EYC 23/004 Group settings and schools (North) Tuesday 21 June 4pm to 6pm
EYC 23/005 Group settings and schools (East) Wednesday 22 February 4pm to 6pm
We are also running an additional evening Briefing and Networking Session specifically for eligible childminders and out of school settings who may find it difficult to attend the weekday afternoon sessions.
EYC 23/001 Childminders and out of school settings Tuesday 7 February 7.30pm to 9.30pm
Please note that any type of provider is welcome at any Briefing and Networking Session.
Early Years and Childcare Provider Association
Kent's Early Years and Childcare Provider Association met in December and was pleased to welcome Sally Heath (Manager from Stepping Stones in Canterbury) as the Canterbury Early Years Groups Representative. Also, Denise Howard from Rainbow Out Of School Clubs Ltd has been appointed as the Out of School Representative.
The Early Years Groups Representative for Tonbridge and Malling remains stubbornly vacant. If you are a good or outstanding early years group provider in Tonbridge and Malling and think you might be interested in this, please do make contact at [email protected]
The Association also:
discussed its Call to Action 'Save our Sector Campaign; further updates will be available at the up and coming Briefing and Networking Sessions referenced above
received an update on Kent's Early Years Stronger Practice Hub (which again will be on the agenda for the Briefing and Networking Sessions)
had an update on the Childminder Recruitment Project, which involves some outreach work with the colleges in Thanet and Canterbury, aiming to increase the recruitment and retention of childminders. The outcome of this project will be reported on in due course.
The Association also provided an update to the sector via email on 24 January. In case you missed this, we have attached the communication to the email through which this Bulletin is being sent.
The Association next meets in March.