Early Years & Childcare Bulletin January 2021
Welcome and Introduction from Alex Gamby
Dear Kent Early Years and Childcare Providers,
Welcome to the first Early Years and Childcare Bulletin of 2021. Although there have been many other communications to you during January in relation to the COVID-19 agenda, and also that it does perhaps feel a little late to be saying this, I would nevertheless, in the context of this bulletin and notwithstanding the immense pressure you have been under this past month, like to wish you all a Happy New Year. I am sure that the Christmas and New Year period now feels like a distant memory and the benefits of any rest and relaxation you were able to enjoy then may be long gone. Before our next Bulletin however, at the end of February, is half term and looking ahead to that, I hope that you will all be able to take some time to recuperate then, even if you are not a term-time only setting. The continued heartfelt thanks from me personally and of course Kent County Council (KCC) and The Education People go to all of you for your continued support of our children and their families through this extremely difficult period of history.
Kent Inclusion Statement
Thank you once again and very much to those of you who were able to contribute to the development of Kent's Inclusion Statement, be it by taking part in the discussions at Early Years and Childcare Briefing and Networking Sessions in the autumn and/or by responding to the online consultation. I am pleased to be able to share that this Inclusion Statement has now been published.
Take up of the Two-Year-Old Free Entitlement
The Two-Year-Old Free Entitlement is in Kent called, as you are all aware of course, 'Free for 2'. Kent is one of twenty local authorities that are part of a national project to increase take up, supported by an early years and childcare focussed organisation called Hempsall's, that has been commissioned by the Department for Education for this specific purpose. Clearly, in the context of COVID-19, this is not the easiest time to be trying to increase the take up of Free for 2 places, however, our aim will be to develop an approach to and plan for this that can be implemented once our current circumstances improve. Integral to our approach and plan will be a review of information provided and promotional materials, in which we will seek the views of providers. Please 'watch this space' for the next steps.
Annual Conversations
As group providers may be aware, the Education People's Early Years & Childcare Service is commissioned to provide an 'Annual Conversation' visit to all group providers (a slightly different process applies for childminders) which is designed to support providers in evaluating, monitoring, challenging and improving practice in the Early Years Foundation Stage (EYFS). At this challenging time, we appreciate that many settings are dealing with a wide range of issues, staffing may be depleted due to illness and some settings have had to close temporarily for varying periods of time. We would like to reassure you that we intend to continue offering the Annual Conversation, whilst being mindful that some of you may wish to defer these visits at the current time to a later date, when hopefully things are more settled. As such, our Improvement Advisers will be making contact with you shortly to arrange a mutually convenient time for your Annual Conversation to take place over a virtual platform.
Additionally, whilst the Early Years LIFT (Local Inclusion Forum Team) process and meetings continue, we would want to remind all providers that you can access pre-LIFT support through the established process.
National News and Updates
Early Years Foundation Stage Profile
Ministers have decided it will not be mandatory to complete the Early Years Foundation Stage Profile (EYFSP) assessment in 2021 but instead will be asking schools to make 'best endeavours' to undertake it.
This is in recognition of the additional pressures and uncertainties that teachers are facing during this challenging time. This also aligns with the approach on KS1 and KS2 assessments this year. However, DfE recognise that the EYFSP is a valued assessment by teachers and early years professionals and is a crucial tool in supporting children's development and the transition from reception to year 1.
It is for that reason DfE will be asking teachers and early years practitioners to use their best endeavours to still complete the EYFSP for children in the summer term if at all possible and to provide this important information to parents and to year 1 teachers, should the situation at the time allow. This will be a judgement for schools and teachers depending on their individual circumstances and will in many cases depend on the coming weeks and months.
We know many schools found they could complete the EYFSP in 2020, particularly due to its nature as a teacher-led assessment. Schools who decide they are able to complete the EYFSP this year and provide this information to parents and year 1 teachers will not be subject to statutory external moderation. There will be no requirement to submit data to the local authority or to confirm whether they have completed the EYFSP to DfE.
This change applies to schools who are early adopters of the Early Years Foundation Stage reforms, as well as schools who are following the current statutory framework. If you have any questions, please submit these to [email protected]
Foundation Years Website
The Foundation Years website contains a useful COVID-19 Resources Hub which hosts a variety of information including Government updates and information for early years providers and for families.
Supreme Court Judgement in Financial Conduct Authority's Business Interruption Insurance Test Case
The Supreme Court has delivered its judgment in the FCA's business interruption insurance test case. The Supreme Court has substantially allowed the FCA's appeal on behalf of policyholders. This completes the legal process for impacted policies and means that many thousands of policyholders will now have their claims for coronavirus-related business interruption losses paid.
For further information is available on the FCA's website.
Kent News and Updates
Free for Two Submission Dates
FF2 claims must be submitted on the provider portal by 5pm on 12 February to receive payment during the week commencing 22 February.
Following headcount, balancing payments will be paid during the week commencing Monday 22 February 2021.
Virtual School Kent (VSK) and Fostering in Education Liaison Officers (FELO)
There is a useful leaflet on Kelsi providing more information and contact details for VSK and FELOs.
Kent Bookstart
The latest Kent Bookstart Annual Report (2019-20) is now available. It covers the period from April 2019 to March 2020.  As everyone is aware, the end of that year did not go according to plan due to the COVID-19 outbreak, consequently the figures in the report only go from April 2019 to February 2020, after which all Bookstart gifting had to be temporarily suspended. Bookstart Baby Pack gifting was restarted when birth registrations resumed in Kent (June 2020).  There were plans to restart the Bookstart Treasure Pack gifting in January 2021, however, due to lockdown number three, and all libraries currently closed again, this will have to be revisited.
Committee News
Charity News
 
The Charity Commission has updated the 'charity meetings' section to include recent Government guidance about lockdown restrictions in England and Wales. This guidance helps with the running of a charity during the coronavirus (COVID-19) outbreak.
Out of School Providers
We are pleased to be able to inform you that we now have a dedicated section for the standalone out of school sector in this Bulletin. We will be using this opportunity throughout the year to update you with information and news for the sector.
January began with the announcement of a full national lockdown. The Early Years & Childcare Service understands for the out of school sector this may mean that you have had to make the difficult decision to close your doors if you are not providing your services to keyworker or vulnerable children. If you have decided to close, please let Ofsted and our team know.
We recognise and understand that this is an extremely difficult and worrying time for you all and would like to support you as much as we can. Please continue to send your questions or queries to [email protected]
We have had to change the way we communicate and support you during this pandemic and continue to use different virtual platforms to do this. We have recently relaunched the Kent Out of School Networking Group Facebook page which we hope will also provide the opportunity for you to network and support each other.
If you have not yet signed up to our Facebook page please request to join the group here. You will be asked for your name and your Ofsted number. Once your request has been received, we will verify your details and accept your request; this ensures the group is used for the out of school sector in Kent.
As you know the Government continues to update their guidance for our sector
Childminders
Department for Education Data Collection
Please continue to notify the team if you have closed for reasons related to coronavirus. It is important that we receive this information both for funding reasons and to ensure accurate reporting to the DfE.
In relation to DfE figures, we have sent out a new survey this term. If you have not already completed it or have experienced a change in the number of children you are currently caring for, please complete the survey
Continue to send queries to [email protected] or contact your district childminding adviser.
Information to Share with Families
When your Child is Unwell (minor ailments)
Families know their child better than anyone. If something seems wrong, trust your instincts. Find out more information about common childhood illnesses and what to do about them.
If you are still worried, health visitors can offer advice and support.
Foundation Years
The Foundation Years website contains useful information for families including some links to home learning resources.
Children and Families with Special Guardianship Order
If you are currently supporting a child and family where there is a Special Guardianship Order, you may find this leaflet useful as it contains advice and information about support that may be available to you.
How Libraries can Help
Kent Libraries have produced a useful flyer with links to home learning resources for families during the pandemic.
Young Minds
Talking to children about coronavirus can be a challenge which is why Young Minds have devised ten tips to help families.
NHS
Coronavirus has put families under a huge amount of stress.  This NHS website provides ten tips to support parents and carers with their mental health and wellbeing which in turn will support the home learning environment for children.
Good Practice
Exploring Pedagogy: Introducing Jean Piaget
Jean William Fritz Piaget was born on 9 August 1896 in Neuchâtel, Switzerland. From a young age Piaget demonstrated a keen interest in the natural sciences and, by the age of fifteen had published several zoological articles gaining him early recognition with those in this field. Piaget continued his studies in natural sciences resulting in a Ph.D. in zoology from Neuchâtel University in 1918.
Read more about Jean Piaget's work
Briefing and Networking Sessions
Our regular Early Years & Childcare Briefing and Networking Sessions provide a good opportunity to keep your setting and staff up to date and to network with colleagues from other settings.
 
Why not book a place on the next round of sessions and benefit from the opportunity to network and hear important updates? These sessions will be held virtually via Zoom and you can access your place by clicking on the course codes below:

We are also running an additional evening Briefing and Networking Session specifically for eligible childminders and out of school settings who find it difficult to attend the weekday afternoon sessions.

Early Years and Childcare Provider Association
At its meeting in December the Early Years & Childcare Provider Association:
discussed the nature of support for settings in the ongoing COVID-19 situation, and as a consequence the recent 'Take a Break' sessions were introduced and the Briefing and Networking Sessions in February will include a Question and Answer session that incorporates questions that emanated from the Take a Break Sessions (that have not been previously answered via our Frequently Asked Questions document and/or other means)
received information about the supply of childcare in Kent since September, which information shows has generally continued to meet supply. There were some interesting observations on vacancy levels in some districts, attributed to understandable parental caution due to the high number of COVID-19 cases
received and was able to comment on a presentation on the Kent SEND Strategy Consultation, which is still out for consultation until 4 February
was also able to comment on the work in progress to review and improve Kent's Local Offer (including the Early Years Local Offer)
noted and was sympathetic to the ongoing and very difficult situation for stand-alone out of school childcare providers.
Please note that the Early Years & Childcare Provider Association still has four vacancies for early years group providers in Dartford, Gravesham, Sevenoaks and Tonbridge & Malling (although we do have one expression of interest for Tonbridge & Malling) and one for childminders in the South. If you are a group provider in one of these districts or a childminder in the South (the districts of Dover, Ashford and Folkstone and Hythe), and think you may be interested, please email [email protected]. Thank you.
Contact Us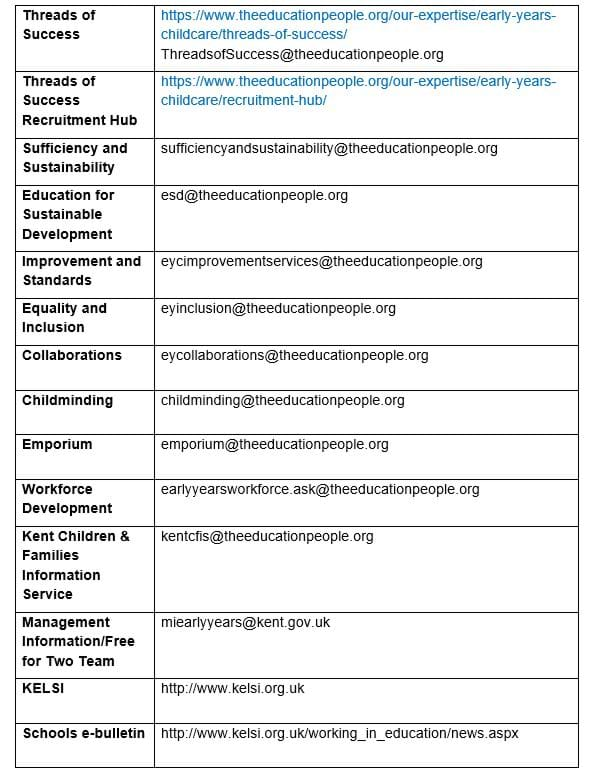 ---