Celebrating Pride Month in Schools
Estimated Reading Time - 4 minutes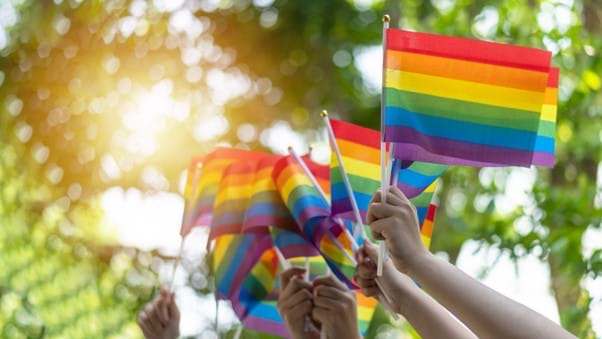 As educational institutions, we pride ourselves on arming the next generation with important knowledge, history, life skills, and lessons to take out into the real world. With the demand for more LGBTQ+ education to be included in the curriculum, pride month is the perfect time to get your students involved - and teach them about one of the most historical struggles for social justice.
What is Pride Month?
Pride month is held in June. This month is dedicated to celebrating LGBTQ+ communities across the world, and to honour the infamous 1969 Stonewall Uprising in Manhattan. This uprising represented the beginning of the Gay Liberation Movement in the US.
The Stonewall Riots also helped pave the modern fight to abolish discriminatory laws against the LGBTQ+ community. Thanks to the Stonewall riots and protestors' demands, safe havens for LGBTQ+ people were established, where they could be open about their sexual orientations without fear of persecution or arrest.
During pride month, we come together to celebrate the LGBTQ+ community in different ways. From parades and marches to festivals, dance parties, and commemorations, it's a great way to honour the historical battles and victories of the LGBTQ+ community.
Celebrating Pride Month in Schools
The gay rights movement advocates for an end to discrimination against LGBTQ+ people in housing, employment, health services, and other areas of life. Though society has come a long way, harassment and discrimination are still rife. It's important to teach children the victories and losses of LGBTQ+ acceptance and the issues that still remain in the modern world.
So, how do we do it? Here are some ideas to help you bring pride month to the classroom.
Include LGBTQ+ History in Lessons
the establishment of the Society for Human Rights in Chicago 1924 - the first-ever gay rights group to emerge in America
the first known case of sex reassignment surgery took place on Roberta Cowell in 1951
the Supreme Court ruled in favour of gay rights in 1958, a landmark case in LGBTQ+ history
the US Stonewall Riots of 1969
homosexuality was no longer declared a mental illness in 1973
the London Gay Liberation Front held the first-ever London Pride event on the anniversary of the Stonewall riots in 1972
the first pride flag was designed in 1978
men who have sex with men are banned from donating blood in 1985, but this was not lifted until 2011
gay marriage is legalised in the UK in 2013.
Read LGBTQ+ Themed Books/Inclusive Books
Literature is an excellent talking point. There are many LGBTQ+ themed books to read in the classroom, listed below are some examples.
Baking With Dad by Aurora Cacciapuoti (ages 2-4).
The Different Dragon by Jennifer Bryan (ages 5-7).
Llama Glamarama by Simon James Green and Garry Parsons (ages 8-11).
Colour Outside the Lines: Stories about Love by Sangu Mandanna (ages 12-14).
Tomboy: A Graphic Memoir by Liz Prince (ages 15+).
To discover more LGBTQ+ and inclusive literature, take a look at Stonewall's resources for children and young people
Teach Students About Pride Flags
Did you know there are more than 20 different pride flags? Get your students involved in pride month by teaching them the differences. There are many excellent breakdowns of each pride flag and what it stands for online, and you can test your student's knowledge with fun quizzes, colouring activities, or even get them baking and decorating with pride flags!
Share Stories of LGBTQ+ People
The best way to learn about a struggle is to hear it from the people who've suffered. Sharing LGBTQ+ stories with your students is a great way to showcase LGBTQ+ voices and highlight struggles in a very personal manner.
Here are some great resources to get you started:
You can also teach your students about the voices of some of the most influential people in LGBTQ+ history, including:
Storme DeLarverie
Alexander the Great
Alan Turing
Sidonie-Gabrielle Colette
Marsha P Johnson
Oscar Wilde.
The Power of Pride
Teaching the next generation to be more inclusive, and to give LGBTQ+ children the representation they need to feel safe and supported in society, is crucial. Start today by bringing the power of pride month straight to your classroom.
How Can We Help?
We have a whole area dedicated to supporting schools with helpful resources, links, guidance and information. Click below to be taken to the relevant page.