Summer Reading Challenge 2023
Estimated reading time: 3 minutes
Ready, Set, Read!
The Summer Reading Challenge will launch in Kent Libraries on Saturday 8 July 2023!
The Summer Reading Challenge, presented by The Reading Agency, funded by Arts Council England, and delivered by libraries encourages children to read for pleasure during school holidays, which helps prevent the summer reading 'dip' while out of school. Each year over 700,000 children across the UK are motivated by the Summer Reading Challenge to keep reading for pleasure to build up their skills and confidence!
Find out more information about how families can join in for free at Ready Set Read 2023.
This year's theme is all about games and sports. Children will track their reading as they follow a fictional team and their mascots through an obstacle course.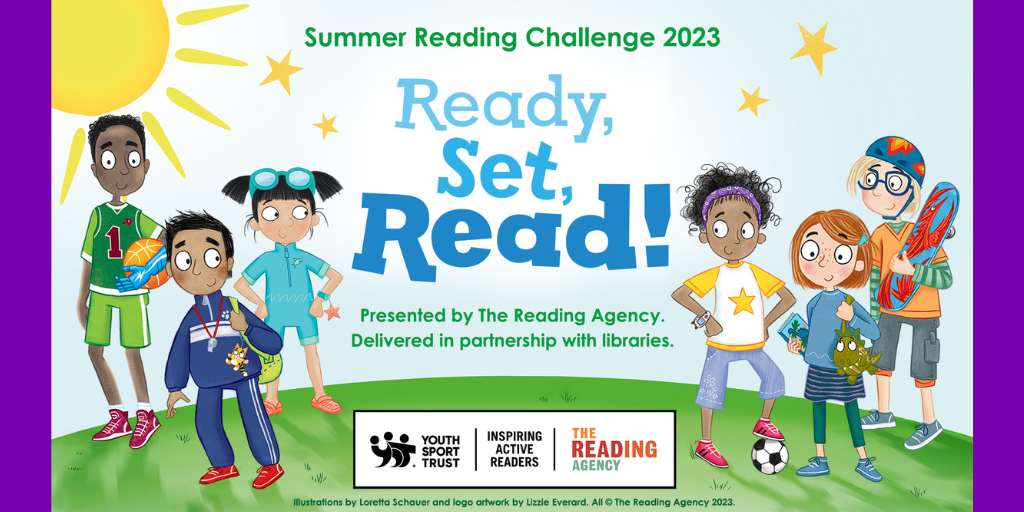 The Summer Reading Challenge is free, open to all primary school aged children and is designed for all reading abilities. Children will be able to sign up at any library in Kent, including at any mobile library stop. They can also choose to join in with the online Challenge via the Ready, Set Read website.
Children can choose to read whatever they like as part of the Summer Reading Challenge. Fiction, fact books, poetry, joke books, picture books, graphic novels, audiobooks, E-magazines and E-books all count, and all are free to borrow with a library card. There are amazing rewards on offer as children read their books and complete each stage, including a medal and a certificate of completion (while stocks last)!
Did you know you can reserve items from the Kent Libraries online catalogue for free with a child's library card? Families can order from any library in Kent and the Kent Libraries team will get it to their chosen library as soon as possible. With full membership (if you've confirmed your home address in person at a library), members can borrow up to 30 titles on each library card, plus even more with access to free E-library apps.
There will be special launch events on Saturday 8 July, and loads of free children's activities across Kent throughout the summer! Don't forget to follow Kent Libraries on Facebook and Twitter to keep up to date with what's on offer, and subscribe to their YouTube channel for free online activities and story times.
Not a member of the library yet? Join online today. To get started and to find details about libraries near you, head to kent.gov.uk/libraries
Interested in finding out about what we can offer schools? Email us at [email protected]
Summer Reading Challenge and Kent Children's University
Kent Libraries is a Learning Partner for Kent Children's University (KCU) so that means children that participate in the Summer Reading Challenge can also earn Learning Credits with KCU.
Children earn one Learning Credit per book read as part of the Summer Reading Challenge and there are additional Learning Credits available when children participate in related activities in any Kent library during the course of the Challenge.
Learning Credits should be issued by library staff but do not worry if that does not happen. Simply keep Summer Reading Challenge evidence and send a photo to [email protected] so they can issue you the relevant Learning Credit code/s via email.
Find out more about Kent Children's University Learning Credits here or email [email protected]