Reflect, Expect, Check, Explain
I don't know if the same is true for you, but here is a rough representation of my personal engagement in professional development throughout my teaching career…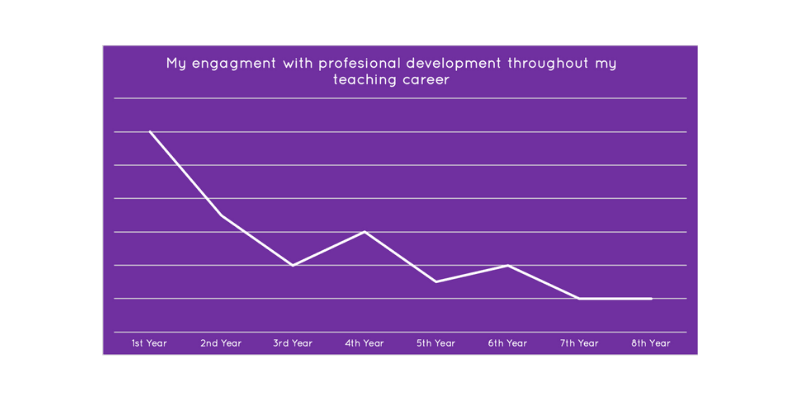 Please do not interpret this incorrectly, this does not represent my development as a teacher, but instead my levels of engagement with professional development. This is not a great indication, but I think this trajectory is fairly common amongst teachers as they grow in experience. For me, circumstantial situations like starting a family led to the drops, while the peaks came as I embarked on more responsibility and felt out of my depth.
I know this to be the case for many teachers as they progress, since mid-career teachers are the ones reporting that they receive the least CPD.
But honestly, in my arrogance, I thought I was a good teacher and that I had read/learnt everything I needed a few years into teaching, so I plateaued.
I justified it with the demands on me as a teacher that investing in professional development is going to have to be dropped. My family, department, students and lessons were more important. I may be alone in this thinking but maybe not (mind you - if your reading this then you are the type who is interested in your professional development, therefore it follows I'm likely alone in this thinking with this audience).
If I frame it within the infamous Kolb cycle, the one we all learn during our PGCE, I had got stuck with the active experimentation and was not completing my cycle of learning as a practitioner leading to me to become stagnant in my practice.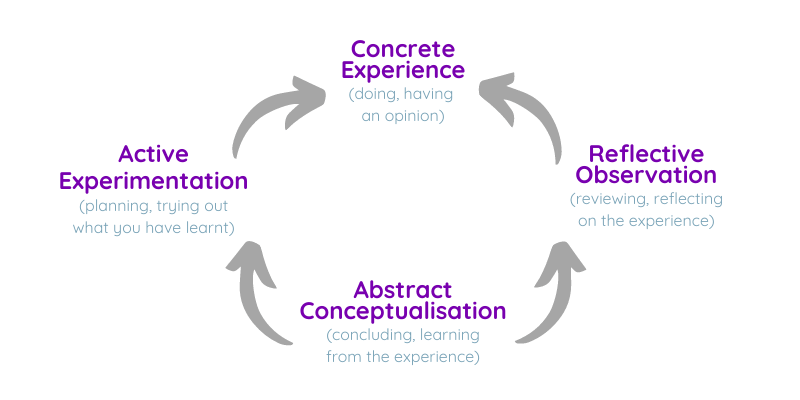 To readdress this, I've done two things recently to help make me aware of the thirst for learning that lay dormant: joined Twitter and read books. I would recommend both.
For my own enjoyment and to help others I am hoping to synthesis and digesting professional development ideas to share within these blogs. Initially this is going to be reading and reviewing some of the numerous maths teaching books and sharing some of the things I have learnt from them.
First on the list: Reflect, Expect, Check, Explain by Craig Barton.
The book walks through Craig's learning episode structure to teaching in detail (its over 500 pages)! Within each aspect of a learning episode he details his justifications with research informed thinking and provides great ideas for resources too. By using Reflect, Expect, Check, Explain as a basis for the thinking that students should be doing, he has cleverly kept the structure to the key parts of learning that are required for success in maths. Therefore, it is very adaptable regardless of the topic that the learning episode is being planned for. He provides prompts and questions that can be applied across multiple topics with the aim to make students think harder. See Craig's diagram below which represents a learning episode.
A summary of the various phases when engaging with a problem.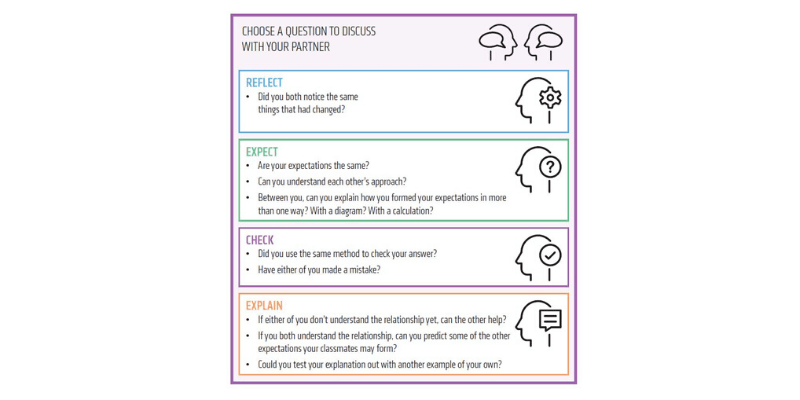 Expectation
I will only pick up on two points that had the greatest impact on me while reading. The first was the expect phase. I have regular attempted to ask my students to use estimation in order that they get a sense of a question. Expectation however relates to every aspect of maths teaching and can therefore be applied across topics. However, key to much of what Craig advocates needs to become habit and second nature for the benefits to be greatest. Therefore, perseverance and training is required to support this.
Training students to ask the questions in helps them assess what might happen: is it going to get larger/smaller/stay the same? Students need to settle on an expectation before they start the check phase. In fact, Craig encourages them to be able to explain their expectation to a partner and encourages a lot of discussion around every stage of learning.
The reason I found expectation so powerful was because it has two effects on mathematical thinking: 1) affirmation and 2) the hyper correction effect.
The hyper correction effect refers to the finding that errors committed with high confidence are more likely to be corrected than are low confidence errors. Facilitating expectation helps students think hard about when their expectation matches the check or more importantly when it does not match the check. Also, students seem to be more likely to put in the effort required to correct their expectation if it turns out to be wrong.
Differentiation
My second key takeaway was around differentiation as I found myself nodding in agreement since I had held similar views for years but had not been able to provide a good enough alternative. Students are often not very good at self-selecting what work they should do. Both boys and girls tend to be overconfident in their assessment of themselves with boys to a greater degree. Students are not the experts and therefore self-selecting differentiation approaches through tasks can lead to frustration both for the students and the teachers.
Instead, Craig suggests that we look at differentiation being varying levels of: time, support and student experience. To achieve this the answer is only the beginning and prompts and questions are can then be used to develop deeper thinking.
Time: allowing time to engage in thinking hard and not prioritise task completion through challenging prompt questions
Support: identifying and supporting various students through prompts as required
Student experience: all students doing the same questions will be experiencing different things (invisible to the teacher)
Questions to consider after the 'check' phase
Which two answers surprised you most and why?

Explain this relationship in two ways to someone who doesn't understand it yet

Ask me two questions about this sequence

Continue this sequence with two of your own questions

Think of two conjectures and test them with your own examples
There were many other learning points within this book and I would really recommend reading it with a note pad and pen.
Come to our Network Meeting
Network Meetings
Our first network meeting of the September term will take place on 22 and 24 September at 4.00pm - 5.15pm. These are repeats to help you manage your schedule. If you have not been able to join us yet, you are still more than welcome and invites will be sent out closer to the time.
If you are currently not receiving invites, please feel free to email me and I will add you to the mailing list. You can also read our network meeting catch up to see what we have been discussing.