National Children's Gardening Week - Get Involved!
28 May will mark the start of National Children's Gardening Week.
There are so many ways you can get involved, from starting a community garden to pressing flowers.
More and more schools and early years settings are beginning to recognise the value of outdoor learning, and what better time to bring it into focus than now, when the flowers are blooming and the bees are buzzing?
First, we wanted to dive into the benefits of gardening — let's take a look.
It Provides An Outlet For Stress
One of the most significant benefits of gardening is the relaxation that it brings. Being out in nature naturally makes you breathe in the fresh air and unwind, and gardening provides a thoughtful (but not strenuous) activity to do while thinking and processing your feelings.
For many children, they spend most of their time learning at school, interacting with friends, and then spending time at home, doing homework, and going to sleep. While gardening can be collaborative, it offers a therapeutic, quiet moment to spend with yourself outside of the normal routine. Eventually, it can become part of the child's routine and a much-needed outlet for any stress they experience.
A study in Amsterdam found that cortisol levels were significantly decreased in participants that got involved in gardening as part of the experiment. Another study from RHS found that those who garden every day scored their wellbeing as 6.6% higher than those who didn't garden at all.
It's clear, then, that the evidence for the emotional benefit of gardening is there in spades (if you will)!
It Helps Grow Confidence
Healthy development of confidence is essential to a child's ability to learn and grow.
Much like cleaning or washing the dishes, gardening is often an activity that children only see their parents doing. Getting involved in such 'grown up' activities can really help instil a sense of purpose and confidence in a young person.
When it comes to gardening, the payoff can be immense. Planting a seed, tending to it, watching it grow, and seeing it blossom is a practice of patience – with a hugely satisfying result! It can foster in children an appreciation of their capabilities and promote the knowledge that they can (and do) make a difference to their surroundings.
With climate change an ever-important issue, more children than ever are reporting 'climate anxiety'. When young people understand that their actions – like growing their own food – have an impact, they can begin to feel much more in control of their collective and individual futures.
It's An Engaging Form of Exercise
Not only is gardening good for both mental health and the planet, but it's also good for your body.
It might be surprising to learn, for example, that 30 minutes of gardening is comparable to playing a game of badminton!
Many children may feel reluctant to join in contact sports or more strenuous activities like running or drills. These children and their peers, might enjoy the subtle exercise that gardening provides. And they'll be having fun while they do it, too!
Any activity is good activity – so providing the alternative option of gardening rather than reluctantly partaking in other sports (or not partaking at all) is a great way to get children involved in a healthy pattern of activity.
It Can Encourage Healthy Eating
For children, growing fruit and vegetables can promote healthier snacking and a desire to get involved in food preparation at home.
This is likely due to the sense of pride that we all get when we have grown something from the ground up. Knowing you can grow something from a seed makes you much more likely to want to eat it, as opposed to believing that a vegetable is just something your parents bring home in a plastic packet and make you eat a set amount of!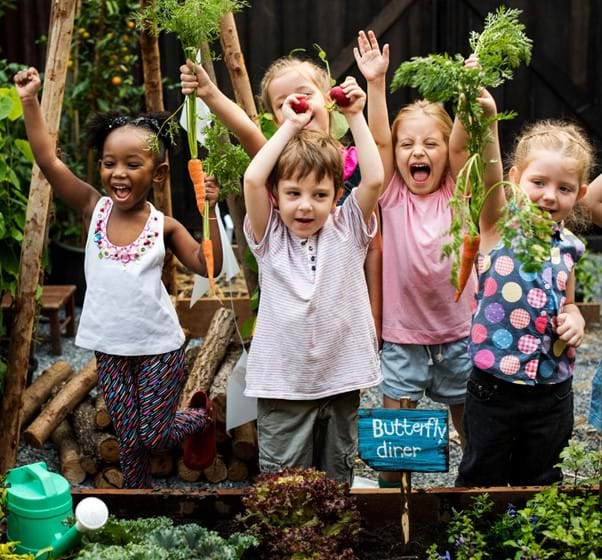 How Can You Get Involved?
National Children's Gardening Week is (as it says on the tin) only a week long – but gardening is a learning experience that lasts forever, so why not get started now?
The official Children's Gardening Week website provides a wealth of information on how to get stuck in, from competitions to activities. Find out about their school gardening competition here! Prizes up to the value of £700 are up for grabs.
There's also a range of activities your school can run to get kids excited about gardening – take a look at their list of things to do.
Some of our favourites include making a secret hedgehog hut and painting a garden fence mural. Or, why not take a school trip to an open garden?
So get started today to make a difference to children's lives and the world around you!