Early Years & Childcare Bulletin - Term 2 2022
Welcome and Introduction from Alex Gamby
Hello everyone
I am one of those people who, whilst loving Christmas, tries to not particularly make a big thing of it until December; however as I write this to you still firmly in November, feel I really do need to make mention of it. So I do hope that, in the run up to Christmas, you are enjoying being knee-deep with the children in all the lovely opportunities and activities that it brings. Please do share with us any stories and pictures of things you have done in your setting – it will be absolutely fine to share these in Term 3, even after it is all done and dusted until 2023!
Early Years Stronger Practice Hubs
The Education People's Early Years & Childcare Service recently submitted a bid to the Department for Education (DfE) to be an Early Years Stronger Practice Hub (EYSPH). This was with our Discovery Nursery and Julie Miles (Discovery Manager) particularly cited as the lead provider.
I am thrilled to be able to share that this bid has been successful and that we have been accepted by the DfE and National Children's Bureau (the DfE's appointed EYSPH national delivery partner) as one of the two Stronger Practice Hubs in the southeast region.
The Hub will operate over the next two years, with year one focusing on Kent locally, and year two broadening out to the wider southeast region. As you can imagine we have been very excited to hear this news and now have some immediate strategic and operational planning to do.
This development of the Hub will be strategically informed by discussions at Kent's Early Years and Childcare Provider Association meetings and will hence be on the agenda for the meeting in December. More information will follow in due course, including what the Hub will offer and how this can be accessed, but for now we just wanted to share the good news. 
Staying with Kent's Early Years and Childcare Provider Association, I was pleased to see that it has recently launched its 'Call to Action: Save our Sector' campaign. If you are not yet aware of this, please see the Association's section on page 14 of this Bulletin to consider what you can contribute to this campaign.
Coming back to where I started really, I would like to say a very large and heartfelt thank you to all of you, for your tireless and fantastic work during 2022 in support of Kent's youngest children and their families, and to wish you a very Merry Christmas and a Happy New Year, that includes some very well earned and deserved rest and relaxation with your families and friends.
Yours, as ever
Alex Gamby
Head of Early Years and Childcare
National News and Updates
Action Cerebral Palsy
Action Cerebral Palsy is running a campaign 'If in doubt – Check it out' for early years children who may have missed their two-year-old check or where parents may have a concern about their motor development.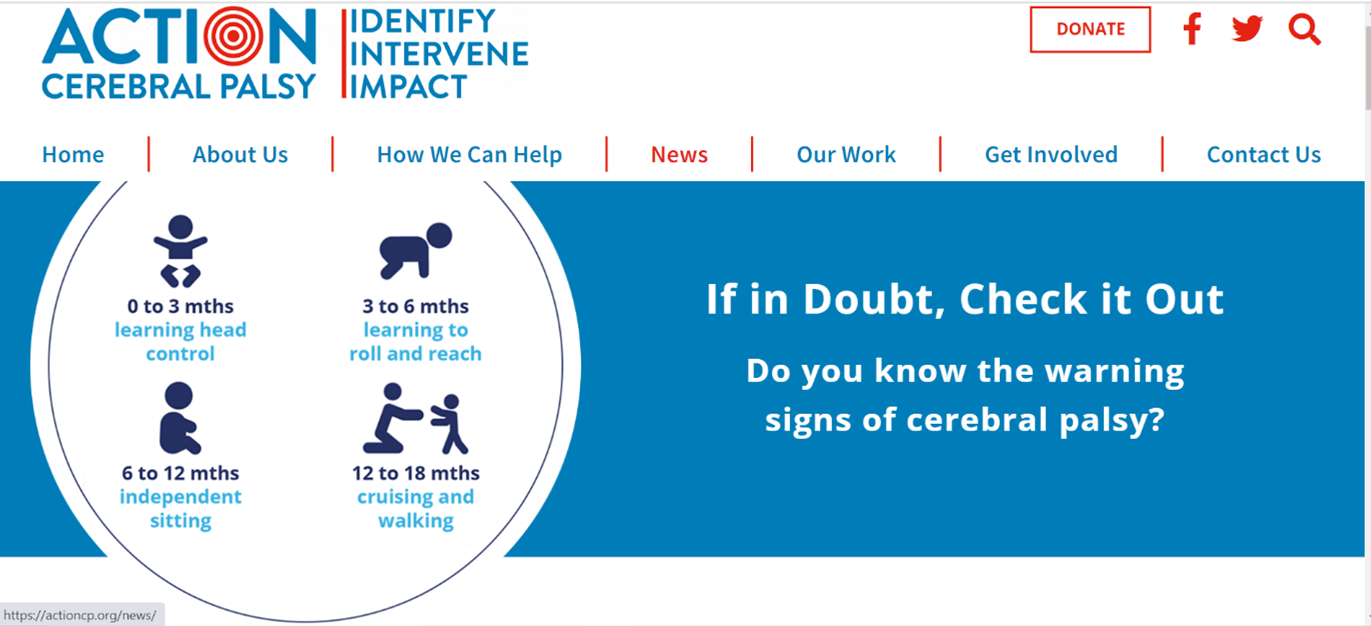 The website offers a wealth of information including the warning signs of Cerebral Palsy and the importance of early identification. There are answers to commonly asked questions and detailed descriptions of typical development at each stage. The website can be accessed at https://actioncp.org/signs/ and will be very useful for practitioners and to signpost parents to.

Kent News and Updates
Early Education Funding Reminders
Free for Two
There are two remaining opportunities to submit Free for Two (FF2) claims this term:
2 December 2022 for payments week commencing 19 December 2022
23 December 2022 for payments week commencing 16 January 2023.
To support parents for the non-UK Citizen Criteria who cannot claim benefits, parents will need to complete a FF2 Non UK Citizen NRPF Application form. Please use the guidance to support parent applications under this criteria.
Three- and Four-Year-Old Funding
Headcount for three- and four-year-old funding in the spring term is Monday 16 January to Friday 20 January 2023.
Interim payments, if an estimate was submitted in November, will be made during the week commencing 3 January 2023 and a balancing payment will be made during the week commencing 20 February 2023.
If providers receive any enquiries from families in relation to both Entitlements that they are unable to answer, please direct the family to the Kent Children and Families Information Service by emailing [email protected].
Primary Admissions Team – Information Leaflets 2023
Information leaflets for admission to primary school and junior school in Kent 2023 were attached to the early years and childcare bulletin email sent previously on the 25 November 2022. You will also receive an email from the Admissions Team direct.
Education Safeguarding Service Newsletter
The latest edition of the CP Newsletter is now available.
Attending Child Protection Conferences – a Guide for Professionals
Kent County Council has produced a useful document for professionals attending Child Protection Conferences. You will find the document attached to the Bulletin email sent on the 25 November 2022.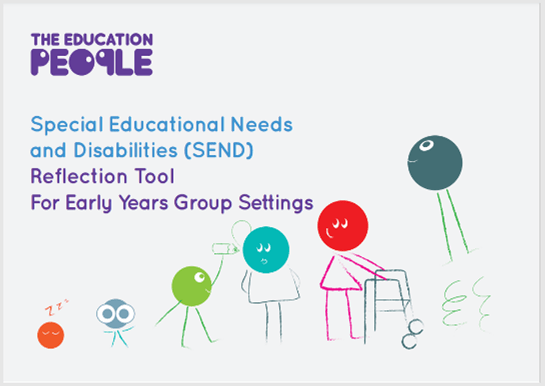 SEND Reflection Tool
The key aim of the SEND Reflection Tool is to enable children with Special Educational Needs and Disabilities (SEND) to flourish and reach their potential. Together we can support all early years practice to meet the needs of all children at this crucial time in their lives. Understanding children as unique individuals is the foundation of inclusive practice and informs the way children are supported to learn, develop and fully benefit from their early years experiences.
Early years settings are best placed to make changes for children that will have a long term impact on their confidence, resilience and independence. Early years settings understand the importance of minimising the barriers to learning and are skilled at making the best use of available resources. Building a culture of collaborative working with families, other professionals and the community can make a real difference in shaping future practice.
The SEND Reflection Tool has been designed to be used by all practitioners working with young children in group settings. The Tool provides the starting point to reflect on the quality of your current SEND practice and enable you to self-reflect and evaluate aspects of your team's SEND knowledge, practice and the provision you provide for children and their families. The Tool will facilitate and empower reflective discussions to identify your setting's key strengths and areas that may need extending or developing to ensure that children can thrive.
The aspiration to support every child with SEND to have the best possible start in life lies at the heart of the Early Years Foundation Stage (EYFS 2021), the SEND Code of Practice (2015) and the Kent County Council (KCC) SEND Inclusion Strategy (2021). The SEND Reflection Tool can support you in achieving this positive impact on children's long-term outcomes.
The SEND Reflection Tool has been designed as an ongoing working document to support your practice and offers six sections to reflect on the following:
Leading SEND Practice
Whole Team Approach
Working with Children and Families
Assessment and Early Identification
Efficient Use of Funding and Resources
The Local Offer.
This Tool has been designed to provide flexibility in how it is used and completed. The Tool can be completed as a group during team and/or room meetings or during staff supervision meetings, for example. Each section is made up of a series of reflective statements which are there to guide and support the evaluation of your current practice. You may choose to complete the whole reflection Tool in its entirety, or alternatively you could reflect on one section or an individual statement.
The SEND Reflection Tool is straightforward to complete.
It presents a series of statements and asks you to RAG rate each of them.
It then asks you to consider your current practice based on the discussion/ evidence you have gathered to support your judgement. This is where most of the reflection and discussion will be focused.
The main purpose of the SEND Reflection Tool is to empower your team to identify key priorities for improving your SEND practice and provision.
The priorities you identify will enable you to develop an action plan.
(example page, Section One: Leading SEND Practice)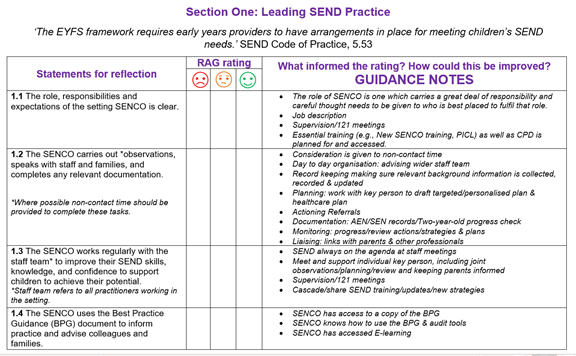 It will be helpful for you to undertake a short fact-finding review prior to your reflective discussions with your team.
You may want to seek feedback from parents, staff, and other stakeholders. The activity should raise questions that you may want to explore with your whole team. The statements in each section will support this shared reflective process.
The action plan template at the end of each section can be used to demonstrate how you are going to maintain or improve identified areas for improvement.
In time, the SEND Reflection Tool will become a working document that is continuously revisited. You will want to monitor your action plan and you may wish to record the date that each reflection and consequent RAG rating is made, enabling you to identify progress made since the last reflection. It will also allow you to monitor and maintain any green RAG ratings, to ensure consistent inclusive practice throughout your setting is maintained.
If you would like to use the SEND Reflection Tool you can request a copy by completing the usual E&I Request for Support Form.
The SEND Reflection Tool is currently being adapted for childminders. The documents will be very similar so if you are a childminder who would like to start using the SEND Reflection Tool now, you are welcome to request a copy. The Childminding Team will share information when their version is completed. To request a copy, please email [email protected]
There is the option to request a reflective conversation with an adviser once you have had time to complete the Tool (or a section) to further support your ongoing reflections to develop your provision. Those conversations would take place via a phone call or Microsoft Teams meeting. Equally, you may find it helpful to reflect with colleagues in local settings where you can share your thoughts and ideas and reflect on the impact you have.
The SEND Reflection Tool has been piloted in some settings and the feedback was overwhelmingly positive – here are just a few examples to share:
'A good and easy tool to use for self-reflection improving outcomes for children and to further develop staff CPD.'
'It has allowed me to pinpoint areas that are working well and areas that need some adjustments or focus on. As a whole it has allowed me to understand that some areas that I thought we were doing well we can actually improve and that it has allowed me to revaluate them and see them from a different perspective.'
'I feel that the toolkit will be incredibly useful as a method of reflection for early years staff as it is a working document and can be dipped in and out off when you want to focus on specific areas of your setting.'
'It can take a bit of time but is well worth it to have a clear plan of how you want to improve your practice.'
Kent Baby: Website Refresh with Information for All the Family
The Health Visiting Service has refreshed the pages available for parents of under-fives on the Kent Community Health Foundation Trust website. Kent Baby is now packed with information and support for the whole family at every stage from pregnancy to starting school with dedicated sections for fathers and partners, and mental health and wellbeing.
New resources include the following:
information and resources on a range of topics including feeding, healthy growth, development in an easy to navigate ages and stages format
Narrated PowerPoint presentations on a range of topics including becoming a parent, safe sleeping, crying baby, baby's mental health, introducing solids, toddlers and tantrums, toilet training and fussy eating
What to expect from Health Visiting videos for every mandated contact
Find out more at https://www.kentcht.nhs.uk/service/kent-baby-health-visiting-service/
Kent Bookstart
The latest Kent Bookstart Annual Report 2021-22 is now available. Find out about Bookstart's different initiatives and free books for babies and young children in Kent, how to get them, what free additional needs packs are available and how Kent Libraries support other areas of work with early years children and their families/carers.
How have you and your children/families used theirs? We'd love to know – send your feedback and any requests for further information to [email protected]
District News and Updates
Information from KCC's Area Partnership Managers
The Local Children's Partnership Groups (LCPGs) bring together partners with the aim of improving outcomes for children and young people in Kent by working collaboratively to understand and meet local needs. LCPGs have a strategic multi-agency collaborative member-led group who meet quarterly, alongside two age-focussed multi-agency operational groups, the Children's Partnership Conversation (CPC) and the Young People's Partnership Conversation (YPPC). The LCPGs have district partnership priorities for the year, an annual action plan, and access to Early Help Grant funding to support improvements related to the district's priorities.
As part of their important work in the districts, and to respond to local requests and needs, the LCPGs have developed Area Service Directories to support partners and schools to access information about local services and resources. We would like to ensure that early years providers also have access to all the information they contain. They can be found here:
East Area Directory of Support Services
South Kent Directory of Support Services
North Area Support Services
West Kent Area Support Services
These can also be viewed alongside the County and National Support Services Directory and the Hardship Help for Families in Kent Guide.
If you would like to join the mailing list for your area to receive regular information updates, please contact your Area Partnership Manager (APM):
Jenny Hanna, East APM – [email protected]
Jayne Hagues, South APM – [email protected]
Colin Green, North APM – [email protected]
Amtul Uzma, West APM – [email protected]
Charity News
Charities Act 2022: Information About the Changes Introduced on 31 October 2022
As shared with you in the Term 1 Bulletin, The Charity Commission is making some changes to the Charities Act 2011. These changes come into force in either autumn 2022, spring 2023 or autumn 2023. The autumn 2022 changes were applied on 31 October 2022.
Paying Trustees for Providing Goods to the Charity
Charities already had a statutory power that they could use to pay trustees for providing a service to the charity beyond usual trustee duties, or goods connected to that service. Now charities can pay trustees for just providing goods. As an example, supplying stationery.
For further guidance please see:
Fundraising Appeals That Do Not Raise Enough or Raise Too Much
Fundraising does not always go to plan, so these changes are designed to simplify how this is managed. The following are examples:
trustees being able to make decisions on money left over from its original purpose. Limits apply
what to consider regarding the unspent money. Is it suitable, effective and charitable?
what to do with monies when a target has not been reached and when to contact the Charity Commission.
For further guidance see Charity fundraising appeals for specific purposes and an overview of the full changes can be found in the Charities Act 2022: implementation plan on the Charities Commission website.
Focus on Out of School Providers
Autumn is upon us, and the winter break is just around the corner. Many out of school practitioners have welcomed new and existing children into their settings over the past term. New beginnings provide practitioners with the opportunity to discuss and seek children's views about what the 'out of school community' should be like. This could include how they play and interact with others, develop friendships and feel that 'sense of belonging' in the setting.
Out of school practitioners are in a privileged position to be able to support children's understanding of how to treat others, how to embrace difference and tackle discrimination. Children should know that any incidents of bullying within the setting will be dealt with appropriately. Kidscape is an organisation that provides settings with a broad range of information, resources and activities to support children, families and practitioners. To find out more go to https://www.kidscape.org.uk/
When planning for events and special occasions with the children are you aware of what holidays and special occasions are meaningful to them and their families and how they celebrate them? Are you giving these holidays equal regard, for example, Christmas? It is important to know children's personal/family culture. Do you encourage the children to share their experiences as a family? Even celebrating the same holiday will depend on their personal/family culture.
Help children you are caring for embrace difference by discussing this with them, support them all to plan and enjoy meaningful celebrations and special events to make your setting truly inclusive.
Remember to share your activities, play opportunities, special events and celebrations on our Facebook page. This is a great place to showcase the wonderful things that are happening in your setting and share ideas with other settings.
The Early Years & Childcare Service's Out of School Advisory Team continues to offer its support for settings through Annual Conversations; dates are still being offered and appointments made until the end of November. The principle aim of these visits is to reduce the risk of falling below a 'met' judgement. During these visits there is the opportunity to explore and understand the setting's approach to the monitoring of the quality of provision, the safeguarding and welfare requirements and its place within the self-evaluation and setting improvement process. In addition to the Annual Conversations, the Out of School Advisory Team supports newly registered out of school settings until their first Ofsted inspection. If you have any questions about our visits, please email the Improvement and Standards mailbox [email protected]
Focus on Childminders
Promoting Childminding as a Career
Have you seen the first of our interviews with childminders? The aim of these posts is to promote childminding as a career and to highlight the professionalism of childminders in Kent. Please help to spread the word by liking and sharing our posts on The Education People social media sites. Watch out for more interviews!
Ofsted
Recent Ofsted recommendations have shown the following trends:
extending children's knowledge and understanding about the differences and similarities between themselves and others
further supporting development in communication and language, including extending children's speaking skills, building on vocabulary and understanding of sentence formation and giving children time to respond to questions.
Sharing a story is a good way of supporting both of these areas of recommendations. Why not join your local library?
Ofsted Webinar for Childminders
Ofsted has shared a recording of their webinar which covers recent changes to the early years inspection handbook, how they look at communication and language when inspecting and common misconceptions about inspections.
SEND
Don't forget if you have questions or concerns in relation to SEND please complete a request for support form which can be found on the Kelsi website and email it to [email protected] Your request will be allocated to an adviser who will contact you in relation to your enquiry.
Join Us on Facebook!
Over 560 of the Kent Childminding community have now joined our 'The Education People Kent Childminders' page on Facebook. This is a great way for us to be able to engage with you on a day-to-day basis and for you to network with each other.
Information to Share with Families
Parents Urged to Have Children Vaccinated Against Flu
Doctors in Kent and Medway are urging parents and guardians to make sure their children have a flu vaccine.
This year, two- and three-year-olds and all primary school children will be offered the flu vaccination on the NHS.
For most children, the vaccine is a quick nasal spray, making administration quick, painless and easy.
Kate Langford, Chief Medical Officer at NHS Kent and Medway, said: "It is important that parents make sure children are protected as they can easily spread the illness among their friends and family. Flu can be a very unpleasant illness in children causing fever, stuffy nose, dry cough, sore throat, aching muscles and joints, and extreme tiredness. This can last several days or more."
"Some children can get a very high fever, sometimes without the usual flu symptoms, and may need to go to hospital for treatment. Serious complications of flu include a painful ear infection, acute bronchitis, and lung disease including pneumonia and bronchiolitis."
"Parents of children aged two and three should have received a letter from their GP practice with details on how to get the vaccine. Please do take up this offer."
"If all eligible children are vaccinated, we could significantly reduce the number of people getting flu in the wider community."
Parents should receive an invitation for their two- and three-year olds to have the flu vaccination at their GP practice before the winter. If they haven't heard from their GP by now, they should contact the practice they are registered with directly to make an appointment.
Vaccination sessions for primary school children are held in schools by the School Aged Immunisation Service (run by Kent Community Health NHS Foundation Trust) during the autumn term. Children who do not attend school will be invited to an alternative local venue.
Primary school-aged children who are in clinical risk groups may be offered their flu vaccination in school or by their GP practice.
Posters for you to display in your settings were attached to the Bulletin email sent previously on the 25 November 2022. More details at www.nhs.uk/flu
Tax-Free Childcare
Recent data has shown that there are still eligible families that are not claiming Tax-Free Childcare. Please continue to promote this support with childcare costs with families in your settings.
Tax-Free Childcare allows eligible working families to claim 20% of their childcare costs from the Government, up to a maximum of £2,000 per child from birth to the age of 11 each year. This increases to £4,000 per year for a child with a disability up to the age of 16 years.
Both parents/carers must be in employment, or one parent in a single-parent household, earning at least the minimum wage and up to £100,000 per year. If self-employed, families are eligible to join provided they have registered their business with His Majesty's Revenue and Customs (HMRC).
If you have not already signed up as a provider to accept Tax-Free Childcare, more information is on the Childcare Choices website.
There is also a useful communications toolkit which provides templates for Facebook posts, parents' guides and posters to promote Tax-Free Childcare as well as other types of funding such as 30 Hours.
We also regularly post information on the KCC Free Childcare Facebook page. So please do like and share!
Briefing and Networking Sessions
Our regular Early Years & Childcare Briefing and Networking Sessions provide a good opportunity to keep your setting and staff up to date and to network with colleagues from other settings.
Why not book a place on the next round of sessions and benefit from the opportunity to network and hear important updates?
In line with provider feedback and to maximise ability to attend, these sessions will continue to be held virtually via Zoom and you can access your place by clicking on the course codes below:
EYC 23/002 Group settings and schools (South) Wednesday 8 February 4pm to 6pm
EYC 23/003 Group settings and schools (West) Thursday 9 February 4pm to 6pm
EYC 23/004 Group settings and schools (North) Tuesday 21 June 4pm to 6pm
EYC 23/005 Group settings and schools (East) Wednesday 22 February 4pm to 6pm
We are also running an additional evening Briefing and Networking Session specifically for eligible childminders and out of school settings who may find it difficult to attend the weekday afternoon sessions.
EYC 23/001 Childminders and out of school settings Tuesday 7 February 7.30pm to 9.30pm
Please note that any type of provider is welcome at any Briefing and Networking Session.
We are also running an additional evening Briefing and Networking Session specifically for eligible childminders and out of school settings who may find it difficult to attend the weekday afternoon sessions.
EYC 22/041 Childminders and out of school settings Wednesday 23 February 7.30pm to 9.30pm.


Please note that any type of provider is welcome at any Briefing and Networking Session.
Early Years and Childcare Provider Association
The next meeting of Kent's Early Years and Childcare Provider Association is in December, when members will be able to feed back any issues raised and discussed at Briefing and Networking Sessions in October.
Additionally, you should all have received the communication sent out by the Early Years & Childcare Service on behalf of the Association on its Call to Action, 'Save our Sector'. If you have somehow missed this, or for ease of access, attached to your Bulletin email sent on the 25 November 2022 you will find a copy of the covering email from Lisa Evans (Association Chair) and Call to Action itself.