Early Years & Childcare Bulletin December 2020
Welcome and Introduction from Alex Gamby
Hello everyone and welcome to the final Early Years & Childcare Bulletin of 2020 – a year that we have lived and worked through like (I think) no other and which will no doubt be recorded in the annals of history. Not for the first time and I am sure not the last, I would like to commend Kent's early years and childcare sector for the immense contribution it has made in supporting our children and families. I recognise and acknowledge the particular challenges and stresses this year has brought, which makes that contribution all the more worthy of praise and thanks. In this context, in addition to my own accolade (and indeed that of the entire Early Years & Childcare Service), I am pleased to bring to you, below this Welcome and Introduction, personal messages from Matt Dunkley (Kent County Council Corporate Director, Children, Young People and Education) and James Roberts (The Education People's Chief Executive Officer).
We have been considering other ways in which we could continue to support early years and childcare providers going forward, and further to exploratory discussions with the Early Years & Childcare Provider Association last week, intend to introduce in January 'Take a Break' sessions. These will simply be an opportunity for providers to meet via Zoom on a 'peer to peer' support basis. If you sign up for a session, you will be let into the session and then placed in a room with other providers for you to discuss current issues and challenges and share strategies and solutions. These 'Take a Break' sessions have recently been offered to schools and have been well received. Please look out for more information in January.
For me all it remains to say now is that I hope you are all able to enjoy a peaceful and restful break during Christmas and the New Year, in which you are safe and well.
With my very best wishes to you all and once again, thank you for all that you do.
Yours
Alex Gamby
Message from Matt Dunkley, Corporate Director, Children, Young People and Education, KCC
Dear colleagues
I wanted to give you a personal Christmas message to thank you, as early years and childcare providers, for the incredible efforts you have made over the last nine months of the pandemic.
It has been an extraordinary time for all of us and right at the frontline of that has been the work that you have done on our behalf through your commissioned services for children and those young children of key workers in the first part of the pandemic, and then more widely for the rest of the workforce. You've helped to keep key workers in work and keeping the economy moving along – this has all been done in the face of some strong and difficult challenges, both in terms of economic challenges and in terms of the health and safety of your staff.
I know it has been really difficult, but I really appreciate everything that you have done on our behalf. I hope that you feel Kent County Council has supported you as fully as we can through this difficult period. I wanted to take the opportunity to wish you all a very good Christmas break and I hope that you get some time with parts of your family and let's hope 2021 is a substantial upgrade on 2020.
It has been a difficult year and my wish is for a much happier and prosperous 2021. Thank you all very much.
Matt Dunkley CBE
Message from James Roberts, Chief Executive Officer, The Education People
Dear all
I would like to take this opportunity to wish you all a very well-deserved, restful, and suitably festive Christmas break.
This year has been a considerable test for all of us, but in particular this has been felt in the early years and childcare sector where you have been responding to the numerous challenges thrown at you during the course of the year and doing your utmost to ensure that learning could continue safely for the children in your care. The Education People is proud to work alongside you in ensuring you are able to meet these challenges, and I would also like to take this opportunity to thank our Early Years & Childcare Service, led by Alex Gamby, for all they have done in providing you with the support and guidance you have needed throughout the pandemic.
As I was only discussing with Alex this morning, we will not yet be able to determine the impact that this year has had on children and families across the county, but with the exceptional work that you have been undertaking to keep your settings open I am confident that any negative impact will be minimised. Thank you for everything that you have done, and continue to do, for our children.
All the very best for the remainder of 2020 and a very Happy New Year to you all.
James Roberts
National News and Updates
Permanent Extension of the Eligibility Criteria for a Free Early Education Place for Disadvantaged Two-Year-Olds
In March, the Government temporarily extended eligibility for the free Early Education Entitlement for the most disadvantaged two-year-old children whose parent(s) meet both of the following conditions for the duration of the coronavirus (COVID-19) outbreak:
a. That they are excluded from claiming public funds as a consequence of their immigration status, or their lack of immigration status; and
b. They are in receipt of support under section 17 of the Children Act 1989.
On 1 September 2020 the Government permanently extended eligibility for the free Early Education Entitlement to this group of children. These places are now funded by the DfE in the normal way through the Dedicated Schools Grant. The children of these families will be entitled to a free place if their parents are working and meet similar low-level income requirements to others eligible for the scheme (eg a household income of £15,400 a year or less after tax).
Kent News and Updates
Inclusion Strategy Consultation Feedback
Thank you to those of you who were able to respond to Kent County Council's (KCC's) recent consultation on its Inclusion Statement. The summative account of your responses, along with identified next steps as appropriate and necessary is attached to the copy of this Bulletin which was emailed out to all providers.
Integrated Review at Two
As you are aware, Kent County Council, The Education People and the Health Visiting Service (Kent Community Health NHS Foundation Trust), are working together to review and implement improvements to the two-year review processes.
We would like to thank you all so much for sending out the recent questionnaire to parents. We have been delighted with the many responses we have received so far.
As an Early Years & Childcare Service we are currently working to develop stronger links and working practices between early years and health visiting colleagues. As part of the ongoing monitoring of this work we are asking early years and childcare settings to let the Early Years & Childcare Equality & Inclusion Team know when the SENCO/Manager has made a referral to the Health Duty line. We are aware that the Duty line is being used more regularly and we would be very grateful if you could help us by completing this very simple E–form (found on Kelsi).
Once you have contacted the Duty line could you also complete the link below for the Duty Health log form which will come directly to us for our information.
Your ongoing contribution to this work has been much appreciated. We thank you in advance for your support.
30 Hour Grace Periods
As you are aware, the 30 hours entitlement has a "grace period" built in to provide stability for children, parents and providers. Whilst in a grace period, a parent can reconfirm their eligibility through the Childcare Service and their 30 hours free entitlement would continue without a break. If a parent has not reconfirmed their eligibility within the grace period, they will stop being eligible for 30 hours. They will then remain eligible for the 15 hours universal entitlement for three and four-year-olds.
Providers should be aware of the grace period dates for each parent and are encouraged to share these with parents who experience a change in eligibility status. Providers are reminded to check eligibility dates carefully before agreeing a start date with parents.
Please note grace period end dates are dependent on individual validity end dates and are unique to when the parent applied. A child cannot start at a new setting in a grace period. However, if an ineligible parent finds work that takes them above the minimum income threshold during their grace period, they will be able to reconfirm and carry on with their 30 hours as normal. More information about grace periods can be found in the Statutory Guidance.
Compliance Update - Parental Declaration Word Format
Due to the difficulties faced during the COVID-19 pandemic, for the upcoming spring term 2021 we are continuing to make the Parental Declaration forms available in Word format, which will enable you to forward to parents to complete electronically. The Parental Declaration forms for both FF2 and three to four-year-old funding are available to download from Kelsi.
For the purposes of compliance, you must keep a copy of the email containing the attached completed Parental Declaration form.
In addition, the number of FEE hours required each week and the number of weeks must be included on the email; this should match the hours and weeks requested on the attached Parental Declaration.


Supporting Children During Closures and Self-Isolation
As we find ourselves saying goodbye to children and families more often than usual due to closures and isolation, we must take a moment to remind ourselves of what we should be doing for them during these absences.
Providers have a statutory responsibility to provide care and education to children who are in receipt of funding. If you are advised to close or a child needs to self-isolate due to COVID-19 and you continue to receive funding for them, you must ensure that these children are still receiving care and education during this time.
Funding may be in the form of the Free Early Education for two, three and four-year-olds, or additional funding such as Early Years Pupil Premium, Special Educational Needs Inclusion Fund and Disability Access Fund.
Here are a few tips to support you.
Update parents/carers with their children's current progress, sharing any targeted strategies (eg visual signs, now and next boards) by sending them home or providing duplicates.
Keep in contact with your families when they are not attending, being mindful that not everyone has access to technology.
Start to discuss with your families now, what they can do, have access to and can provide at home, so you can plan appropriately.
Consider creating 'grab bags' containing activities, resources or ideas linked to children's next step of development.
Provide physical activities as well as virtual. We know (or research tells us) it is not good practice for children to be watching a screen for long periods of time and therefore physical activities must be provided.
Liaise with SENIF practitioners or STLS colleagues for further advice for children who are known to them and require personalised support and how this can continue at home.
If children are receiving Portage at the point of any national or local lockdown, they will continue to receive this support virtually.
Early Years Professional Development Programme (EYPDP)
The EYPDP is a programme funded by the Department for Education (DfE) and run by the Education Development Trust and Elklan, and forms part of the Government's plan to improve social mobility through education. As a result of the criteria for entry onto the programme, in Kent we have two partnerships running, one in the East of the County (which covers both Canterbury and Dover districts) and one in the West (which covers both Sevenoaks and Tonbridge & Malling districts).
January sees the start of the second strand (of three) roll out, in which we welcome our newly signed up Early Years Practitioners (EYPs) from the above districts, who will be embarking on both online self-study sessions and Tutor lead webinar sessions, on their journeys to achieving a Language & Literacy for 2–4s level 3 qualification. The webinars will be delivered by the Tutor Champions, which will be a great learning opportunity for them, as this will now be taking place virtually!
Meanwhile, the Mentor Champions will begin their cascade within their own settings, with the goal of becoming a DfE recognised Communication Friendly Setting (CFS), which is a great accolade to have.
We would like to thank each and every Tutor, Mentor and EYP from our partnership settings, for agreeing to be part of this Government programme and continuing, despite the many stresses and challenges current life is having on everyone, both professionally and personally.
We wish you all good luck with your continuing EYPDP journeys and qualifications.
Committee News
As we continue in this time of uncertainty, we would like to make you aware that there is plenty of advice available from the charity commission on their dedicated web page called 'Coronavirus (COVID-19) guidance for the charity sector'. Here you can find information on charity meetings, AGMs and using reserves to name but a few.
Also don't forget their five new five-minute guides covering the core syllabus of basics trustees need to know. They include:
Useful Information for Families
Minimum Income Easement for 30 Hours and/or Tax-Free Childcare
From 1 November, parents not temporarily meeting the minimum income requirement for 30 hours free childcare and/or Tax-Free Childcare as a direct consequence of the coronavirus outbreak, will be treated as eligible if they would normally meet the threshold and are in receipt of Government coronavirus support schemes such as the extended Coronavirus Job Retention Scheme or Self Employment Income Support Scheme. HMRC continues to encourage all eligible parents to continue to apply for, and reconfirm, their 30 hours and Tax-Free Childcare entitlement, even if they have not been accessing their entitlement due to COVID-19. This will help to ensure parents have a smooth transition back into childcare when possible. Parents can use the guidance available on Tax-Free Childcare and 30 hours free childcare during the coronavirus outbreak if they have questions about their eligibility for their childcare offer.
Financial Distress
Kent Support and Assistance Service (KSAS) may be able to help those having serious difficulties managing their income due to a crisis or if they are facing exceptional pressures because of an emergency.
Test and Trace Support Payment Scheme
Those contacted by NHS Test and Trace and told to self-isolate on or after 28 September 2020 are under a legal obligation to do so, and could be eligible for a £500 Test and Trace Support Payment.
Wellbeing and Mental Health
Christmas can be a difficult time for many even in normal circumstances.  Families or individuals struggling in these difficult times may need to access additional help. KCC's website hosts a Release the Pressure page which provides a telephone number, a text and an online chat service 24/7 for those who need to talk with someone. The website also has a Mental Health landing page which signposts to Live Well Kent to which individuals can self-refer.
Good Practice
Exploring Pedagogy: Introducing Elinor Goldschmied
Elinor Goldschmied was born on 15 December 1910 in Gloucestershire. One of seven children, she and her siblings had the freedom to explore and play imaginatively with natural materials in the family's large garden. In an interview in 2001 Elinor commented; "My siblings and I spent hours of our time playing with mud, water, stones, shells and leaves; all the natural things. Every single thing became an element of interest".
Read more about Elinor Goldschmied's work.
The Christmas Quiz
1. Why is Boxing Day called Boxing Day?
 
2. What did 'my true love send to me' on the 7th day of Christmas?
 
3. The custom of decorating a Christmas tree came from which country?
4. How many ghosts show up in a Christmas Carol?
5. Two of Santa's reindeer are called Donner and Blitzen.  What do these names actually mean?
6. What colour are Mistletoe berries?
7. What colour is the Grinch in "How the Grinch Stole Christmas"?
8. Which English cricketer won the 2007 "Strictly Come Dancing" Christmas special making a hat trick of wins?
9. In Harry Potter and the Philosopher's Stone, what do the Dursleys give Harry for Christmas?
10. If you were born on Christmas Day, which sign of the zodiac would you be?
11. Which alcoholic beverage is used to make a Snowball?
12. Who was the 'King of the Jews' who ordered the babies to be killed?
13. In Will Ferrell's Elf, what's the first rule in the Code of The Elves?
14. Which biscuit shares its name with a Christmas item?
15. How old is Kevin McCallister in Home Alone?
Answers are at the end of this Bulletin.
Briefing and Networking Sessions
Our regular Early Years & Childcare Briefing and Networking Sessions provide a good opportunity to keep your setting and staff up to date and to network with colleagues from other settings.
 
Why not book a place on the next round of sessions and benefit from the opportunity to network and hear important updates? These sessions will be held virtually via Zoom and you can access your place by clicking on the course codes below:

We are also running an additional evening Briefing and Networking Session specifically for eligible childminders and out of school settings who find it difficult to attend the weekday afternoon sessions.

Early Years and Childcare Provider Association
Feedback from a very recent Early Years & Childcare Provider Association meeting will follow in the January edition of this Bulletin.
Contact Us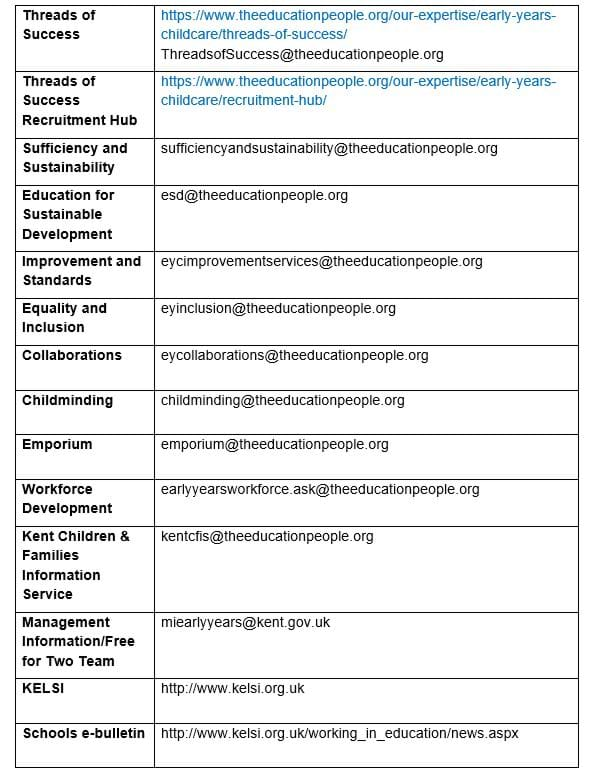 Answers to the Christmas Quiz
1. Because traditionally it was when wealthy people 'boxed' up gifts to give to the poor.
2. Seven swans a swimming.
3. Germany.
4. Four – Jacob Marley and the ghosts of Christmas Past, Present and Future.
5. Thunder and Lightning.
6. White.
7. Green.
8. Darren Gough.
9. A 50 pence piece.
10. Capricorn.
11. Advocaat.
12. King Herrod.
13. Treat every day like Christmas.
14. Cracker.
15. Eight.
---