Early Years and Childcare COVID-19 Blog - Issue 11
Welcome and Introduction from Alex Gamby
Hello Everyone
I hope this, our 11th Early Years and Childcare COVID-19 Blog, finds you all safe and well and that the increased numbers of families returning to your settings will begin slowly to feel more like business as usual, particularly with the news this week of the removal of the key person globes from 20 July. It has indeed been a busy week in terms of information coming from Government, with the revisions to the EYFS and delays to the Early Years Foundation Stage Profile and Baseline Assessment as well as Ofsted's inspection plans over the forthcoming period to name a few.
Last week, we reported that the number of group settings open had remained constant at 524, with a further small increase in the number of childminders from 590 to 593 and the number of children being cared for across all open settings had significantly increased from 13,333 to just under 15,000. We are pleased to report that this week there has been an increase of 21 group settings and 29 childminders open with 17,330 children being cared for. It is encouraging to note that parental/family confidence appears to be increasing as we near the end of term. On this note we are pleased to be able to share with you our Top Tips for Welcoming New Children and Families flyer, as well as our family version of our sample Site Operating Procedures. We trust you will find these useful when welcoming new families into the setting.
As you will no doubt have heard, the return to compulsory schooling is afoot from September for all children, and therefore it is likely that many more families will be looking to return their younger children to formal childcare, all of course within the context that hopefully there will not be a second wave causing further lockdown such as is the situation in Leicester this week. In order to provide families with a strong contextual position for Kent, we will be writing to them next week to provide them with the findings from our recent COVID-19 settings' survey where we established that in Kent only 3 children and 13 staff reported confirmed cases of the disease (408 respondents). Hopefully this will provide families with facts which will allow them to make an informed decision as to whether to return their children to their childcare setting.
As we near the end of term, with the exception of this week, we may be seeing fewer Government updates and therefore will be working on the premise that from Term 1, we will revert our regular communications to our Early Years and Childcare Bulletin which, as you know, we previously shared with you six times per year. We will continue to provide these COVID-19 Blogs assuming there are sufficient updates to inform you of.
Please continue to stay safe and well.
Yours, Alex Gamby
Government Guidance for This Week
Corporate Insolvency and Governance Act 2020 How the measures introduced by the Corporate Insolvency and Governance Act will affect your filings at Companies House. (First published 26/06/2020)
Modification notice: education, health and care plans legislation changes Secretary of State for Education issues a third notice to modify the duty relating to education, health and care (EHC) plans during the coronavirus (COVID-19) outbreak, to run from 1 – 31 July 2020. (Updated 29/06/2020)
COVID-19: Guidance for the safe use of multi-purpose community facilities Guidance for those managing community centres, village halls and other community facilities on safely re-opening multi-purpose buildings. (First published 30/06/2020)
Early years foundation stage: coronavirus disapplications Updated to reflect wider opening of early years settings from 1 June 2020 and to provide clarification on progress checks for children aged 2. (Updated 01/07/2020)
Protective measures for holiday or after-school clubs and other out-of-school settings for children during the coronavirus (COVID-19) outbreak Protective measures for providers of community activities, holiday or after-school clubs, tuition and other out-of-school settings offering provision to children during the coronavirus (COVID-19) outbreak. (First published 01/07/2020)
Guidance for parents and carers of children attending out-of-school settings during the coronavirus (COVID-19) outbreak Guidance for parents and carers of children attending community activities, holiday or after-school clubs, tuition and other out-of-school settings. (First published 01/07/2020)
Local lockdowns: guidance for education and childcare settings What schools, colleges, nurseries, childminders, early years and other educational settings need to do if there is a local lockdown during the coronavirus (COVID-19) outbreak. (First published 01/07/2020)
Actions for early years and childcare providers during the coronavirus (COVID-19) outbreak Updated to set out a change to the protective measures in early years settings that will be effective from 20 July, removing the requirement to keep children in small consistent groups within settings (sections 2.1 and 3.3). Added new content on risk assessment (3.1), supporting staff with increased risk factors (3.2) and system of controls (3.3). Updated content on attendance at settings for those shielding, with changes to the advice effective from 1 August, and removal of content on vulnerable children since settings are open for all children (section 4). Updated content on wraparound care (5.3). Updated Early Years Foundation Stage reforms (7.6) and Reception Baseline Assessment (7.7). (Updated 02/07/2020)
In addition, there are several updates on Coronavirus Job Retention Scheme, including:
Check if you can claim for your employees' wages through the Coronavirus Job Retention Scheme Updated with information that employee taxes and pension contribution payments must be paid directly to HMRC. Also added information on holiday pay that flexibly furloughed employees can be recorded as on furlough during time spent on holiday. (Updated 01/07/2020)
Changes to the Coronavirus Job Retention Scheme Information box updated to say you can now submit claims for periods starting on or after 1 July. (Updated 01/07/2020)
Claim for wages through the Coronavirus Job Retention Scheme Updated with information about what to do if you have claimed too much and do not plan to make another claim. (01/07/2020)
EYFS Early Adopter Framework This framework is mandatory for early adopter schools only in England from 1 September 2020. (Published 1/7/2020)
Changes to the educational programmes
Communication and language will remain as proposed;
PSED will include additional information on self-care and healthy eating;
Physical Development will be strengthened to include a greater focus on development from birth to Reception and on the link between gross and fine motor skills;
Literacy will include a stronger emphasis on pre-Reception literacy learning, and the link between language comprehension and later reading and writing;
Mathematics will include a greater detail on the importance of shapes, spatial reasoning and measure as part of early maths learning, and how children can foster a love of maths;
Understanding the World will include wider experiences for children; and
Expressive Arts and Design will include a wider variety of ways children can develop their creative skills.
The final 17 Early Learning Goals (ELGs) are:
Communication and Language
Listening, Attention and Understanding ELG
Speaking ELG
Personal, Social and Emotional Development
Self-Regulation ELG
Managing Self ELG
Building Relationships ELG
Physical Development
Gross Motor Skills ELG
Fine Motor Skills ELG
Literacy
Comprehension ELG
Word Reading ELG
Writing ELG
Mathematics
Number ELG
Numerical Patterns ELG
Understanding the World
Past and Present ELG
People, Culture and Communities ELG
The Natural World ELG
Expressive Arts and Design
Creating with Materials ELG
Being Imaginative and Expressive ELG
News and Information
Kent Children and Families Information Service (CFIS)
It has come to our attention that some providers have passed the contact details for individual advisers/officers directly to families. Could we please ask that if you have families with queries that instead, you put them in touch with the Kent Children and Families Information Service (CFIS) which provides, free, confidential, impartial information and advice to parents, carers and members of the public. They can help with all childcare and early education and funding issues. Thank you.
To contact CFIS, telephone 03000 41 23 23 or email [email protected].
Committee News
Are you a charity run setting? If you are, you may wish to have a look at the latest published guidance from the Charity Commission setting out a response to the most commonly asked questions they have received.
The Charity Commission say they want to assure charities that their approach to regulation during this uncertain period will be as flexible and pragmatic as possible in the public interest, whilst helping trustees to be aware of and think about the wider or longer impact of charity decisions.
They are working hard to keep the contact centre open and can be contacted on 0300 066 9197, Monday to Friday 9am to 5pm.
During the current crisis they will be prioritising registrations, permissions, reporting and other interactions related to coronavirus and will update the page with responses to further questions.
We trust this will be helpful but of course you can always contact your Childcare Sufficiency Officer to discuss.
Parentkind Parent Survey
Parentkind is asking parents across England, Wales and Northern Ireland to tell them their views on the last few months' experiences of supporting their child's schooling and plans for schools reopening. They especially want to find out:
How parents feel their government has handled the crisis.
What parent concerns remain as their child's school prepares to welcome back more pupils.
To access the survey please click on think link: Parentkind Survey.
There are two further surveys for SEND parents:
Parentkind Coronavirus Survey (SEND)
New Parents' Survey Coronavirus and Schools Reopening
4-in-1/Measles, Mumps and Rubella (MMR) Pre-School Booster Reminder
Vaccines are the most effective way to prevent other infectious diseases. Babies, toddlers and pre-school children, in particular, need vaccinations to protect them from measles, mumps, rubella (MMR), rotavirus, diphtheria, whooping cough, meningitis, polio, tetanus, hepatitis B, and more. These are provided by the NHS through the Childhood Immunisation Schedule. Further information is available here: NHS Vaccinations and when to have them.
The 4-in-1 pre-school booster vaccine is offered to children from the age of 3 years and 4 months to boost their protection against; diphtheria, tetanus, whooping cough and polio. Children are routinely vaccinated against these illnesses as babies through the 6-in-1 vaccine. The 4-in-1 pre-school booster vaccine increases their immunity even further. More information is available here: 4 in 1 pre-school booster.
The MMR (measles, mumps and rubella) second dose vaccine is also given at this time. It is important for children to receive both doses of the MMR vaccine as this provides the best protection against these diseases. Measles can be a very serious disease and is still circulating so timely immunisation is important. More information is available here: MMR (measles, mumps and rubella) vaccine.
Where to go for your child/infant's immunisations
All immunisations are still being carried out at GP surgeries/health centres. All GP practices have put additional measures in place to ensure that they maintain a safe environment for everyone during COVID-19.
Routine childhood Immunisations during COVID-19
Why are you continuing to offer routine immunisations?
While preventing the spread of COVID-19 and caring for those infected is a public health priority, it remains very important to maintain good coverage of immunisations, particularly in the childhood programme. In addition to protecting the individual, this will avoid outbreaks of vaccine-preventable diseases that could harm individuals and increase further the numbers of patients requiring health services.
How important is it that my child is immunised at the time they are called? Is there a risk in delaying for a few months? If there isn't, why not stop immunisations for now and reduce the risk of contracting COVID-19 by visiting the general practice?
It is very important that routine childhood immunisations are started and completed on time despite the COVID-19 pandemic. This will help protect the infant or child from a range of serious and sometimes life-threatening infections. The much-reduced incidence of infections such as invasive pneumococcal and meningococcal disease has only come about because of high levels of vaccination. To prevent resurgence, infants need protecting through vaccination.
How will parents and carers know when their babies have a temperature after their regular immunisations whether it is an expected reaction or COVID-19?
The vaccines given may cause a fever which usually resolves within 48 hours (or 6 to 11 days following MMR). This is a common, expected reaction and isolation is not required, unless COVID-19 is suspected.
As has always been recommended, any infant with fever after vaccination should be monitored and, if parents or carers are concerned about the infant's health at any time, they should seek advice from their GP or NHS 111.
Remember - having your child/infant immunised is still the safest way to protect them and helps keep the risk of them catching a serious disease as low as possible.
There are also some posters that settings may wish to send to parents or display.
Frequently Asked Questions
The Early Years and Childcare Service has published a Frequently Asked Questions (FAQs) document which was recently updated on Kelsi.
Good Practice Examples of How Settings Have Supported Vulnerable or Key Worker Children
This week we have an example of good practice from a childminder keeping in touch with a child that isn't attending her setting at the moment, so that they don't miss out on what the other children are experiencing.
The childminder is using Facetime to contact the child daily as they are growing caterpillars and are watching as they change to become butterflies. She is also reading stories this way which helps to sustain their relationship virtually.
Please tell more us about the excellent work you are doing so that we can share your stories in this section.
Contact Us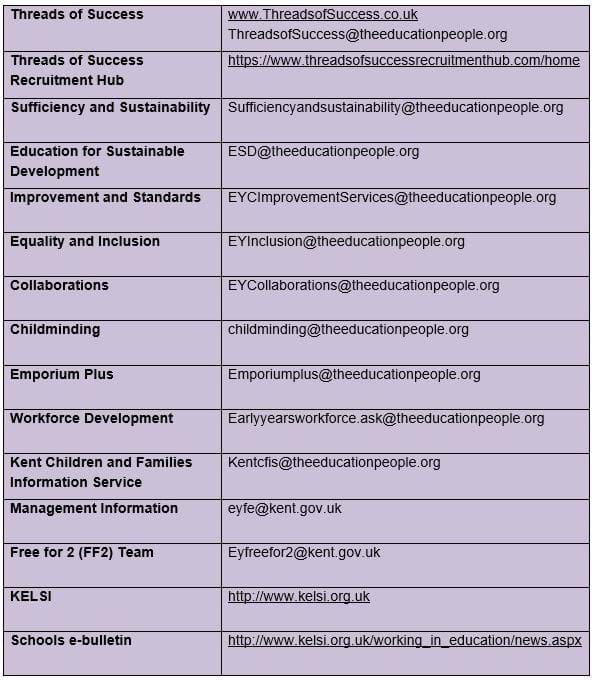 ---