Early Years and Childcare Coronavirus Blog Issue 5
Welcome and Introduction from Alex Gamby
Hello everyone,
I hope that our fifth Early Years and Childcare COVID-19 Blog finds you safe and well, particularly as we approach a long weekend with the promise of some pleasant weather.
This week has felt frustrating in some ways, for us and (I am sure) you also, as we have waited on promised 'Operational Guidance' from the Department for Education (DfE), to be informed on Wednesday late afternoon that this now may or may not be coming. Hopefully you received my communication yesterday (Thursday 21 May) bringing together a range of recent and (at the time of circulation) current links and other documents intended to keep you as informed and supported as possible.
I hope also that you will have received my communication earlier today (Friday 22 May) about Kent County Council's (KCC's) decision in relation to the issue of whether any funding would be reclaimed from closed providers in the Summer Term 2020. For anyone who may have not received or missed this, the message is included here for ease of access:
'KCC is pleased to now be able to confirm that no accurately claimed Free Entitlement Funding for two, three and four year olds for the Summer Term 2020 will be reclaimed from providers who have been closed during the Covid-19 lockdown period. KCC apologises for this not having been confirmed and communicated sooner'.
I would like to take this opportunity to say thank you to the many of you who have taken the time to contact us with positive feedback about a range of issues, including but not limited to:
our regular communications
the ongoing support that has been provided by Childcare Sufficiency Officers and Childminding Advisers
the phone calls our advisers have started to make this week (as informed in Issue 4 of this COVID-19 Blog), asking what support you think you will need going forward
the resources we have been able to make available to you at no cost.
From myself and everyone in the Early Years and Childcare Service, thank you for this feedback which we really do welcome and appreciate.
I hope that you do all have an enjoyable weekend with some very well-deserved rest and relaxation with family and friends, albeit if at least some of that does still need to be at a safe social distance.
Thank you for everything that you are doing for Kent's young children and their families, day in and day out, week in and week out.
Please take every care.
Yours
Alex Gamby
Government guidance for this week
Coronavirus (COVID-19): guidance for schools and other educational settings updated to include 'Safe working in education, childcare and children's social care'. (Updated 15/5/2020)
Coronavirus (COVID-19): guidance for educational settings update to add clarification on guidance and legislation as follows. Please note: this guidance is of a general nature and should be treated as a guide, and in the event of any conflict between any applicable legislation (including the health and safety legislation) and this guidance, the applicable legislation shall prevail. This guidance is applicable to 31 May 2020 and will be reviewed before 1 June 2020. (Updated 15/5/2020)
COVID-19: guidance for employees, employers and businesses updated to add clarification on guidance and legislation. (Updated 15/5/2020)
Actions for early years and childcare providers during the coronavirus outbreak updated guidance to include a new section clarifying the position on welcoming back all children to early years settings from 1 June, information on when childminders can reopen to more children, and what provision they can currently provide, information on testing for essential workers, and information for parents on temporary changes to the 30 hours free early education entitlements. (Updated 15/5/2020)
Supporting vulnerable children and young people during the coronavirus (COVID-19) outbreak updated guidance to reflect wider plans for more year groups to return to education settings, stating that vulnerable children and young people remain a priority, and are expected to attend if appropriate. They have not changed the groups included in the definition of vulnerable children but have provided further examples of what types of children might be considered to be 'otherwise vulnerable', at the education provider's discretion. They have also included updated links to Public Health England advice. (Updated 15/5/2020)
Education Secretary's statement on coronavirus (COVID-19): 16 May Education Secretary on the Government's response to the outbreak of coronavirus and plans to begin returning to school safely. (First published 16/5/2020)
Coronavirus (COVID-19): guidance for educational settings updated to include information on symptoms. (Updated 18/5/2020)
What parents and carers need to know about schools and other education settings during the coronavirus outbreak  updated to add information about the bank holiday and half term. Updated information on 30 hours free childcare, transport and SEND. (Updated 20/5/2020)
Frequently Asked Questions
The Early Years and Childcare Service has published a Frequently Asked Questions document which is regularly updated on Kelsi and can be accessed by this link.


Good Practice
Examples of how settings have supported vulnerable or key worker children
This week we have an example of good practice from a provider in the north of the county:
Each day of the week we've been doing activities such as how to make playdough, paint, scavenger hunt, dancing, counting objects, shadow paintings and story/rhyme times.
All the children at our preschool sent in videos that we put together so they could say hi to their friends. We've had our magician this week and we are doing a video on how preschool will be when we return which we have put on our Facebook page.
It's kept all children, parents and staff busy and we've had lots of fun.

And here is a lovely picture of a banner made by the children and staff from a setting also in the north of the county: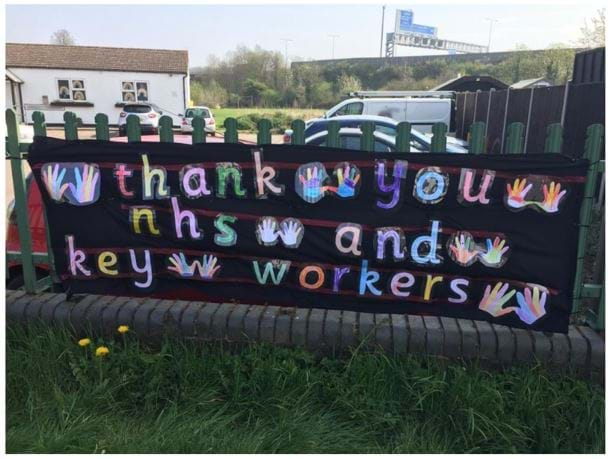 Contact us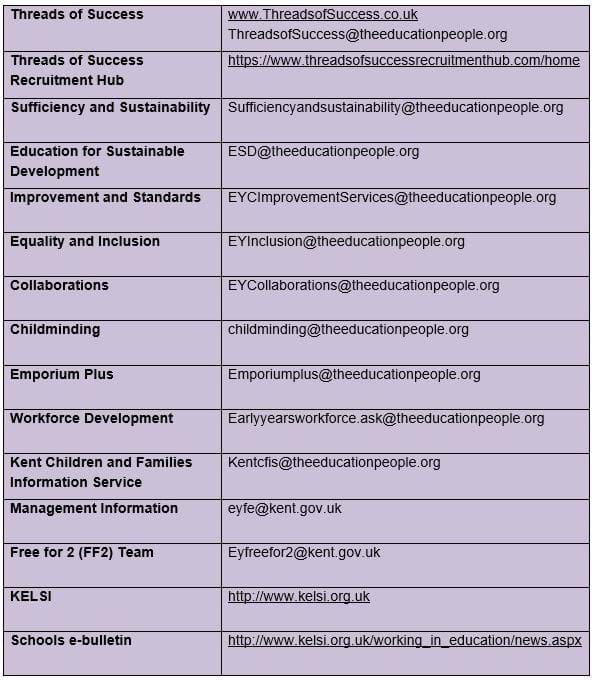 ---