Early Years and Childcare Coronavirus Blog Issue 4
Welcome and Introduction from Alex Gamby
Dear Early Years and Childcare Providers,
Well another week has passed, bringing with it announcements from our Prime Minister about some relatively small but I am sure welcome relaxation to our lockdown regime. As a consequence of this, the Government has issued a wide range of guidance across many walks of society, including of course that for the Early Years and Childcare Sector. We brought the relevant documents to you earlier in the week, but just in case you missed these (and for your ease of access) they are included again in the 'Government guidance for this week' section of this blog. With June 1st just around the corner, some of you have already contacted us asking for advice and guidance for your next steps in readiness for this. However, as per my message earlier in the week, the Department for Education (DfE) has asked local authorities to wait for further 'Operational Guidance' before taking any action. Yesterday the DfE said that this can be expected 'early next week'. Please be assured that as soon as we are in receipt of this guidance, we will act on it promptly and contact you again accordingly, as a matter of absolute priority. Even though this may feel difficult, our advice would be that you also wait for this before taking any next steps.
In the meantime however, I am pleased to be able to tell you of things we are able to bring to you at no cost to yourselves:
With effect from next week, two webinars, both with a COVID-19 focus, one about Risk Assessment in practice and the other about creating a Key Person global approach during this time
The Education People's Early Years and Childcare Transition Matters Toolkit assists you with supporting children's transitions at a time when these could be particularly difficult for them (Toolkit sent as an attachment with the blog).
We are also offering the following for free:

Looking a little further ahead, we are considering ways in which we can support you on the road to recovery through and out of COVID-19, to which effect you will be contacted over the coming weeks by one of our advisers to have a conversation about this. We hope you will be able to engage with and find this useful.
Finally at this point I can confirm that all of our in training previously scheduled for June is now cancelled and will be rescheduled in due course as permitted, appropriate and necessary.
Continued and heartfelt thanks from me for all that you are doing on an ongoing basis. Please also stay safe and well.
With my very best
Alex Gamby
Government guidance for this week
Good Practice
Examples of how settings have supported vulnerable or key worker children
This week we have an example of good practice from a provider in the east of the county:
Our setting has remained open throughout the COVID-19 lockdown but with only 30 children on roll who are allowed to access our service (four of which are from other settings) instead of the usual 90 we felt we needed to change how we operated to ensure we stayed connected with the two thirds of children who could no longer attend.  With this purpose in mind we set about collating and preparing our remote learning themed activity and resource packs which we have sent to parents either by email or by post so that they and their children can participate simultaneously in the activities we are planning and carrying out at the nursery.  To support this learning we have also invested in Zoom and provide both theme related videos on how to carry out the activities as well as our weekly circle times covering both our 'colour of the week' and our 'phonics sessions', popular stories and singing sessions, just like we would normally do throughout our daily sessions when here at the nursery.  As the weeks have passed we have become more confident and proficient in using Zoom and we now have a clear timetable of live singing sessions and circle time sessions across four days of the week which enable us to connect and interact with our children who are in lockdown at home.  We have a core group of approximately 33 children who regularly join us for our live sessions and we feel it has become an invaluable tool to help us remain connected with our children who we miss so much and the feedback we have received from parents has been of overwhelming support and praise for all we are doing.
Although we have 30 on roll to attend nursery, we are averaging approximately 16 every day and they have become a tight group of regulars across the week.  These children have participated in the same themes and activities as the remote learning packs as well as Joe Wicks PE sessions, painting rainbows in support of the NHS and last Thursday we held a Happy Birthday Captain Tom themed day where the children participated in many different activities including completing their own laps of our beautiful garden - 15 children were in attendance and they completed a total of 568 laps!!  Of course a birthday cake made from three blue hearts (signifying the NHS) with 100 on it was a big part of the celebrations!
During this very challenging time, the staff's wellbeing has had to be at the forefront of our minds and to support both their physical and mental wellbeing we have used one of our rooms to create a virtual gym/exercise studio complete with an exercise bike, weights and technology to enable the staff to take turns in participating in virtual gym sessions including HIIT, 'Core and More', Stretch and Relaxation and Pilates!  
 
Despite this being a very worrying, uncertain and challenging time, I couldn't wish for a more wonderful team to be in lockdown with, they have truly embraced my mad cap ideas, as well as the new constant round of hand washing, cleaning and sanitising, and fully immersed themselves in our new ways of operating and are an inspiration to all early years practitioners in the country ensuring the care and education of our children remains at the forefront of our thoughts!  Well done and thank you team!
Contact us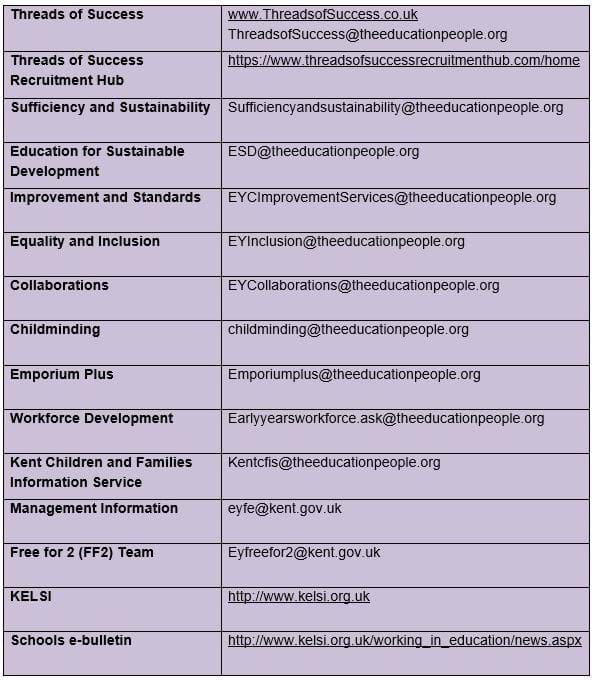 ---