Early Years and Childcare Coronavirus Blog - Issue 14
Welcome and Introduction from Alex Gamby
Welcome to the 14th and, at least for this term, final Early Years and Childcare COVID-19 Blog. We are grateful for your feedback to us, which suggests that overall you have found these weekly blogs timely and useful. As I have mentioned over the previous couple of weeks, we will continue to communicate with you on a needs basis next week and throughout August, then bring you a 'summer round up' communication at the beginning of September. We will also confirm at that stage what the nature and frequency of our communications will be going forward, informed by the COVID-19 related situation at that point. If you are a term time only setting, it is not too late to provide an alternative email address for us to use for you during the summer, if this is something that would be helpful for you.
For now, however, this is a full and busy blog with a wide range of information.
Supply and Demand
Over recent weeks I have been bringing you information about the growth in providers opening from 1 June and also the increasing numbers of children being cared for therein. This week, the number of open group early years providers has been 281, down from 547 last week, attributable of course to many being term time only provisions. The number of childminders open has remained constant at 623. In line with these figures, the number of children cared for this week has been 13,818 in comparison to 19,093 last week. We are looking forward to and optimistic about a full and thriving early years and childcare sector in Kent from September and onwards. Thank you again for your faithfulness through this period to the children and families of Kent.
Deferred Places
In the context of COVID-19 and the considerable uncertainty this has brought with it, we are aware that there has been a heightened interest from some families about deferring admission to school for their child(ren). Attached to the same email as this blog is information that has been made available to schools. We hope that you will find this useful.
Transition
You will be aware that earlier in the lockdown period we provided an addendum to our Transition Matters Framework and Toolkit, with a particular focus on the COVID-19 situation to support settings in managing children's transitions. Building on this we are pleased to also now bring you a flyer aimed to support families in guiding their children through the transition process.
Funding
This week the Government published its long-awaited guidance on its expectations of how local authorities should be funding early years providers for the autumn term. The guidance sets out that local authorities should continue to fund early years providers who are open and offering their usual entitlement places, at broadly the levels they would have expected to see in the 2020 autumn term had there been no COVID-19 outbreak. Local authorities should also continue to fund providers that have been advised to close, or left with no option to close, due to public health reasons. However, local authorities should not fund providers who are closed in the autumn term for non-public health reasons. The Government also confirmed its intention that funding is expected to return to normal from spring 2021.
Kent County Council is committed to honouring this guidance and will publish how it intends to meet these requirements in due course. In the meantime, providers should still expect to submit their headcount information in the week commencing Monday 14 September as usual and expect the interim payment for the autumn term to be made the week commencing 7 September.
The guidance is available here.
Jane Nolan, Early Years and Childcare Improvement and Standards Manager
Many of you (early years and out of school group settings particularly) will know (and have known for a considerable number of years) Jane Nolan, Improvement and Standards Manager with the Early Years and Childcare Service. Jane has worked in Kent with the early years and childcare sector for almost 20 years, in a range of different roles but always in support of workforce development and further improvement in the quality of provision. Jane has held her current role since April 2014 and in that time has led the Improvement and Standards Team in a range of initiatives which, working in partnership with colleagues in the Early Years and Childcare Service and beyond, and critically with yourselves as providers, have resulted in an exceptionally high quality early years and childcare sector in Kent (currently 98.5% good and outstanding overall). Jane has recently taken the decision to take early retirement and I wanted to take this opportunity to say thank you very, very much and extremely well done to Jane for everything she has done. I am sure you would all join with me in wishing Jane a happy, peaceful and fulfilled retirement. Please find attached to the same email as this blog a message from Jane to you all.

Thank you
In closing I would like to reiterate my own thanks, those of The Education People as a whole and also of Kent County Council for everything you have done over the past few months. You are a sector to be proud of. I hope that you all, whether open or closed over the coming weeks, have an enjoyable summer and are able to spend time with family and friends and with plenty of rest and relaxation.
Yours
Alex Gamby
Head of Early Years and Childcare
Government guidance for this week
Early Years Foundation Stage Reforms
The Early Years Foundation Stage (EYFS) reforms consultation was launched on 24 October 2019 and the Government response to the consultation, outlining the final reforms, was published on 1 July 2020.
The early adopter year will still go ahead as planned from September 2020, with national implementation from September 2021. Therefore, the new EYFS framework will apply for early adopter schools in 2020/21 and for all providers from September 2021.
The EYFS statutory framework sets the standards that all early years providers must meet to ensure that children learn and develop well and are kept healthy and safe. This version of the framework is mandatory for early adopter schools only in England from 1 September 2020. This content will be the same for statutory implementation in 2021/22, with the addition of promoting oral health. You may be interested to note that the seven areas of learning remain the same and the educational programme descriptions are longer, more in depth and cover birth to five. There is a renewed focus on language throughout and comprehension features in literacy to ensure that it is integral rather than a mechanical process. Whilst shape, space and measure has been removed as an Early Learning Goal (ELG) it appears in the educational programme overview for mathematics. The Department for Education (DfE) is working on updating Development Matters, the non-statutory guidance which supports the delivery of the EYFS framework. The guidance will re-focus on the curriculum, so that it is not used as a tracking document to the ELGs. Dr Julian Grenier is leading this work with three key objectives:
1. Improve early years outcomes.
2. Reduce workload burdens.
3. Develop specific guidance for reception year that sits clearly within the EYFS but links fluidly with the national curriculum.
You may be aware that The Secretary of State for Education announced the suspension of routine Ofsted inspections on 17 March 2020. From September 2020 Ofsted will begin carrying out regulatory activity with providers that have been judged 'inadequate' or 'requires improvement' and have associated actions to fulfil.
It is intended that routine inspections will restart from January 2021, by which time the EYFS is expected to be reinstated fully. The Education People will soon be offering a package of reflection tools to enable you to review and evaluate your future practice.
Two-Year-Old Entitlement
In March, the government temporarily extended eligibility for the free early education entitlement for the most disadvantaged two-year-old children whose parent(s) meet the following conditions for the duration of the COVID-19 outbreak:
a. That they are excluded from claiming public funds as a consequence of their immigration status, or their lack of immigration status; and
b. They are in receipt of support under section 17 of the Children Act 1989.
The Government has decided that from 1st September 2020 this extension, will be made permanent.
The children of these families will be entitled to a free place if their parents are working and meet similar low-level income requirements to others eligible for the scheme (e.g. a household income of £15,400 a year or less after tax).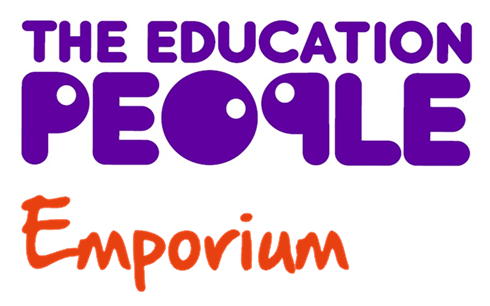 With effect from the beginning of August, Emporium Plus will be called simply 'Emporium'.
Additional resources are now available for those of you who access the Disability Access Fund (DAF) membership, which is designed to support children who receive DAF. Please do contact Emporium once you receive confirmation that you are receiving this additional funding and choose the resources that can support you to improve outcomes for the children concerned.
The Emporium website is currently being refurbished and redesigned and will be available for you to use shortly. We will share the new link with you as soon as this is available but in the meantime continue to use https://emporiumplus.co.uk/https://emporiumplus.co.uk/
News and Information
Hungry Little Minds: Guidance for parents
The DfE has published content on gov.uk to support parents with children in the early years on supporting their children's wider development at home during the Covid-19 outbreak. It aims to provide clear answers to the most common things we know parents are worried about, while they are spending more time with their children at home. The intention is to reassure parents that we are not expecting them to be early years practitioners or teachers, but to support their child's wellbeing and learning as much as possible. It includes content on supporting children's mental health and wellbeing, which also links to further guidance from Public Health England. You can signpost parents to this guidance here.
Message from the DfE: Promoting the entitlements: toolkits and videos
As we move towards September and plan for a fuller re-opening of childcare settings, we would very much appreciate your assistance in ensuring parents are aware of the need to ensure their 30 hours account details are up to date and that new applications need to have been made by 31st August in order to access a place in the autumn term. We know childcare has not been available for a large number of non-critical worker parents during lockdown and so many may not yet be up to date with the action they need to take to ensure they do not miss out on their entitlement.
As you have a detailed knowledge of your own local area and childcare market, you may already have your own strategies for doing this. However, to help, you also have access to a range of communications tools to help promote government childcare entitlements for children aged 2 – 4 as well as Tax-Free Childcare.
These tools include email templates, leaflets, posters and social media content; as well as an infographic to help simplify the full childcare offer to parents. These resources can be found in the social media folder of the communications toolkit on the Childcare Choices Website.
You may also wish to include links to the six case study videos of families across England that have taken up 30 Hours and a short "how-to" animation to support families applying for 30 Hours and Tax-Free Childcare online.
Frequently Asked Questions
The Early Years and Childcare Service has published Frequently Asked Question (FAQs) documents which have been recently updated and can be accessed here.
Briefing and Networking Sessions
Our regular Briefing and Networking Sessions will be held in October as usual but will be held virtually via Zoom. The sessions will be bookable via CPD Online and the Zoom links will be live shortly.
In the meantime, the dates and course codes are as follows: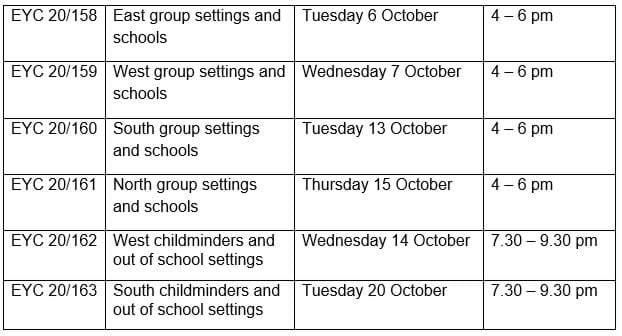 Contact Us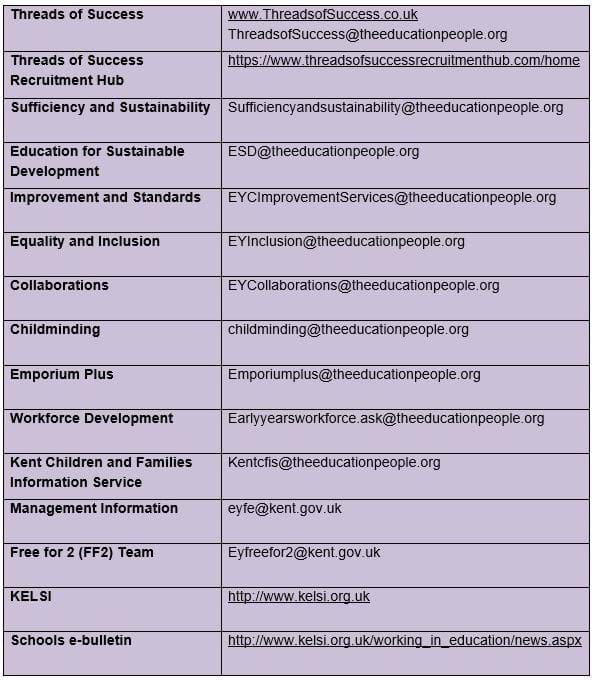 ---