Early Years and Childcare Bulletin January 2020
Welcome and Introduction from Alex Gamby
Hello everyone
In October 2019, Central Government announced its intention to increase the 2019-20 Local Authority Free Entitlement funding rates by 8p from April 2020 for both the three and four-year olds and two-year-olds. The Local Authority funding rate for both the Early Years Pupil Premium and Disability Access Fund will remain unchanged. Local authorities must continue to set the hourly rate for three and four-year-olds to providers in line with the Education and Skills Funding Agency (ESFA)'s Early Years Single Funding Formula guidelines.
In light of the recent announcements and in recognition of the Government's funding rate freeze since 2017-18, Kent County Council (KCC) has taken the decision to pass on the full 8p to providers from April 2020 through an increase in the base rate paid to providers for both three and four-year-olds and two-year olds. This will ensure all providers benefit equally from the funding rate increase. The hourly rate for three and four-year-olds, which has been determined under the Early Years Single Funding Formula, will continue to be made up of a base rate plus, if applicable, any of the following supplementary rates: Quality (qualified leader), and Deprivation.
From April 2020, the base rates paid to providers will increase from £5.02 to £5.10 per hour for two-year-olds, and from £4.00 to £4.08 per hour for three and four-year-olds. The supplementary rates and the process for application will remain unchanged from April 2020: Quality (qualified leader) 30p or 90p and Deprivation which is a range from 1p to £1.23.
You should have already received (or if not will do so shortly) a letter from Matt Dunkley (KCC Corporate Director for Children, Young People and Education) with this information and further detail.
National News and Updates
Draft revised Early Years Foundation Stage (EYFS) pilot: findings of the evaluation
Findings from the pilot of the draft revised EYFS framework, led by the Education Endowment Foundation, have been published. Overall, the teachers viewed the revised Early Learning Goals (ELGs) positively, describing them as clearer than the previous ELGs. Schools also reported that their workload reduced due to reduced expectations for assessment and evidence gathering, enabling them to spend more time with children. However, teachers wanted further supporting materials in addition to the ELGs, and there were mixed views on whether children would be better prepared for KS1. These findings will inform the roll-out of the reforms.
Childcare providers and inspections as at 31 August 2019
This Ofsted statistical release includes registered childcare providers and places, inspection outcomes, and joiners and leavers as at 31 August 2019.
Main findings:
· The number of childminders registered with Ofsted has continued to decrease;
· The overall number of childcare places on the Early Years Register has increased slightly;
· More than 9 in 10 providers on the Early Years Register were judged good or outstanding;
· At their most recent inspection, 23% of non-domestic providers were judged outstanding, compared with 17% of childminders. However, the proportion of providers judged either good or outstanding for these two provider types was similar.
Education Inspection Framework (EIF) Roadshows
Ofsted will soon be running a series of Education Inspection Framework roadshows for early years providers. These events will be held regionally across the country, between February and March this year and will offer the opportunity to find out about the key aspects of the EIF.
                     
These half-day events will offer the opportunity to learn about early emerging findings from the EIF.
 
Two representatives from your provision are welcome to attend each session. Each person attending will need to register separately. Current Ofsted Inspectors (OIs) should not attend this event.
 
Please note that there is no charge for attending one of these events.  Spaces are available on a first-come, first-served basis.
 
If you are interested in attending one of these events, please register for your place here where you will be able to find timings, locations and venue details. When registering for an event, please select the 'Early Years' remit and then select your regional location.
Research highlights the relationship between reading and children's mental health>>
Research carried out by the charity BookTrust has concluded that more than a third of parents surveyed worry about their child's mental health. Ninety percent of the parents agreed that reading together was a useful way of opening up conversations with their child. As part of their annual 'Time to Read' campaign, the charity is delivering a copy of Rob Hodgson's The Cave to school starters.
Are you a Playworker in an Out of School setting?
There is going to be a first ever International Playwork Census of all those who work in the playwork sector, including out of school settings, to build a better picture of the profession. We encourage you all to take part by following this link.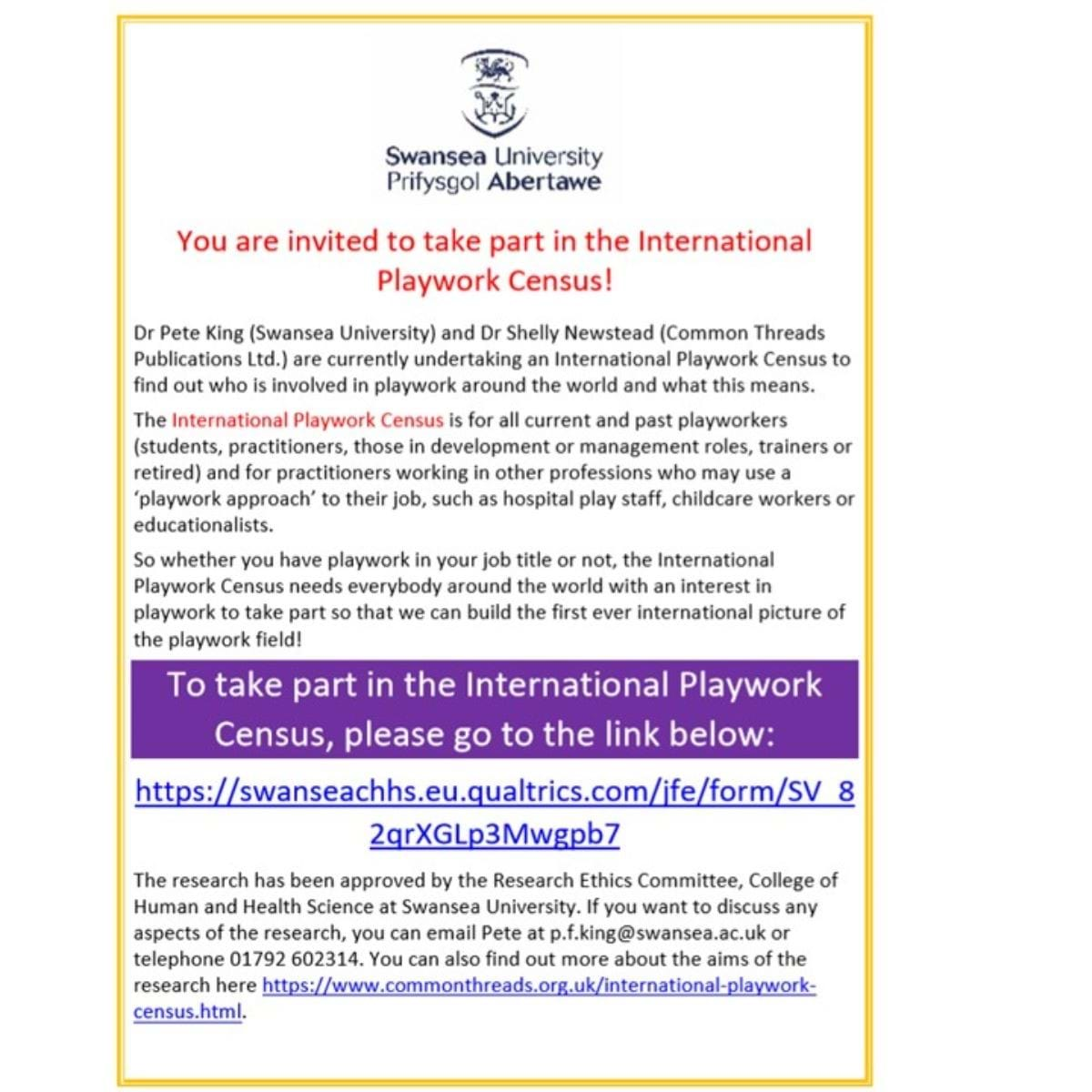 Kent News and Updates
The Professional Development Programme Update
Further to the initial information we released about the Professional Development Programme, we can now provide you with an update. As a reminder, Kent was invited to convene four local Early Years Continuous Professional Development Partnerships using the following criteria:
Early Years (EY) providers that have been judged Requires Improvement (RI) or Inadequate in the last three years
EY providers with high numbers of children in receipt of EY Pupil Premium
EY providers with high numbers of children with SEND needs
EY providers with high numbers of children taking up the disadvantaged two-year-old offer
EY providers where local intelligence suggests disadvantaged children would benefit from their practitioners receiving additional Continuous Professional Development (CPD) support.
In Kent we focused on the fifth criteria and initially used our Free School Meal data in order to identify the required partnership areas: Canterbury, Dover, Tonbridge and Malling and Sevenoaks.
Settings in each partnership, with Champions shown in bold are >>
Canterbury

Sharon Powell – Little Willows – Childminder
Sally Heath – Stepping Stones Pre-School
Donna East – Choochoos Day Nursery
Acorns Day Nursery
Bright Horizons Canterbury Day Nursery
Canterbury Day Nursery
Casper Nursery
Firs Nursery
Greenview Nursery
Squirrels Pre-School
Sturry Pre-School
Dover

Jayme Dunigan – St. Margaret's Nursery
Amy Britton – Kid Ease Buckland
Suzanne White – Wrap Around Care and Snug Bugs Nursery
Abbey Pre-School
Burgoyne Heights
Choochoos Day Nursery
Creative Minds Nursery
Freshfields Pre-School
Happy Feet Nursery
Pebbles Nursery
Tots R Us
Michelle Buckland - Childminder
Tonbridge and Malling
Debbie Older – Junior's Day Nursery
Lauren Mills – Brambles Pre-School
Caroline Johnson – Stables Daycare Ltd.
Catherine Osborne – Steps to School Day Nursery Borough Green
Betty Lewis Nursery School
Benjamin Rabbit Nursery
St. Katherine's School and Nursery
St. Thomas More Pre-School
Plaxtol Nursery School
Tracy Ledger - Childminder
Sevenoaks
Sarah Stewart – Farningham Day Nursery
Samantha Aitchinson – Anthony Roper Pre-School and Kindergarten
Sam Jefferies – Hextable Village Pre-School
Tracey McCartney – Halstead Nursery
C4K
Dawn to Dusk Day Nursery
Five Wents Pre-School
Oaks Day Nursery
Sarina Hancock - Rising Stars Childminding
Swanley Kindergarten Pre-School
The Lodge Nursery School
Westerham Day Nursery
Meeting the needs of Children in Care
Do you have Children in Care in your setting?
How can you best meet the child/ren's needs?
Establish a quality key person relationship with the child
Link with Foster Carers and Social Workers to share information and establish starting points for children's care, learning and development
Become involved in the Personal Education Plan (ePEP)
Access additional funding - Early Years Pupil Premium Funding (EYPP)
Respond to parents who request an Early Years Plan for Adopted Children (EYPAC)
Who can support you?
Fostering Education Liaison Officers (FELOs)
The FELOs are part of Virtual School Kent and their role includes supporting children in care in the early years.
The FELOs work directly with carers and parents, empowering them and their children to get the most out of the educational opportunities available to them. They enable positive participation, encourage involvement in the learning environment and focus on preventative and early intervention strategies linking to other specialist services and agencies within the child's network of support.
For more information, please follow this link to download the leaflet.
The Early Years and Childcare Service Equality and Inclusion Team
The Early Years and Childcare Service's Equality and Inclusion Team can offer support for settings to best meet the needs of this potentially vulnerable group of children.
Please follow this link to access our request for support form. Childminders wishing to request support should follow this link to download a form.
Best Practice Guidance
Thank you to everyone who has reported that they found the Best Practice Guidance (BPG) training valuable. Group settings should now have received their funded copy of the revised Best Practice Guidance document with eligible childminders receiving theirs following the next round of training.
Additional Funding>>
In routine inspections, Ofsted is increasingly asking providers whether they are applying for the various additional funding streams available and how this is having an impact on the children who are accessing the money.
We hope you will find the Early Years Pupil Premium (EYPP) poster you received with your BPG useful in ensuring families are applying for this additional funding and are using the information on KELSI to apply for any funding streams your children are entitled to.
Don't forget if you are receiving Disability Access Fund for a child you can contact Emporium Plus to discuss the complimentary membership available, allowing you access to a high quality resource that can support you to meet their needs and interests.
Bookstart in Kent>>
To find out more about Bookstart's two free book packs for all babies and young children in Kent, how to get them, what free additional needs packs are available, and how Kent Libraries support not just Bookstart in Kent, but many other areas of work with early years children and their families/carers, see the latest Kent Bookstart Annual Report here.
How have you and your children/families used theirs? We'd love to know – send your feedback and any requests for further information to [email protected].
Safeguarding and protecting people
The Charity Commission updated its guidance in respect of safeguarding on 22 October 2019.  It continues to emphasise that safeguarding responsibilities and protecting people must be a governance priority for all charities, with trustees having clear oversight and monitoring mechanisms in place. Charities' policies and procedures must be responsive to change in order to ensure that they are fit for practice and reviewed regularly.  A number of changes have been made, and it now recommends some key sources for charities to use as guidance for best practice in the sector: The National Council for Voluntary Organisation's safeguarding resource and Bond's 'Good governance for safeguarding'.
Fundraising
If you are a charity planning to undertake some fundraising this year, you may wish to read 'A Guide to Trustees Duties' (CC20).  This resource gives guidance to what charities and their trustees need to consider when fundraising from the public.
Fundraising opportunities
Do you shop online? Do it through easy fundraising and raise a free donation for your preschool every time you shop. Over 3100 retailers including travel, accommodation, electricals, toys, takeaways and grocery shopping are involved.
Bernard Sunley Foundation is a family making foundation which supports charities in England and Wales working to raise the quality of life and provide greater opportunities for the young, the elderly, the disabled and the disadvantaged.  Each year they give just over £3.5 million to capital projects that deliver a real community focus or provide facilities to support those in need across four categories. For further details please click on this link.
Childminders
Briefing and Networking Sessions
Our regular Early Years Briefing and Networking sessions provide a good opportunity to keep your setting and staff up to date and to network with colleagues from other settings.
Why not book a place on the next round of Early Years and Childcare Briefing and Networking sessions and benefit from the opportunity to network and hear important updates?
EYC 20/001 Aylesham Community Project, Canterbury - 5 February 2020
EYC 20/002 Darenth Valley Golf Club, Sevenoaks - 6 February 2020
EYC 20/003 Singleton Environment Centre, Ashford - 11 February 2020
EYC 20/004 Hadlow Manor Hotel, Tonbridge - 12 February 2020
We are also running two additional evening Briefing and Networking sessions specifically for eligible childminders and out of school settings who find it difficult to attend the weekday afternoon sessions.
EYC 20/114 Duke of York Royal Military School, Dover - 26 February 2020
EYC 20/115 Inn on the Lake, Gravesend - 4 March 2020
Kent Early Years and Childcare Provider Association
You may recall from the September 2019 Bulletin that the Provider Association had recently reviewed and made available its Terms of Reference, still accessible here. Integral to this review, as advised, we piloted an election-based approach to the Tonbridge and Malling vacancy, also saying that based on the effectiveness of this approach we will use it moving forward to implement a three-year rolling programme of member replacement. This pilot was unsuccessful in that no Tonbridge and Malling providers expressed an interest, hence we are now approaching Tonbridge and Malling providers who meet the criteria in an attempt to fill this vacancy in a different way.
However, we also now have vacancies in Dartford and Thanet and are once again currently attempting to fill these vacancies through an election-based approach. Outcomes will be reported in due course.

I am pleased to be able to tell you that we have secured childminder representatives from North and West Kent and are continuing to seek the same from South and East.
At the meeting in December the agenda included:
The Early Years Integration Programme, a health-led initiative to promote and support more effective joint working across Health, Early Help and the Early Years and Childcare Sector, which will be brought to Briefing and Networking Sessions in the summer
The Department for Education Early Years Foundation Stage Reforms Consultation (to which we alerted all providers in the last Bulletin)
A 'Review and Refresh' of the Kent Provider Agreement, which will be on the agenda for the Briefing and Networking Sessions in February
Also at the February Briefing and Networking Sessions we will be repeating the 'trial' by handing over the last 15 minutes to Association members present. Anyone in attendance will be able to raise with the members any strategic and/or significant sector related issues they think the Association should be considering.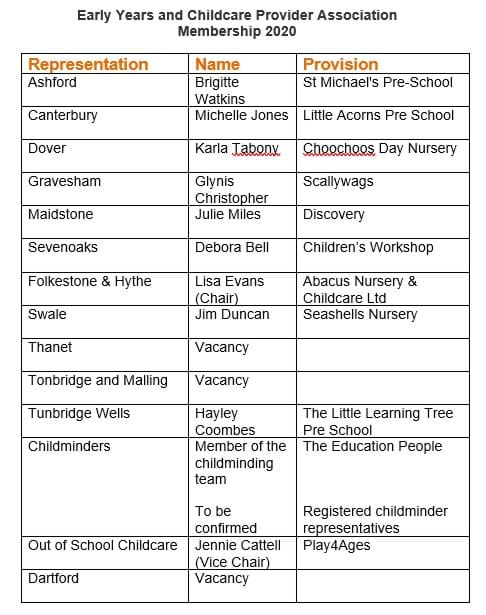 Contact us