In the last two months I have found it really exciting to be able to host numerous heads of maths across Kent in network meetings. The aims of these network meetings are to give an opportunity for sharing best practice and discussing pertinent issues for a head of maths.
Context is everything in education. Dylan Wiliam said this once about educational research:
"everything will work somewhere, and nothing will work everywhere'"
During our meetings we are all aware of the contrasting contexts and the differences between schools but this provides a rich backdrop for discussing a variety of different approaches to the same challenge. In my role I hope to provide some research informed methods to direct our conversations but ultimately want to allow as much time as possible for others to share their thoughts and experiences.
Those who have been attending vary from those who have been in post many years and those who are only just starting in their roles. This again provides an interesting dynamic to our discussions with lots of lessons learned from experience and fresh new perspectives.
A Short Summary: Year 6 to Year 7 Transition
On the 26 June, 21 heads of maths came together to discuss how to respond to the challenge of transition for Year 6 pupils joining in September. Ideas and thoughts were collected onto a Padlet which can be found by clicking this link: Year 6 into Year 7  Maths Transition Ideas.
We started with introductions and shared our preferred method of teaching expanding brackets to stimulate some mathematical discussion. Here are a few sample answers which were common and interesting:
Using areas of rectangles.
Using numbers to show equivalence
2(3+1) = 2x3 + 2x1
Using the grid method of multiplication.
Using the column method.
We then discussed the following questions:
'What are the main challenges you have to plan for when Year 6 move into Year 7?'
'What are some of the main challenges unique to schools this September?'
Here are just a few of the comments:
Students arriving with varying levels of completed content coverage at Key Stage 2.
Students feeling anxious about secondary schools.
Planning to meet SEND when students are unknown/new.
Year 6 are not taught how to use calculators.
Streaming students without baseline data.
The last point became an interesting talking point. The open data project was discussed as a method of sharing teacher judgments from primary to secondaries. [https://opendataproject.org.uk/sixintoseven/].
Feedback from Primary Schools
Prior to the network meeting I had been in communication with primary school maths leads asking what advice and feedback they would want to pass on to secondaries. These are a few of their points.
These are the types of questions the pupils are asking:
"Will maths be a lot harder at secondary school?"
"Can we still use mini whiteboards in maths lessons?"
"How will my new secondary school know which maths set to put me?"
"What are the maths books like at secondary school? Do they still have squares in?"
"How much homework will we get?"
From the teacher's perspective these were the common themes:
Wait to do any summative assessments until at least October half term.
Recap basic number skills and fractions at Year 6 level – this will build their confidence.
Use manipulatives within lessons since we have been using them in primary lots.
Perhaps provide a guide to what Maths looks like in secondary; what does a lesson look like?
Transition Booklets
We then discussed transition booklets as a way in which you can communicate with in coming students. Often pupils are receiving paperwork from schools and liaising with the lead for Year 6 into Year 7 transition may offer an opportunity to send these out.
Suggestions for what to include:
Introduce the Maths team with a short biography: hobbies, interests, favourite book etc…
Set some Maths work for them to complete and rewards can be given to students when they return these to their teachers.
Set out expectations regarding Maths equipment including address what Calculator you want them to purchase.
Describe what a typical maths lesson looks like.
Here is one page from an example of a booklet that can be found on the Padlet link: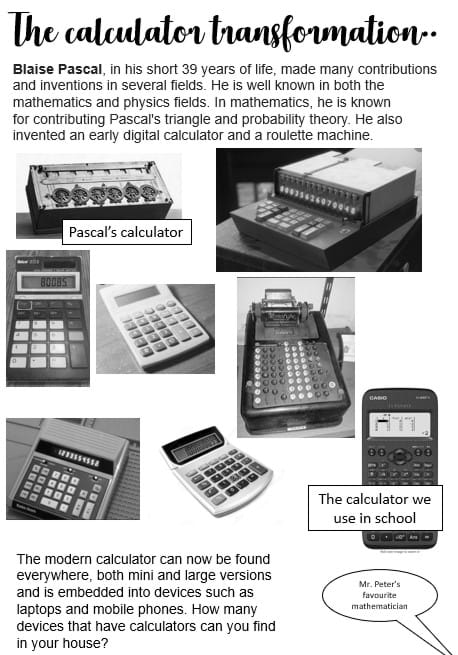 Numerise
Numerise was also suggested as a secondary ready resource that can be sent out to students in advance of joining to help them review their understanding of key topics ready for secondary school.