Safer Internet Day 2022 – Education Resources for Schools and Families Published
Today (8th February 2022) is Safer Internet Day 2022 and the theme is 'All fun and games? Exploring respect and relationships online'.
This year's Safer Internet Day comes a critical time.  For many young people, playing games during these unprecedented COVID-19 times has been an enjoyable way to stay connected with friends.  In many ways, these connections have had a positive impact on young people's emotional well-being, at a time of uncertainty and physical isolation.
However, the All Fun and Games – Safer Internet Centre 2022 research launched today also highlights the emotional challenges and safety risks that online games can present for young people. Risks include offensive comments, hostile behaviour and frequent interactions with players they do not know.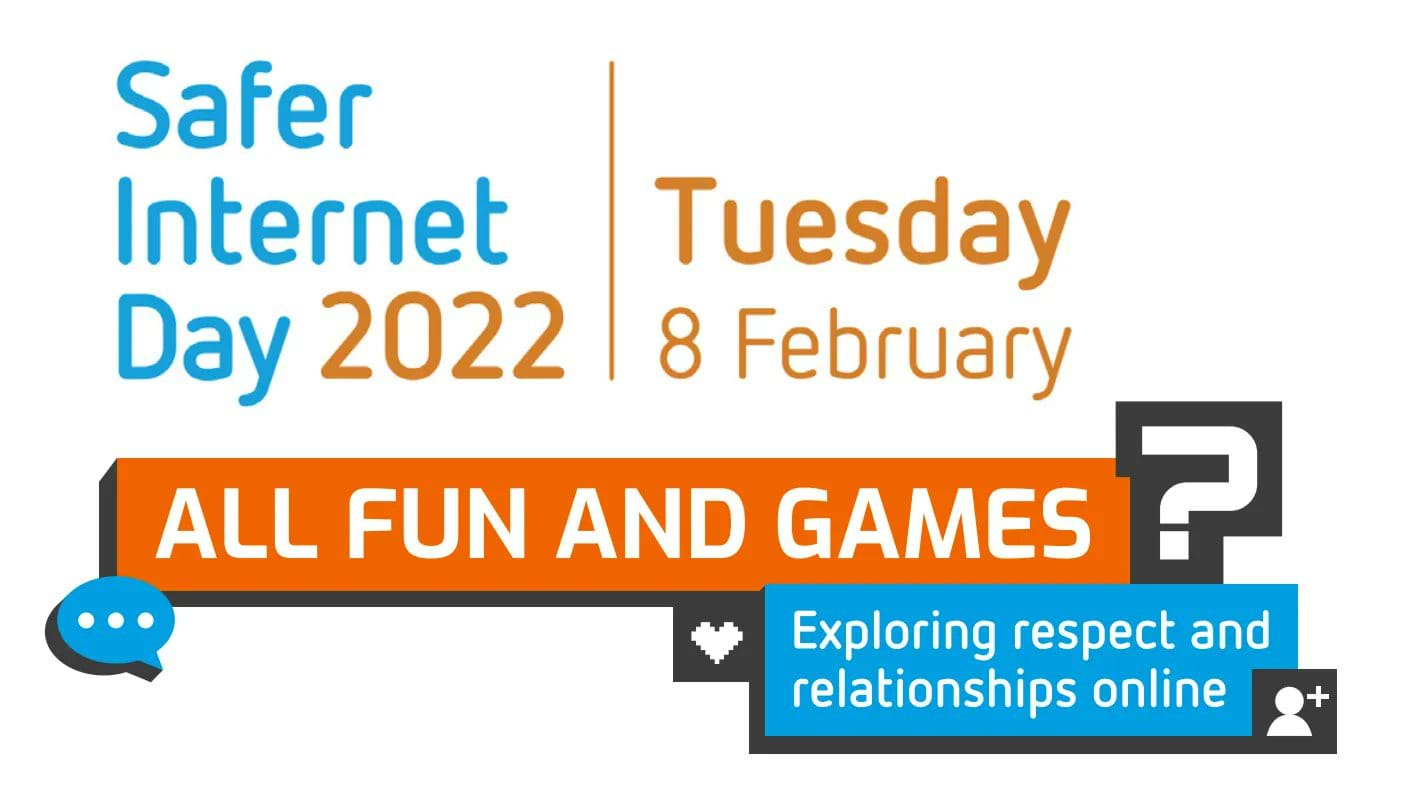 This research reveals the experiences and challenges faced by young people during a time of unprecedented online gameplay.  It found that:
48% of young people say if they couldn't game online anymore, they would feel like they've lost a part of who they are
Playing games online has helped 61% of young people spend more time with friends virtually than they have done in real life
52% of young people who play online games, say it's taught them to respect others
61% of parents (with children aged 8-17) have been alerted to a new person within an online game that their child is unsure about
Young people report at least one negative emotion in various online game situations. This includes seeing someone being mean or nasty (73%), seeing someone cheat (73%), and falling out with a friend (68%) when playing an online game
Almost six in 10 young people (59%) want to learn more about how to play online games safely.
It is vital, now more than ever, that we step into the world of young people to understand and address these challenges and risks so we can work together to ensure online games can be enjoyable, respectful and safe spaces for everyone.
Educational resources for schools and families
From gaming and chat, to streaming and video, young people are shaping the interactive entertainment spaces they are a part of. Safer Internet Day 2022 celebrates young people's role in creating a safer internet, whether that is whilst gaming and creating content, or interacting with their friends and peers.
To support educators for Safer Internet Day 2022, the UK Safer Internet Centre (official co-ordinators of the day in the UK) launched the 2022 Safer Internet education resources. The resources are for use with children and young people aged between 3 and 18 and have been published alongside guidance for educators and top tips for parents and carers.  The resources can also be used after Safer Internet Day, as a way to ensure the messages and key online safety principles are continued all year round. These educational resources have been specifically designed to support educators in delivering messages about our campaign theme of respect and relationships in online gaming.
Educational settings are encouraged to access the relevant resource area of the UK Safer Internet Centre website to find a guide to using the pack, lesson plans and accompanying slides, an assembly, activities, things to share on social media, and further guidance for educators.
As well as age-appropriate resources, you can also find a whole host of other resources on the Safer Internet Day website. These include:
Half-term Safer Internet activities for children and families
To help schools promote safer internet messages to families, beyond Safer Internet Day, the Education Safeguarding Service's Online Safety Team has worked with Kent Children's University to produce a Safer Internet Challenge pack for children aged 5 to 14. This pack contains 10 key challenge activity ideas, as well as useful resources for children, schools and families to access.  The Challenge will run until the 31st March 2022 so there is plenty of time to get involved.
The Safer Internet Challenge launches with schools and families today and you can find the resource here so why not send the resource home to your parents/carers this week so families can get involved during the half-term break.
Young people who are part of Children's University can earn a varying number of Learning Credits for each activity completed outside normal school time.
Share your Safer Internet Day stories with us
We encourage DSLs and staff working with children and young people aged 3-18 in educational settings to share their Safer Internet Day events, displays or activities using the hashtag #SaferInternetDay!  Don't forget to tag @UK_SIC and @TheEdPeople into any posts you share.
More information
About Safer Internet Day
Safer Internet Day is celebrated globally in February each year to promote the safe and positive use of digital technology for children and young people, and to inspire a national conversation about using technology responsibly, respectfully, critically, and creatively.  Co-ordinated in the UK by the UK Safer Internet Centre, Safer Internet Day is celebrated in over a hundred countries coordinated by the joint Insafe/INHOPE network, with the support of the European Commission, and national Safer Internet Centres across Europe.