Early Years & Childcare Bulletin November 2020
Welcome and Introduction from Alex Gamby
Dear early years and childcare providers,
Well, here we are, just a few weeks from Christmas, with (as I write this) a second national lockdown almost behind us, with Kent now in Tier Three and with many if not all of you grappling daily with Covid related issues as you strive to stay open in support of your children and families. Everyone and I in the Early Years & Childcare Service are aware of and do not underestimate just how challenging this time continues to be for everyone and remain available for any support we can offer you. Please as ever, see the contact details at the end of this bulletin.
Kent County Council Special Educational Needs and Disabilities (SEND) Strategy
I would like to bring your attention to this very important consultation. Kent County Council (KCC) is keen to hear your views and opinions about its new Special Educational Needs and Disabilities Strategy for children and young people in Kent.
The Strategy sets out KCC's ambitions to make sure that all children in Kent have equal access to support and education that meets their unique needs and that they and their families are supported to live their best life. It also explains how KCC will shape our services for children and their families in a way that improves wellbeing, resilience and learning in our communities.
KCC has developed the strategy jointly with the National Health Service (NHS) in Kent and in partnership with children and young people, parents and carers, Kent PACT (Parents and Carers Together) and other key stakeholders.
You can tell KCC what you think about the Strategy and share your views about it by visiting the KCC website. The consultation is open from Wednesday 2 December and will remain open until midnight on Thursday 4 February.
This Strategy is an important part of the improvement work that KCC is doing with the NHS, following an inspection of services carried out by Ofsted and the Care Quality Commission (CQC) in 2019 which found that too many children and young people with SEND do not get the support they need in Kent.
Please do also encourage colleagues and families you work with to share their views on the Strategy by sharing about the consultation. To help with this, KCC has created a very brief outline of the strategy and how to take part, which is attached for you to share. If you need any further information, please contact [email protected]
The early years and childcare sector presented very positively in the Ofsted and CQC Inspection and (notwithstanding the aforementioned pressures early years and childcare providers are currently under), I would encourage you all, if you are able, to try to find the time to both share and respond to the consultation.
December Bulletin

Our December bulletin will come to you a little early and in the form of a 'Christmas Edition'. In the meantime, please do carry on taking every care and look after yourselves and those around you in these difficult times.
As ever, with my heartfelt thanks for all that you continue to do.
Yours
Alex Gamby
National News and Updates
New Ofsted Approach to Inspections Announced 12 November 2020
Ofsted is to introduce a new, more proportionate and flexible approach to inspecting nurseries and childminders that will prioritise the inspection of providers rated less than good.
When full routine early years inspections resume, Ofsted will schedule these based on risk assessment and inspection grades. They will prioritise the small proportion of nurseries, pre-schools and childminders that are not yet good and those there are significant concerns about. This will allow Ofsted to act more proportionately and will align with the inspection approaches for other education and social care providers.
Under the new arrangements, all early years providers will be inspected in a six year window from the date of their last inspection. This will allow Ofsted to be more proportionate to risk and it will bring more consistency for good and outstanding providers in the time between inspections.
Some arrangements will not change: Ofsted will still aim to inspect all new childcare providers within 30 months of registration where possible, childcare providers judged to require improvement will be inspected within a year and inadequate childcare provision will be inspected within six months. If there are concerns about any childcare provider, Ofsted can use its regulatory powers between inspections, and bring forward an inspection following a risk assessment.
Kent News and Updates
Making a Difference with Early Years Pupil Premium (EYPP)
We are sharing this information to raise awareness that currently only 50% of this funding is accessed in Kent. EYPP is intended to make a difference for three-and four-year old children, by giving them an equal chance of success alongside their peers. High quality early years education benefits all children; however, it is especially important for children from disadvantaged backgrounds. Providers need to access all available funding to make sure children thrive in a rich learning environment that meets their individual learning and development needs.
Why Claim this Funding?
The use of this funding is not prescriptive; providers have the freedom to decide how best to use the money to meet the individual needs of eligible children. Working closely with parents and carers, children's individual learning and development priorities should be identified, and the money used to enhance current provision and introduce further strategies as appropriate. Providers will need to monitor children's progress to identify the impact of the funding on improved outcomes. The focus for EYPP is on narrowing the attainment gap for this group of children, particularly those at risk of delay.
Identifying Eligible Children
Early years and childcare providers are responsible for identifying eligible children, so that Kent County Council (KCC) can provide the appropriate funding. The Education People's Early Years & Childcare Service encourages all providers, including childminders, to work closely with parents and carers, especially those of children eligible for the early education entitlement for two year olds. Many of these children will also be eligible for EYPP.
All children in the care of the local authority are eligible for EYPP. It is the responsibility of KCC's Virtual School Kent (VSK) alongside providers, to identify these children and ensure they receive this entitlement.
Early Years Entitlements: Local Authority Funding of Providers Operational Guide 2019 to 2020
The Local Authority Operational Guide outlines the key information around eligibility for and the distribution of EYPP funds.
Who can Claim EYPP?
All providers delivering funded early education places can receive the EYPP for eligible children.
What is the Eligibility Criteria?
EYPP can be claimed by the childcare provider if a child at their setting is accessing free early education for three- and four-year-olds and the child's parent or carer receives one of the following benefits:
Income Support
Income-based Jobseekers Allowance
Income-related Employment and Support Allowance
Support under Part VI of the Immigration and Asylum Act 1999
The guaranteed element of State Pension Credit
Child Tax Credit (provided the family is not also entitled to Working Tax Credit and have an annual gross income of no more than £16,190)
Working Tax Credit run-on (paid for four weeks after a family stops qualifying for Working Tax Credit)
or the child falls into one of the following groups:
Looked after by the local authority
Adopted
Has left care through a special guardianship arrangement
Has left care and is subject to a child arrangement order (previously known as a residence).
How much is the EYPP?
EYPP is paid at a national rate of 53p for every free early education hour that an eligible child attends their setting. Please see the following table for examples of children attending their full 15 hours of free early education a week.
Number of children           Amount each year
1 child                                    £302.10
5 children                               £1510.50
10 children                             £3021.00
15 children                             £4531.50
Please note, children in the care of the local authority receive the full amount, regardless of the hours they attend.
Promoting the EYPP to Parents and Carers
Providers should inform all parents and carers about the EYPP and highlight the benefits of claiming this funding. Providers know their families well; they know which means of communication work best for them and that a range of strategies may be needed to meet the needs of all parents and carers. Effective communication is crucial to improve EYPP take-up. Parents and carers who have a good understanding of the process and focus for EYPP will be in a strong position to work in partnership with the setting to access the funding and use it in the best way to support the needs of their child.
Possible Ways to use EYPP
Early language focus: Assessment of children's progress may suggest that EYPP funding should focus on a strategy which will impact on their early language development.
Loaning books: Loaning books, resources (e.g. Story Sacks) games or recipes that parents/carers can share at home with their children can promote both social interaction and language skills. These borrowing schemes need to have support built into them in a range of formats – oral, visual and written.
Displays and leaflets: These could support families to understand their children's development, what to expect at different ages and stages, and the importance of their role. They could include ideas for them to try at home.
ICT resources: Talking tins (voice recorders), microphones, etc can help to promote interactions between children and adults and provide a focus around communication and language.
Play resources: These should focus on games and activities that require co-operation and are open-ended.
Training: This should be focused on upskilling staff to meet the identified needs of children accessing EYPP if the money is spent in this way.
How to Claim EYPP:
Visit the EYPP page on Kelsi.
For advice and guidance on claiming and using the EYPP contact an Equality & Inclusion Adviser at [email protected] or for childminders, [email protected]
In the January bulletin we will share ideas on using the EYPP and the focus will be on supporting families.


Early Education Funding dates to remember
KCC Management Information shared the findings of their 30 Hours audit with settings at the end of October and will again in December. These audits highlight those families who are in the grace period and/or require new codes. Please let families know if they are affected. Posters to remind families to regularly reconfirm their details are available on the 30 Hours page on Kelsi.
Remember to submit any Free for Two (FF2) claims by 11 December to receive a payment during week commencing 21 December.
Postcards will be sent on 24 November and 1 December to those families that may be eligible to apply for a FF2 place for their child. Please help us to increase take up of FF2 by asking families if they have received a postcard.
Have you liked our Facebook page Free Childcare – Kent County Council? Sharing our posts with families is a quick and easy way to promote both FF2 and 30 Hours.
Committee News
November 2 saw the start of Trustees' Week and the launch of new guidance for trustees from the Charity Commission. 
 
To coincide with Trustees' Week, the commission has launched five new "5 minute guides" for trustees covering a "core syllabus" of basics that trustees need to know. For further commentary see the commission's press release and a blogpost by commission CEO Helen Stephenson.
 
The new guides can now be accessed from the main guidance landing page and the individual topics are:
 
Charity purposes and rules
Making decisions at a charity
Managing charity finances
Managing conflicts of interest in a charity
What to send to the Charity Commission and how to get help
Useful Information for Families
Parenting
Kent and Medway women and their families can now access antenatal classes online free of charge at OurPlace 
There are sessions on understanding pregnancy, labour, birth and your baby.
Families will be required to click on the *FREE Antenatal online courses during COVID-19 restrictions* section and fill in some registration details. This has been written by NHS midwives, health visitors and clinical psychologists and there are versions in English, Urdu and for women couples.
Understanding your child: FREE online courses for anyone pregnant or caring for a child in Kent.
These courses can help you:
• build confidence
• grow positive relationships with your children
• add simple, practical strategies to your parenting toolbox.
Families should go to OurPlace, apply the access code Invicta, and register for an account. You can complete courses at your own pace, starting in pregnancy up until your child's 19th birthday.
Please contact your midwife, local health visiting team or school health team for more details of the parenting support available to you, especially if the course raises any concerns for you or your child's wellbeing.
Explore your Options: For Families Who Think Their Child Might Have Special Educational Needs and/or Disabilities (SEND)
To help parents and carers who think their child might have SEND and might need additional help from their early year's provider or in school, we have developed a new resource "Explore Your Options". By answering a few questions parents and carers can get recommendations about the next steps they can take, who to talk to and where they can find out information and get advice about what support may be available for their child. This resource is on Kent's SEND Local Offer website.
Good Practice
'I do it!'
The Importance of Promoting Independence in the Early Years
These are three little words that are muttered in many settings and homes along with the contrasting statement 'I can't, you do it!'
Independence is an essential life skill and one that needs to be nurtured from an early age. As an early years professional, how are you promoting this essential life skill?
In a caring profession we want to help, and as a result we sometimes miss opportunities in everyday routines and activities to promote independence. This was a recommendation from Ofsted in 36% of Kent inspections for term 1 2019 and 18% in term 2. Taking this into consideration, use the table below to briefly explore your provision's approach to independence and the ways your provision could maximise opportunities to promote independence. It is an opportunity to stop and reflect on practice.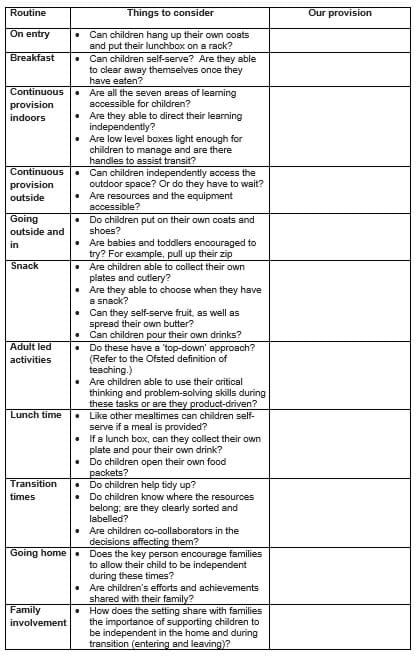 With all the above ideas it is paramount that children are given the time and space to practise and ultimately achieve what they set out to do. This includes not just physical space but mental space too, to enable them to problem-solve for themselves and adults who patiently wait before stepping in with an answer. The importance of regular specific praise for such efforts cannot be underestimated.
These are all valuable learning experiences and during the transition from one part of the day to the next, routine can take focus as practitioners try to manage lots of young people. Promoting independence will aid transitions in the long term as more children can help themselves requiring less input from the adult. These are lifelong skills that will aid the children in many situations including starting and settling into school. As we know, being able to put your own shoes on and getting in and out of a PE kit are so important for young children to master and these things give children a positive mindset that they can be independent.
If children know they can do things for themselves this supports their emotional wellbeing and self-confidence. It can also be a driver for intrinsic motivation as they take charge of their own learning. We want these children to feel in control so that they can achieve anything, we will be 'igniting children's curiosity and enthusiasm for learning' (EYFS Statutory Framework 2017 page 7).
Promoting children's independence is essential, but you must also consider the context. If a child is tired, feeling unwell, stressed or is having difficulty adjusting to change then it might not be the right time to encourage them to learn something new. Be sensitive to individual circumstances, whilst also trying your utmost to provide plenty of opportunities for children to exercise their independence throughout the day so we can celebrate those three words 'I do it!'.
Exploring Pedagogy: Introducing Maria Montessori
Maria Montessori has born on Wednesday 31 August 1870 in Chiaravalle, Italy. Her father was a financial manager in the civil service; her mother was well educated and an avid reader, encouraging a thirst for knowledge in her daughter.
Read more about Maria Montessori's work.
Briefing and Networking Sessions
Our regular Early Years & Childcare Briefing and Networking Sessions provide a good opportunity to keep your setting and staff up to date and to network with colleagues from other settings.
 
Why not book a place on the next round of sessions and benefit from the opportunity to network and hear important updates? These sessions will be held virtually via Zoom and you can access your place by clicking on the course codes below:

We are also running an additional evening Briefing and Networking Session specifically for eligible childminders and out of school settings who find it difficult to attend the weekday afternoon sessions.

Early Years and Childcare Provider Association
At its virtual meeting (via Zoom) in September the Early Years and Childcare Provider Association considered the following:
Provider Association Membership
There are four vacancies for early years groups providers in Dartford, Gravesham, Sevenoaks and Tonbridge & Malling and one for childminders in the South. Filling these vacancies will move forward through our established democratic processes.
Lockdown Procedures March - July 2020
Alex Gamby shared an account of what the Early Years & Childcare Service did (working with KCC) from March 23 onwards and then posed the following questions:
Do you think we did the right things broadly speaking, at the right times?
Anything key that was missing?
Summary of feedback was:
earlier proactive and individual contact would have been appreciated
the provision of parent/family facing information would have been helpful
the biggest issue was sometimes the lack of timely clarity about funding, leading to concerns about financial stability
under the circumstances a very good job had been done, the summarising and sharing of relevant information from government was really helpful.
Also shared was the intention to take to the Collaboration Leaders' Day on 29 September to ask, in the instance of a local lockdown, is there anything different or additional to county lockdown process that we would need to take in consideration.
Kent Provider Agreement 2021: Key Additions and Amendments

Debbie Henderson (Sufficiency and Sustainability Manager) shared for comment some proposed amendments to the Kent Provider Agreement which will be made available in early spring 2021 ahead of implementation (and assuming no required changes from the Department for Education) in April 2021.
Kent Education System Inclusion Statement

Celia Buxton, KCC Area Education Officer, South and Penny Pemberton, SEND Improvement Programme Manager shared for comment Kent's Draft Kent Inclusion Statement, which has since been discussed at Early Years & Childcare Briefing and Networking Sessions and broadly consulted on.
Stand-alone Out of School Childcare: Covid-19 Key Issues and Challenges Awareness Raising
Jennie Cattell, Association Out of School Childcare representative and Vice Chair, talked to the Association about the general COVID-19 situation and challenges for out of school childcare provision. It was agreed that we would endeavour to represent these to the Kent Recovery Cell.
Integrated Reviews at Two: Update and Next Steps
Sue Smith, Equality & Inclusion Manager, shared that plans now are to roll out across the county starting in February 2021, which means that in terms 1 and 2 there will be online briefings for early years settings and health visiting colleagues.

The next meeting is on 7 December 2020.
Contact Us