Early Years & Childcare Bulletin March 2021
Welcome and Introduction from Alex Gamby
Hello everyone, welcome to the Early Years and Childcare Bulletin for March 2021 and also to Spring! I am sure that, like me, you are looking forward to some warmer weather and (hopefully still) some more freedom. Thank you all for your ongoing care and support for Kent's children and families through the 'winter' that has been the COVID-19 pandemic. This introductory section from me includes:
Information about a trial, new style bulletin
The consultation on Kent's County Approach to Inclusive Education
Wellbeing (including information on a pre-recorded webinar from Kelly Hannaghan and an update on our Take a Break Sessions).
Coming Soon - New Style Bulletin
We have recently been thinking about the presentation of these Bulletins and if and how we can make them more readily accessible. From next month therefore we will trial a format that on the first page displays the content of the bulletin as a whole and enables you to immediately click on anything you want to read particularly or quickly and to more easily move beyond anything you feel is less relevant to you. We will ask for and would appreciate your feedback on this in due course.
Kent County Approach to Inclusive Education
This week you should have been in receipt of a letter from Christine McInnes (Kent County Council's recently appointed Director of Education) dated 17 March, relating to a consultation on Kent's 'County Approach to Inclusive Education'. For ease of access, below  is an extract from that letter:
"Our vision for children and young people with SEND in Kent is that:
Children and young people with SEND in Kent feel healthy, happy, safe, supported and as healthy as they can be while they learn and grow.
Families can reach the right people at the right time to support their children.
Services will work with families to improve outcomes and achievements for children and young people with SEND.
To achieve these ambitions requires strong collaboration between all partners. As part of this work and following on from our previous discussions, I am pleased to announce the launch of the Countywide Approach to Inclusive Education (CATIE) consultation. The CATIE focuses specifically on strategies to support inclusive practices within our education settings, as part of the wider SEND strategy.
Feedback can be given through the online form CATIE online feedback form or by completing the questions set out in the guidance document and emailing: [email protected]
The consultation will close on 30 April 2021".
Full details and documentation
The direct links for the documents are:
Countywide approach to inclusive education document
Countywide approach to inclusive education consultation guidance
The Education People's Early Years & Childcare Service will be making its own response to the consultation in specific relation to early years and would encourage you to also do.
Free Entitlement Funding 2021/22
The Department for Education (DfE) has recently announced its intention to change the way local authorities are funded for Free Entitlement payments for the 2021 - 2022 financial year. Early years local authority funding is normally based on spring term headcounts; however, for 2021-2022 it will be based on headcounts taken in the summer, autumn and spring terms. This will require local authorities to submit additional PVI Early Years Census data to the DfE for summer and autumn terms. The DfE has requested that these headcounts are aligned with School Census weeks where possible. Kent County Council (KCC) has put forward a proposal to the DfE to accommodate this request without impacting the traditional headcount week or payment dates to Kent early years and childcare providers as set out in the PVI calendar (already posted on Kelsi but accessible here for ease of access). Therefore, if this proposal is accepted by the DfE, KCC does not anticipate this change in local authority funding (or additional data requirements) will have any impact on Kent early years and childcare providers in the coming financial year.
Wellbeing
Kelly Hannaghan
Hopefully you will recall from the February edition of this Bulletin that I introduced to you Kelly Hannaghan, a Mental Health and Wellbeing Consultant who has recently been doing some work with and for The Education People. Also that Kelly would be providing a webinar specifically for the early years and childcare sector in Kent, considering the impact that the pandemic has had on the wellbeing of providers and of the children in their care, with the following aims:
• To explore the statistics around wellbeing in early years
• To identify the common difficulties in early years
• To gain a deep understanding of anxiety related issues
• To build on the principles for purposeful self-care for holistic providers
• To enable participants to gain resources and networks to support their practice.
The webinar focuses on child wellbeing in the first instance, moving on to staff wellbeing. Kelly recognises that some elements of the webinar will be familiar to providers (for example, attachment) but values the importance of revisiting these. Elements of the support are consistent with messages that are included in training provided by the Early Years & Childcare Service, for example, the importance of connecting with people, exercise and being 'in the moment'.
This webinar is available to Kent settings only and access to it has been provided in the hard copy Bulletin emailed on 31 March 2021. I do hope that you find this webinar useful and supportive.
It is Mental Health Awareness week from 10 to 16 May 2021, with the theme for the week being Nature. Look out for our Threads weekly mailings in the run-up to the week which will provide information on our offer that will support this theme.
Take a Break Sessions
The first round of 'Take a Break' Sessions we offered in January were well attended and well received, hence (at people's requests) we provided a second round in March. Whilst still well received by the people who did attend, actual attendance was extremely low, with one of five needing to be cancelled and a total of nine people (from eight settings) attending the other four. Whilst this level of attendance would have usually led us to not repeat the sessions, under the general circumstances, we have decided to offer a third round in May, but this time offering just three dates rather than five as previously, in order to hopefully maximise the number of people in any one session. The dates and times for Take a Break Sessions in May are:
East and South - Tuesday 11 May 4pm to 5pm
North and West - Friday 14 May 10am to 11am
Childminders & Out of School - Wednesday 12 May 7.30pm to 8.30pm
Zoom links to enable you to join these sessions will be provided in our weekly Blogs and in the April Bulletin.
Questions asked in the first round of sessions were responded to in the Briefing and Networking Sessions in February. As the next round of these is not until June, the very small number of questions asked in the recent second round will be addressed through the Frequently Asked Questions route. The most up to date FAQ will shortly be available on Kelsi.
Thank you.
Yours, as ever
Alex Gamby
National News and Updates
Letter to Children and Young People from the Secretary of State for Education
On 26 March 2021, the Secretary of State for Education wrote to children and young people to recognise the impact of the disruption they have faced over the past year and to thank them for their resilience. He outlines his continued commitment to supporting children and young people to recover from the disruption now that they have returned to school and college. The letter also highlights the importance of coronavirus (COVID-19) testing and the vital role this plays in helping to prevent the virus spreading.
The letter is published on the DfE media blog and on DfE's Twitter, Facebook and Instagram.
Please do share this letter with your family networks.
Early Years Foundation Stage (EYFS) Coronavirus Disapplications – Paediatric First Aid Training
The current disapplications cover the period between 26 September 2020 and 31 August 2021. If during this time the Government confirms that an area will be subject to coronavirus (COVID-19) related requirements or restrictions, and those restrictions prevent an early years provider from meeting the requirements of the EYFS, the disapplications can be used. There will be a two-week transition period once the relevant restrictions are lifted.
Within the disapplications, those with an existing Paediatric First Aid certificate expiring on or after 1 October 2020 have been able to extend validity of the certificate until 31 March 2021.
Please take this as a reminder that if you extended the validity of your own or a staff member's certificate, you should by now have undertaken new training.
Ofsted Update
On 29 March Ofsted updated their guidance in relation to their current activity and have set out their inspection plans for the remainder of the academic year. In relation to early years providers, Ofsted have stated the following:
On-site EIF inspections of registered early years providers will begin from 4 May. We will prioritise providers:
judged less than good at their last inspection (including those who received an interim visit in the autumn term)
that registered recently but have not been inspected
whose first inspection is overdue
that were not inspected in the last inspection cycle due to the pause in routine inspection.
We will continue to carry out urgent inspections if we have significant concerns about a provider.
Cyber Security Awareness in Early Years
The National Cyber Security Centre (NCSC) has published some guidance specifically for the early years sector. You can find the guidance for early years practitioners on the NCSC's own website. Given the importance of cyber security, the NCSC is encouraging everyone to share the link with providers as it offers practical advice on steps they can take to protect their settings from accidental damage and online criminals.
Diversity in the Early Years
Monday 22 February saw the official launch of the LGBTQIA+ Early Years magazine. Copies can be downloaded for free or printed copies requested (free to settings). This Early Years website also includes insightful blogs and direct links to resources and other organisations focussed on diversity and inclusive practice, such as Stonewall's excellent 'Getting Started' Early Years toolkit for celebrating difference and challenging gender stereotypes (also available here).
World Down Syndrome Day was on 21 March and the focus this year is on improving connections to ensure all people with Down syndrome can connect and participate on an equal basis with others. More information is available here including raising awareness through the #LotsOfSocks campaign. The website shares information and resources, such as downloadable social media language cards to support the use of inclusive language in relation to people with Down syndrome.
April is Autism Awareness Month with World Autism Awareness Week running from 29 March to 4 April 2021. Free learning resources for all ages are available, including early years,
Apprenticeships and Training
Employers who hire a new apprentice between 1 April 2021 and 30 September 2021 will receive a direct payment of £3,000 per new hire, compared with £1,500 per new apprentice hire (or £2,000 for those aged 24 and under) under the previous scheme. This is in addition to the existing £1,000 payment the Government provides for all new 16-18 year old apprentices and those aged under 25 with an Education, Health and Care Plan, where that applies. Portable apprenticeships will also be extended.
Kent News and Updates
Integrated Reviews at Two
Many of you have already accessed the recorded webinars to support the roll-out of the Integrated Reviews at Two (IR2). Queries into the Early Years & Childcare Service's Equality & Inclusion inbox have suggested that you would find it helpful to have further instructions about how to access the webinars. These instructions were attached to the email that was sent with the Bulletin.

At the present time you need to use the links which are included in the IR2 document as you cannot search for them on The Education People website; however from April you will be able to do so.
Local Offer
The Kent Local Offer is being updated both in terms of the content and the look of the pages.
Do please continue to signpost families to the local offer so that they can find the advice and support they need for their children.
One page, recently added, gives advice to families about children with SEN moving from early years to primary school.
EY Specialist Funding Planner
In response to requests by early years settings for a finance tool to support them when planning how they will spend their monies in relation to children with special needs, who are in receipt of funding streams such as SENIF/SEN Support Allowance, DAF/EYPP, we have developed the EY Specialist Funding Allocation Planner.
 
This has been created by KCC Finance and trialled with early years setting managers to support you in how you allocate the monies. There is no obligation to use this planner but we wanted to support early years providers with something they could use to easily identify the total amount of funding being received for individual children with SEN. This should not be confused with the Sufficiency & Sustainability tools used by Childcare Sufficiency Officers (CSOs) to assist with budgeting and financial planning. 
 
A short workshop will be available to early years providers from next term with opportunities to ask questions about the planner and how it might benefit settings.
Early Years Pupil Premium (EYPP) and Disability Access Fund (DAF)
A gentle reminder that as the summer term begins and more children return to your setting, please ensure that you apply for EYPP and DAF for any child entitled to this additional funding. Remember that, here in Kent, you are able to receive an Emporium Subscription if you have a child receiving DAF.
Funding Reminders
The last Free for Two (FF2) claims for the spring term must be submitted on the provider portal by 5pm on 9 April 2021. Payments are scheduled for the week beginning 26 April 2021. All providers signed up to deliver FF2 should have now received their email informing them of the new hourly rate.
Headcount week for 3 and 4-year-old funding in the summer term is Monday 26 April to Friday 30 April. Settings who submitted an estimate between 5 and 16 March 2021 can expect payment in the week commencing Monday 19 April 2021 with the balancing payment scheduled for week commencing 7 June 2021.
Reminder: European Economic Area (EEA) Pre-settled Status
EEA and Swiss nationals already resident in the UK before 31 December 2020 will need to ensure they have applied for EU Settled Status by 30 June 2021 if they want to keep accessing their 30 hours free childcare entitlement and Tax-Free childcare. In the meantime, they should continue to apply for, and reconfirm, their 30 hours places as usual using the Childcare Service.
A range of charities, local authorities and voluntary organisations across the UK have been funded by the Home Office to provide help and information to vulnerable EU, EEA and Swiss citizens applying to the EU Settlement Scheme. For further information about these organisations, visit EU Settlement Scheme: community support for vulnerable citizens
Parents and providers may also wish to use the postcode checker which helps EU citizens to see a list of the nearest organisations who are able to provide in-person support. Further information on the application process can be found on GOV.UK.
Please provide this information to any families you know may be affected.
Providing Access to Childcare and Employment (PACE)
PACE was a European funded project that ran from 2016 to 2020 as part of the Interreg 2 Seas Social Innovation Programme.
In the PACE Project, thirteen project partners from four countries tested new models of supporting parents into combining childcare and work. They created more flexibility in childcare and developed an integrated approach towards childcare and employment.
A legacy of the PACE project was the production of the 'Flexibility in Childcare' PACE handbook which explores why more flexibility in childcare is needed. It also looks into how flexible childcare can be organised, describing five prototypes. Finally, the handbook details what actions organisations can take to make flexible childcare sustainable on the business side, to assure pedagogical quality and a warm environment for the whole family, to support staff members and to cooperate with other stakeholders. You may recognise some familiar faces featured in the handbook and our very own Tracy Howard, Early Years Improvement Adviser gets a mention as one of the proofreaders for the final version in English.
Also available is a series of top tip factsheets that were developed by Kent to support early years and childcare providers, businesses, training providers and employment services and other jointly developed resources that informed the final impact report and handbook. Electronic versions of all resources can be found on the PACE website that was created by the lead partner from the city of Mechelen.
As one of the UK partners, The Education People and Kent County Council worked together to deliver the project within Gravesham, working with other agencies and organisations to support parents, children and their families in their journey to employment and accessing childcare.
In Kent we worked closely with a few early years providers and childminders in Gravesham to pilot a flexible model of childcare, in order to support families in finding and accessing employment, while still keeping the needs of the child at the forefront. The journey of the pilot project informed key sections of the PACE handbook and is referenced throughout. Quotes from our early years practitioners and parents can be found in relevant sections of the handbook to illustrate the journey of the pilot from a range of perspectives.
We are very proud of the achievements of all families and partners who were part of the PACE project and supported us in making a difference to the lives of children and their families. All the resources can be accessed electronically through the above link, but we do have several printed copies of the handbook available for distribution to key partners as and when we are able to.
Committee News
Increase to the National Minimum Wage and National Living Wage from 1 April 2021
The National Minimum Wage and National Living Wage rates will increase on 1. In addition to the new rates, the age from which workers become eligible for the National Living Wage will be lowered. From 1all workers aged 23 and over must be paid the National Living Wage or above.
The table below gives you the new age ranges, the new rates for April 2021 and the increase from April 2020 rates.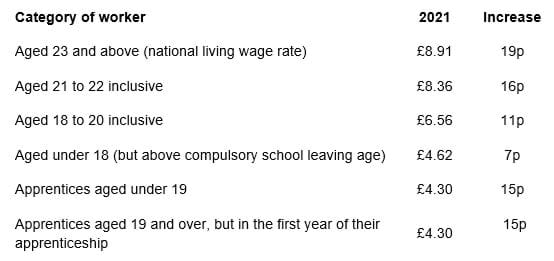 If you are concerned about the impact of these increases on your sustainability please contact your Childcare Sufficiency Officer for free support and guidance.
Out of School Providers
Some of you have recently re-opened your settings or began to care for children who may not have attended for some time, so re-establishing relationships and routines as well as keeping children safe will be your priority. Many of you have shared how creative you have been in developing exciting and challenging activities in these difficult times.
Do use the Out of School Facebook page to share your good ideas with other professionals in the Out of School sector in Kent. We have been delighted to welcome several new members to the Out of School Facebook page and if you are a new member, welcome. The Out of School Facebook page is primarily for you to network together. If you have something that you would like to share, for example, an inspirational play opportunity or innovative ideas for staff meetings, please post.
The most recent government guidance states that twice-weekly testing will be offered to adults working in the wider school community, including after school club leaders. If your setting is on a school site or works with a local school, it may be possible for you to access the testing through the school. Otherwise, you may need to apply for testing kits for your staff team.
We recognise that this has been a particularly demanding time for the Out of School sector and that being open may not necessarily mean that your business goes back to pre-COVID-19 circumstances, at least initially. If you have any concerns about your business do not hesitate to contact the Sufficiently & Sustainability Team at [email protected]
Support from Out of School Advisers
You will be aware from previous communications that Kent has been awarded funding as part of the national Holiday Activities and Food (HAF) Programme. The Programme is being delivered on behalf of the DfE to ensure that children eligible for free school meals, including those with SEND, can access high quality holiday play scheme provision which supports children and families' health, wellbeing and social and physical development. It will work with school aged children aged 5-16 years and their families. As you can imagine, there is a lot of work to do to ensure the launch and success of this Programme, in which context Anne Loat and Rachel Cotter (Out of School Improvement Advisers) have both been seconded to support the Programme for the next six months. Rachel will also continue to work as an Out of School Improvement Adviser as she increases her working week. Another adviser will be appointed to support work alongside Rachel in due course.
Childminders
Childminders in Kent have been busy celebrating World Book Day and have shared the experiences they offered children in their settings on The Education People Kent Childminders Facebook page. These included creating elephant footprints and exploratory play in a tough spot. Creating an early love of books and vocabulary is so important and it has a positive correlation with children's life chances. You can read more about this on the one education website and their Mind the Gap article.
Have you ever thought of joining a collaboration or setting up a new collaboration? For childminders, like group settings, there are many benefits to being part of a collaboration including opportunities to:
share best practice with peers to improve educational environment and teaching
benefit from cost effective support and training
provide feedback and challenge as well as mutual support in challenging times
develop leadership skills and knowledge.
Why not take a look at a short video recorded by one of our collaboration leaders on the Kelsi website?
If you would like to join or lead a collaboration, please contact us at [email protected] We will be happy to support you in connecting with other local providers.
Information to Share with Families
Kooth
Kooth is a free online counselling and emotional wellbeing support service providing young people aged 10-16 years (up to 17th birthday) in Kent with a safe and secure means of accessing support with their emotional health and wellbeing needs, from a professional team of qualified counsellors. By accessing Kooth, young people can benefit from: 

A free, confidential, anonymous and safe way to receive support online.
Out of hours' availability. Counsellors are available from 12noon to 10pm on weekdays and 6pm to 10pm at weekends, every day of the year on a drop-in basis.
Online Counselling from a professional team of British Association for Counselling and Psychotherapy (BACP) qualified counsellors is available via 1-1 chat sessions or messaging on a drop-in basis or via booked sessions.
Discussion Boards which are all pre-moderated allow young people to access peer to peer support.
Online Magazine full of moderated articles many of which are submitted by young people offering advice and guidance on a huge range of topics
No referral is required. Young people can register for Kooth independently at www.kooth.com

Good Practice
Exploring the Terminology from the New Development Matters
Over the next few Bulletins, the Childminding Team will be exploring some of the terminology from the new Development Matters.
Executive function is a term used to describe how children hold onto information, how they focus their attention and how well they regulate their behaviour. It also relates to the ability to be able to plan what to do next. Executive function is not a new idea, it is just a different term to describe a particular set of skills that help us to complete a task. As adults we are able to complete tasks easily that require many steps such as preparing a meal. Children need to develop the skill of executive function so that ultimately, they are able to hold and process information, to plan ahead to meet goals, to display self-control and to follow directions with several stages.
We all have unconscious bias, learned stereotypes and beliefs that we unintentionally allow to affect our behaviour. It is important that we challenge ourselves to reflect on how our unconscious bias impacts on our day-to-day interactions with both parents/carers and children.
Research has identified different types of bias that will affect our behaviour towards others. When thinking about your own reactions and the decisions you make when interacting with parents/carers and working with the children you may recognise these traits.
Affinity bias – people find it easy to work with people who are like themselves. As practitioners it can be difficult to pinpoint why but some parents/carers can be tricky to work with. By getting to know the parent/carer you begin to understand them, their family culture and backgrounds. This helps us to find ways to support them to develop their relationship with their child, enabling them to fully support the child in the home environment. When working with children, aspects of the Observe, Assess and Plan (OAP) process can be impacted by our natural affinities. We easily understand how to support some children's development but struggle to engage the child who seems to have no interest in the resources and activities on offer at the setting. Reflection on the individual child's needs, knowledge and skills will allow us to identify how to provide resources to engage and support all children and have a positive impact on their development.
Halo effect – we assume that everything about the person, parent/carer or child, is good because we like them or have an affinity with them. When you think about your behaviour management policy do some children get away with behaviour that you would see as unacceptable in another child? Is the reverse true, do you automatically assume a child has misbehaved when they are in fact innocent but at the centre of an issue with another child? This could be an issue with your own Perception bias, you may have worked with the family for some time and know the child's siblings who display a set of unwanted behaviours. You may have assumed the new child will have the same challenges. This underlines the importance of getting to know them as an individual.
Confirmation bias - the tendency to try to confirm your own pre-existing ideas and assumptions can also affect the way you react in a situation or when planning activities for children. It is important to interpret engagement and involvement in the activities you provide and reflect on how the learning environment allows children to make independent choices and decisions; to pursue their own interests with and without adult support.
All settings should reflect the experiences and interests of the children, families and the wider community; being aware of our own unconscious bias will help us to support all children to develop to their full potential.
A 5 Minute Fact Sheet is available on the Kent Safeguarding Children Multi-Agency Partnership website where there is further information on this topic and additional types of unconscious bias.
Exploring Pedagogy - Introducing John Bowlby
Edward John Mostyn Bowlby was born in London on 26 February 1907, one of six children. His primary care giver was the family nursemaid, Minnie, who along with a second nursemaid and the family nanny looked after Bowlby and his five siblings.
Read more about John Bowlby's work.
Briefing and Networking Sessions
Our regular Early Years & Childcare Briefing and Networking Sessions provide a good opportunity to keep your setting and staff up to date and to network with colleagues from other settings.
 
Why not book a place on the next round of sessions and benefit from the opportunity to network and hear important updates? These sessions will be held virtually via Zoom and you can access your place by clicking on the course codes below:

We are also running two additional evening Briefing and Networking Sessions specifically for eligible childminders and out of school settings who find it difficult to attend the weekday afternoon sessions.

Early Years and Childcare Provider Association
Recently, some providers have been asking for more information about the Early Years & Childcare Provider Association, so we thought an update here might be timely.
The Early Years & Childcare Provider Association (the Association) was originally set up in 2016. At Briefing and Networking Sessions prior to that we asked for volunteers to become members and established the original membership on that basis. In 2019, integral to a review of the Association's Terms of Reference, we changed this to an election-based approach and also agreed to replace members after a three-year term and on a rolling basis. The current Terms of Reference can be found here and the current membership below.
Please note that the Association currently has vacancies for district-based early years group providers in Tonbridge & Malling (this has been for some time now, in spite of several attempts to fill) and, as of very recently, Dover. We will be seeking to fill these vacancies as soon as possible.
If you attend our Early Years and Childcare Briefing and Networking Sessions you will be aware that we typically introduce any Association members present and invite anyone in attendance to raise with them any strategic and/or significant sector- related issues they think the Association should be considering. This has been a little different during the pandemic but it is a practice we intend to re-establish soon.
In September 2019 we introduced a regular slot in this Bulletin for the Association. There will not always be something to report as the Association meets quarterly, whereas this Bulletin in the past was issued six times a year and is currently, in the context of COVID-19 and as you will be aware, issued monthly. Notwithstanding this, since September 2019, when the Association has met, a summary of its agenda has been included here.
At its most recent meeting on 15 March, the Association considered:
The impact of COVID-19 on the Kent Childcare Market from January 2021 to date
The Department for Education funded Holiday Activities and Food Programme
Reconnect: Kent Children and Young People Programme
The take up of free places for two-year-olds (FF2).
Further information will be shared when the minutes from the meeting have been ratified. The slides from the most recent meeting are available on Kelsi.
If you have any questions about the Association, please do not hesitate to email [email protected]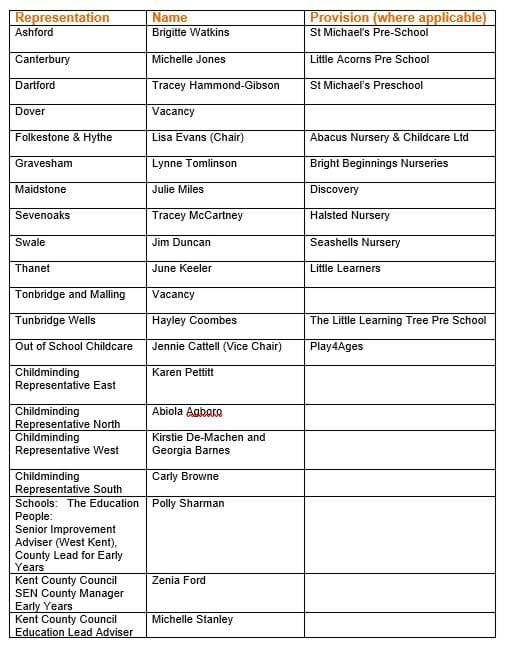 Contact Us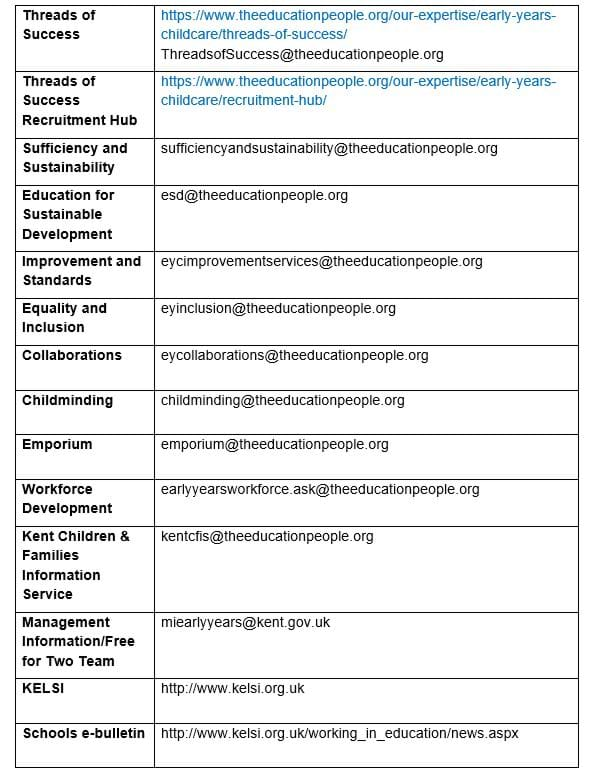 ---