Early Years & Childcare Bulletin February 2021
Welcome and Introduction from Alex Gamby
Dear Early Years and Childcare Providers,
How very quickly time does fly. It feels like only yesterday that I was welcoming you back after Christmas and the New Year, and here I am now saying welcome back after half term (whilst acknowledging and recognising that for many of you, half term may not feel much different) and as we also hurtle towards Easter. Whilst also acknowledging and recognising that we are by no means anywhere near through the COVID-19 pandemic, I am hoping that you are all feeling encouraged by the Prime Minister's announcement on Monday evening this week, that brought with it, I feel, a little light at the end of the proverbial tunnel.
We have recently completed our spring term round of Early Years & Childcare Briefing and Networking Sessions. Thank you very much to those of you who were able to attend, we appreciated and valued your company and contributions and almost exclusively positive evaluations. These sessions included feedback from the Take a Break Sessions which had preceded them and which were also well received. In this context we are repeating the Take a Break Sessions in March, details of which can be found later in this Bulletin. Integral in some way to all of these sessions (both types) has been the ongoing support for and welfare and wellbeing of early years and childcare providers – ie yourselves. The Early Years & Childcare Service has sought to support this throughout the pandemic to the best of its ability and capacity; however if there is something you think you need that does not appear to be readily available, please do contact us in line with the details at the end of this Bulletin.
Additionally, I am pleased to be able to bring to you some bespoke (as in prepared specifically for the early years and childcare sector in Kent) wellbeing support from Kelly Hannagan, a Mental Health and Wellbeing Consultant who has recently been doing some work with and for The Education People.
Kelly Hannaghan: A wellbeing toolkit for early years and childcare providers and the children in your care
Early years providers have faced unprecedented challenges over the last year and you should feel justly proud of your responses. And whilst there are still uncertainties ahead, the vaccine rollout does provide hope that over the next few months, we can truly plan for the post-pandemic phase.
In this essential webinar, Kelly will consider the impact that the pandemic has had on the wellbeing of early years providers and of the children in their care.
The aims of the session
To explore the statistics around wellbeing in early years.
To identify the common difficulties in early years.
To gain a deep understanding of anxiety related issues.
To build on the principles for purposeful self-care for holistic providers.
To enable participants to gain resources and networks to support their practice.
This session will be available mid-March, at which point a link to it will be sent.
Kelly has also prepared a Quick Wellbeing Wins 'postcard'.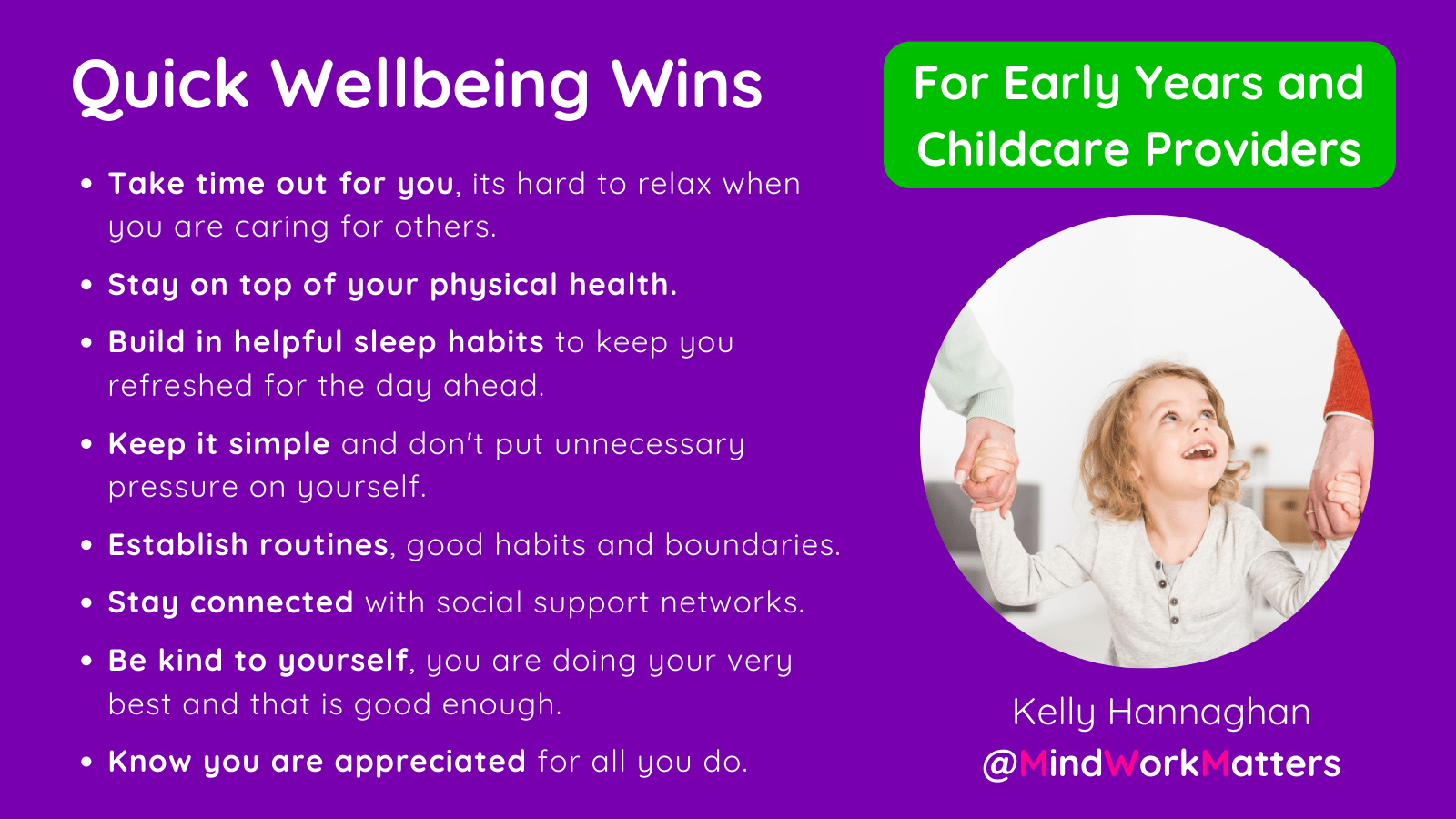 Furthermore, please find here a link to The Education People's website where you can access support prepared for schools (which nevertheless may include some useful information).
Please continue to look after yourselves, staying safe and keeping well.
Yours, as ever
Alex Gamby
National News and Updates
Ofsted Assurance Inspections
Ofsted has paused assurance inspections to early years settings until at least Monday 8 March 2021. However, Ofsted will continue with vital regulatory work which will sometimes require on-site visits; these will be risk-assessed based on the nature of the premises and the urgency of the work.
Assurance inspections are carried out outside of the statutory inspection window as set out in the Department for Education's (DfE) inspection requirements for Ofsted. The assurance inspection will not result in a judgement of quality but will consider whether the setting continues to meet Early Years Foundation Stage (EYFS) requirements. The assurance inspection will result in one of three outcomes:
met
not met with actions
not met with enforcement.
When routine inspections resume under the Education Inspection Framework, the statutory inspection window will begin again.
Routine graded inspections are planned to resume in the summer term of 2021. There are several settings in Kent that did not have an inspection in the previous cycle which was scheduled to end in July 2020.
Early Years Foundation Stage
The Department for Education (DfE) is planning to publish the revised 'Statutory Framework for the Early Years Foundation Stage' by the end of March 2021, with the intention of allowing a term's notice ahead of statutory roll-out to all providers in September 2021. Whilst the new Development Matters is non-statutory, the intention is that a link will be included in the statutory framework to encourage practitioners to use the new guidance alongside the revised framework.
Early Years Foundation Stage Profile 2021
In light of the national coronavirus restrictions, where schools should only allow vulnerable children and children of critical workers to attend, the Secretary of State for Education decided it will not be mandatory for practitioners to complete the EYFSP assessment in 2021. Instead, we will be asking schools and settings to use their best endeavours to undertake it should the situation at the time allow. This data will not have to be submitted to the LA but this information will really support transition for the children.
The Education People provides a briefing session for practitioners new to the EYFS to support them to complete the EYFS profile.
Staff Wellbeing
The Anna Freud Centre is calling for early years staff to take part in a new staff wellbeing survey. They are planning to use the information to create a free staff wellbeing resource for early years settings.
Kent News and Updates
Best Practice Guidance, the document produced by the Early Years & Childcare Service, SEN colleagues in KCC, Kent's Specialist Teaching and Learning Service and providers themselves has been awarded the Nursery World Award Equipment – Professional Book Award.
We are very excited that this document has been recognised nationally and are thrilled that the work of the early years sector in Kent has been rewarded in this way. We are currently in the process of making a few minor changes to ensure it is current and will then put it on the local offer for parents and carers to see too.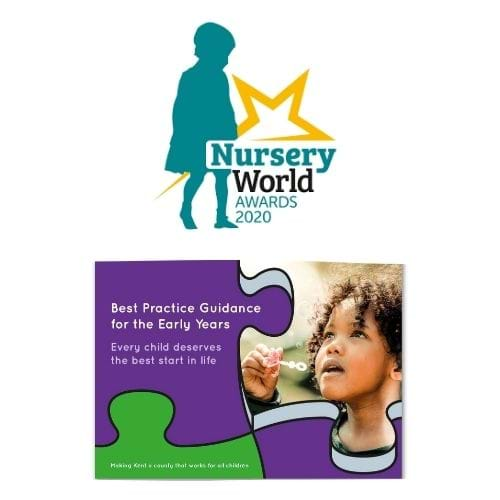 The training that accompanies the document is available as E-learning, as is the leaflet for families so please do ask an Early Years & Childcare Equality & Inclusion Adviser or Childminding Adviser for more information should you need to.
We are so very proud to have won another Nursery World Award, both because we know this publication provides invaluable support to settings to improve outcomes for children, but also because it represents true partnership working with SEN colleagues, the Specialist Teaching and Learning Service and Kent settings.
Zenia Ford, SEN County Manager Early Years
Apologies for the delay but all the updated SENIF documentation is now available on the SENIF pages on Kelsi. Unfortunately, this took much longer than expected as all documents had to be checked for their accessibility.
There is also training available details of which were attached to the Bulletin sent out by email.
Free for Two Payment Schedule for March
Claims are to be submitted on the provider portal by 5pm on 12 March 2021.
Payments will be made during the week commencing 22 March 2021.
Kent Provider Agreement
A revised Provider Agreement was due to be sent to providers in January to come into effect from April 2021. In view of the pandemic and the chance that the DfE may send revised guidance to local authorities, it has been decided to delay publication until the end of the summer term. This will mean that the new agreement will come into effect from 1 September 2021.
Compliance
As previously advised, compliance visits were suspended due to the pandemic. Until Easter, Childcare Sufficiency Officers (CSOs) and Childminding Advisers (CAs) will continue to work with providers to resolve issues or complaints from parents/carers regarding funding. The Childminding Advisers are also continuing with some virtual visits as part of their pilot. It is anticipated that from the summer term the three-year rolling programme of audits will begin again with checks being made against spring term paperwork and attendance. If you are selected for audit, you will be contacted in the normal way by your CSO/CA.
Kent Children and Families Information Service (CFIS)
Kent CFIS has experienced an increase in the number of communications this term from parents and carers who have missed deadlines for applying for or renewing 30-hour codes. There are promotional materials on Kelsi that providers can download and share with families to remind them to do this. The KCC Free Childcare Facebook page also provides timely reminders that can be shared with families. KCC's Management Information also sends out audits of codes which enable you to speak with families who are in the Grace Period.
The team has noticed that a number of providers' details on the Kent CFIS database are either out of date or incomplete. If a group setting or childminder is registered to provide Free Entitlement places to eligible children, they are required under the Kent Provider Agreement to update their details at least three times a year. Kent CFIS hold the only database of Ofsted registered childcare in the county and once a childcare provider has registered their details these can be shared with parents and carers looking for childcare. If you unsure how to update your records, please contact the team by emailing [email protected]
Take a Break Sessions
Following positive feedback from our recent Take a Break sessions, we will be providing another opportunity for you to network with your peers in March. These sessions are run by the Early Years & Childcare Service Area Leads and provide an opportunity to seek peer support within a Zoom breakout room. Any questions arising out of these sessions will be answered through our FAQs.  To join your area Take a Break session, please click on the links below.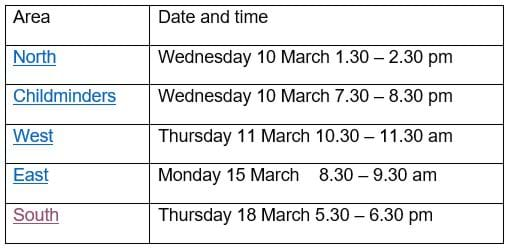 Reminder: Kent County Council (KCC) Communication Materials Survey
KCC is seeking input into how best they can support the early years and childcare sector with communication materials to contain Covid-19 including:
Promoting social distancing amongst parents and carers at the entrance of settings.
Supporting parents and carers who request support for learning and development when deciding to keep their children at home.
Communicating with families of vulnerable children to encourage them to continue to send their children to a setting.
Please take the time to complete this short survey which can be found at the link below and which will give KCC information to enable them to understand what is required by the sector.  It should take between five and ten minutes to complete.

The survey will be open until Friday 5 March.
Out of School Providers
Many of you have told us that you appreciate the regular information and updates the Early Years & Childcare Service provides. In addition to the Facebook page mentioned below and this bulletin, we send out regular email updates to keep the sector informed. These include updates to the relevant Government guidance and weekly blogs. When we offer Briefing and Networking Sessions, we always include some evening sessions for those of you that are not always available in the day, such as the out of school sector and childminders. Following the February Briefing and Networking Sessions the next series is in June so please do take advantage of this valuable information sharing and networking opportunity.
Facebook
We were very pleased to welcome several new members to the out of school Facebook page in January. Our Facebook page is an opportunity for out of school providers to network and share ideas with other providers who work in the out of school sector and build a professional community.
From this month we are extending membership from all Ofsted registered standalone provision offering out of school care, to include early years settings who care for children before and after school. So, if you have an out of school provision please join us via the Out of School Facebook page.
Please follow this link if you would like to be part of this professional community.
You will be asked for your name and Ofsted registration number for your request to be approved by an administrator.
Support to Settings
If your setting is open: an Out of School Improvement Adviser will contact you to offer you a virtual visit, whether you are part of our delivery plan for newly registered settings or part of our Annual Conversation cycle.
If your setting is currently closed: an Improvement Adviser will not contact you, but please remember you can get in touch with an adviser using the following email address: [email protected]

Government guidance: this was updated on 23 February. Please check regularly for changes relevant to the out of school sector.
Childminders
Visits to Good and Outstanding Childminders
The Childminding Team is beginning to contact good and outstanding childminders who are due an inspection and offering them a KCC funded virtual visit or call.  This will provide an opportunity for childminders to reflect on their current practice as well as ensuring they are meeting the early years statutory framework via an audit. The feedback from childminders has been positive; they have said the visit gave them recommendations which could further enhance what they have on offer, but it also gave them time to embed these recommendations into everyday practice.
Information to Share with Families
Impact of COVID-19 – Financial Support and Mental Health
If the pandemic has had an impact on your family's finances or mental health, you can find information about local support  available on the Kent County Council website.
Ready for Pregnancy
Kent Community Healthcare NHS Foundation Trust provides some useful information for those thinking about having a baby or who are already pregnant.
Safer Sleeping Week 15 to 21 March 2021
Partners in Kent are working together to promote Safer Sleeping Week in March. There is a range of information online to support families' knowledge around safer sleeping for their babies including the Lullaby Trust and the NHS.
Bereavement Service for Children and Young People Bereaved by COVID-19
To support children and young people in Kent who experience complicated grief as a result of COVID-19 we have extended our children and young people's counselling service to include bereavement support. This offer has been specifically tailored to the different circumstances that children now find themselves in and the provision will aim to reduce the long-term impact, particularly on emotional wellbeing and mental health, from this trauma event.
Who is the service for?
The service is for 4 to 19-year-olds living in Kent who have lost a loved one to COVID-19. The virtual programme of bereavement support will include the provision of strategies and information for families or carers to help them support their grieving child.
Children and young people's common reactions to grief and loss can include anxiety, sleep difficulties, sadness and longing, anger and acting out behaviour, guilt, self-reproach and shame and school problems. Some children might show regressive behaviour, social isolation, fantasies, personality changes, pessimism about the future, preoccupation with cause and meaning, as a result of being bereaved.
How do I access the service?
Referrals (including self-referrals) can be made via the Single Point of Access at the online portal at https://www.kentcht.nhs.uk/service/school-health/ or by calling 0800 0113 474. Please refer any child or young people that could benefit from the service.
Good Practice
Children's Use of the Internet
Children in all provisions should be supported in their use of the internet; 'practitioners help children to gain an effective understanding of when they might be at risk, including when using the internet, digital technology and social media, and where to get support if they need it', The Early Years Inspection Handbook for Ofsted registered provision (September 2019). Even if you do not use technology in the setting there is an expectation that settings will support children's understanding of how to use technology safely.
Safer Internet Day: was on the 9 February and there are resources which will be available for you, whenever you choose to use them in your setting.
Kelsi: offers policies and procedures to support E-safety, which are updated on a regular basis.
Collaborations
At our recent Collaboration Leaders' Day, it was evident that both leaders and members realised the benefit of the support they were able to give each other through the pandemic.
If you are not in a collaboration and would like to explore the opportunity to join or start one, please email [email protected]
Briefing and Networking Sessions
Our regular Early Years & Childcare Briefing and Networking Sessions provide a good opportunity to keep your setting and staff up to date and to network with colleagues from other settings.
 
Why not book a place on the next round of sessions and benefit from the opportunity to network and hear important updates? These sessions will be held virtually via Zoom and you can access your place by clicking on the course codes below:

We are also running two additional evening Briefing and Networking Sessions specifically for eligible childminders and out of school settings who find it difficult to attend the weekday afternoon sessions.

Early Years and Childcare Provider Association
The next meeting of the Early Years & Childcare Provider Association is on 15 March 2021.
Contact Us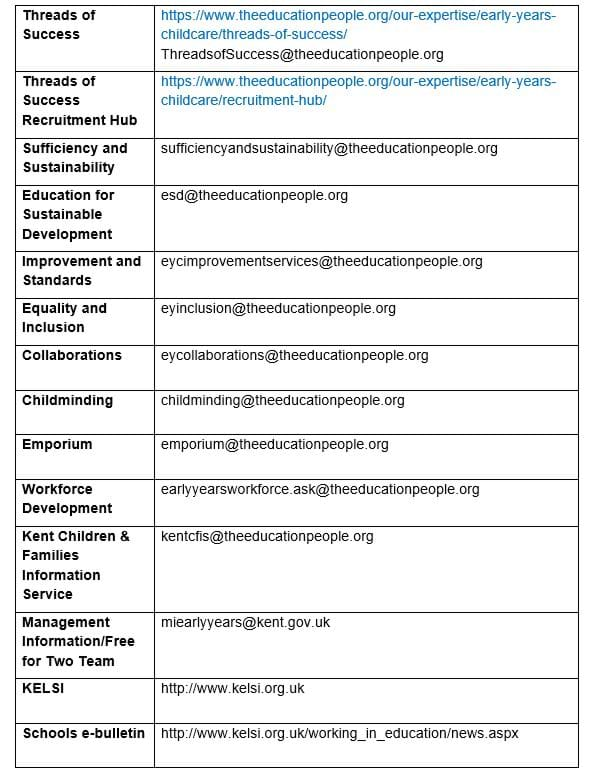 Stay up to date with our blogs by receiving notifications!