Early Years and Childcare Coronavirus Blog - Issue 13
Welcome and Introduction from Alex Gamby
Hello everyone and welcome to this, our 13th and penultimate Early Years and Childcare Coronavirus Blog. I hope that you are being able to enjoy the relaxing of lockdown measures whilst continuing to stay safe.
The number of settings open in Kent this week is 547 early years group settings (a reduction from 565 last week) and childminders 623 (up just one from 622 last week). Notwithstanding the reduction in the number of group settings opened, the number of children being cared for has continued to increase from 18,947 to 19,093. Thank you once again for everything during this time.
Health
This week we are able to bring you two health related documents:
Public Health England: Clinical Guidance for healthcare professionals on maintaining immunisation programmes through COVID-19 – the link to this document is in the News and Information section below
Children's Community Health Services Statement to Education Settings – this document was attached to the email sent out with the Blog.
We hope that you find these documents informative and useful.
To remind you, the final Early Years and Childcare COVID-19 Blog will be next Friday (24 July). During August we will continue to communicate with you but this will be on an 'as and when' basis, in line with any information being released by the Government that we need to make you aware of. At the beginning of September we will do a 'summer round up' and also confirm how we will be communicating from then onwards, depending on the circumstances we all find ourselves in at that point. If you are a term time only setting we would politely suggest that you check your emails throughout the holidays and/or (if this works better for you) provide us with an additional email address for use during that period.
As ever we continue to be available to support you in the usual ways (contact details at the end of this Blog, also as usual).
Thank you
Yours
Alex Gamby
Head of Early Years and Childcare
The Education People
Government Guidance for This Week
Protective measures for holiday or after-school clubs and other out-of-school settings for children during the coronavirus (COVID-19) outbreak Updated content on considering group sizes (including the position for early years settings which provide care for both those under and over the age of five). Added information on the opening of indoor sports facilities, and when providers will be able to use these venues. It also makes clear that providers should only be operating in premises legally able to open. (Updated 10.7.2020)
Guidance for parents and carers of children attending out-of-school settings during the coronavirus (COVID-19) outbreak Updated to make it clear that clubs and activities for children will only be able to operate in those premises legally able to open. (Updated 10.7.2020)
Individuals you can claim for who are not employees Find out if you can claim through the Coronavirus Job Retention Scheme for individuals who are not employees. (First published 10.7.2020)
Check if you can claim for your employees' wages through the Coronavirus Job Retention Scheme Adjusted text to add clarity to 'Paying employee taxes and pension contributions' section and added wording to section on employee rights to make it clear that you can continue to claim for a furloughed employee who is serving a statutory notice period. (Update 10.7.2020)
Claim for wages through the Coronavirus Job Retention Scheme Information added about the process HMRC is developing to recover overclaimed grant amounts through the tax system. (Update 10.7.2020)
Calculate how much you can claim using the Coronavirus Job Retention Scheme Updated to show that the calculator can now be used to work out what you can claim for in a claim period ending on or before 31 August. A link has been added to a new full example for August, and the 'Working out how much you can claim for employer National Insurance contributions' has been updated to make it clear what steps to take if your employee's pay period goes beyond 30 June. (Updated 10.7.2020)
Coronavirus guidance for Companies House customers, employees and suppliers From 10 September 2020, they will restart the process for companies who have applied for voluntary strike off. (Updated 10.7.2020)
Coronavirus (COVID-19): disposing of waste How to dispose of your personal or business waste, including face coverings and personal protective equipment (PPE), during the coronavirus pandemic. (First published 13.7.2020)
Tell HMRC and pay the Self-Employment Income Support Scheme grant back If you've been overpaid, made a claim in error and were not eligible for the grant or would like to make a voluntary repayment, tell HMRC and pay some or all of the grant back. (First published 14.7.2020)
Coronavirus guidance for Companies House customers, employees and suppliers Users can request to have the authentication code sent to a home address instead of the company's registered office. This is a temporary service in response to the coronavirus (COVID-19) outbreak. (Updated 15.7.2020)
COVID-19: cleaning of non-healthcare settings outside the home Guidance updated with advice on cleaning and waste management that does not relate to a suspected or confirmed case, taking into account current levels of community transmission. (Updated 15.7.2020)
News and Information
As you may be aware from the media, there have been fewer medical referrals from families during the COVID-19 period for help when children are suffering from minor ailments. We would like to send a message to families to remind them that advice should be sought from professionals for such ailments, rather than relying on friends/family or the internet. The wording below has been suggested by our NHS colleagues and we would be grateful if you could share this with your families. Similarly we would also like to remind families of the importance of immunisations and this document which, although entitled 'Clinical Guidance for Healthcare Professionals on Maintaining Immunisation Programmes during COVID-19', is very useful to explain to families why it is important to still immunise their children. Once again if you could please share this with your families we would be grateful.
Minor Ailments:
'Family and friends can be a real support when your child is ill. But for medical advice, please contact your GP or the NHS helpline.
The NHS is still here for you during the pandemic. Help us help you get the treatment your little one needs.'
Frequently Asked Questions
The Early Years and Childcare Service has published a Frequently Asked Questions (FAQs) document which was recently updated on Kelsi. As this FAQs document is now getting very long, we will be putting new questions for each week in a separate document, whilst of course retaining and continuing to make accessible all questions.
Briefing and Networking Sessions
Our regular Briefing and Networking Sessions will be held in October as usual but will be held virtually via Zoom. The sessions will be bookable via CPD Online and the Zoom links will be live shortly.
In the meantime, the dates and course codes are as follows: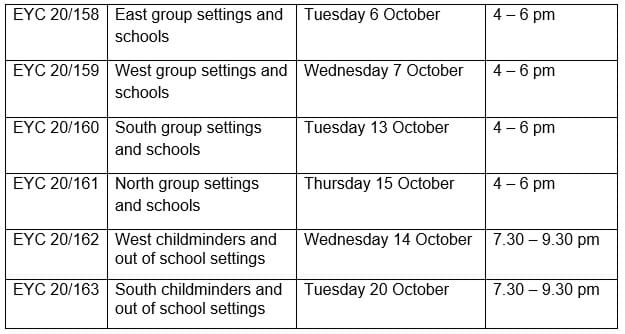 Good Practice Examples of How Settings Have Supported Vulnerable or Key Worker Children
We are absolutely confident that there are many, many examples of good practice in our open settings right now, however this week we don't have any to share with you.
Please continue to tell us more about the excellent work you are doing so that we can share your stories in this section.
Contact Us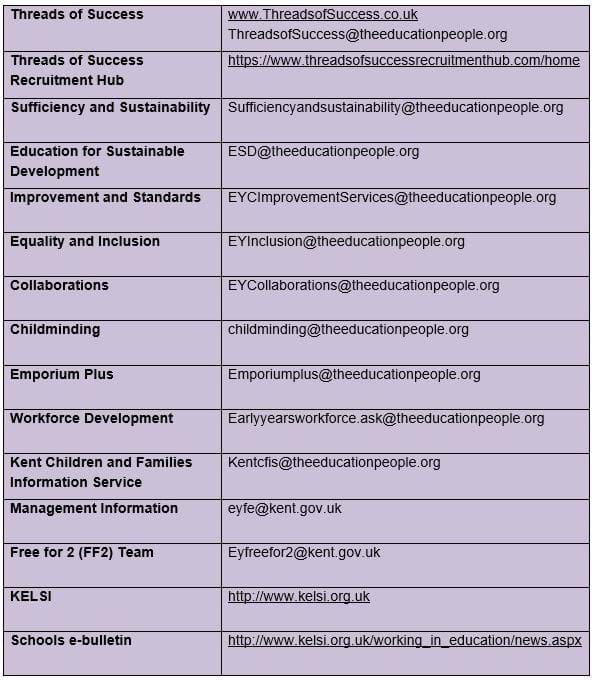 ---